Oil and Gas
---
The process of exploration, extraction, production and processing of oil and gas presents a harsh environment where it is of critical importance that equipment used can withstand extreme temperature, dust, noise, moisture and operating in hazardous environments where combustible gases and airborne particles are present.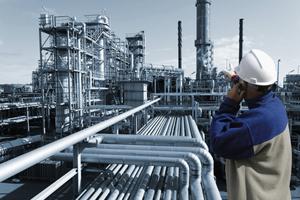 Keeping pipelines and sites secure and running safely and efficiently in these difficult operating environments poses constant challenges to the industry.
The ability to communicate effectively with individuals or simultaneously with cross functional teams in voice and data reliably and instantly not only improves operational efficiency, but also provides the means to react quickly in the event of an incident; which is why two way radio has become the communications backbone of the world's oil and gas enterprises both in upstream exploration, extraction and production and downstream refining, storage, transportation and distribution operations.
Two way radio systems help operators to achieve greater efficiencies while enabling the implementation of robust safety standards through instant, fail-safe communications in voice and data to monitor and manage information and resources – vital in the event of an accident or major incident.
Two way radio systems also provide the most convenient and effective means of communication as it allows cost effective instant and simultaneous communication with individuals and groups of people, ensuring reliable service even when wired communications lines are rendered inoperable by adverse environmental conditions or acts of sabotage.
Integrated communications and operations management
Increasingly, oil and gas operations are migrating from analogue to digital two-way radio communications and from base station and hand portable systems to application driven trunked two-way radio solutions.
These highly flexible and infinitely scalable digital trunked systems can accommodate multiple user groups and when linked to appropriate integrated management application software can be localised to one site or linked to multiple sites via wireless microwave or IP connectivity.
They can also incorporate a host of advanced features including personnel and vehicle tracking, monitoring of assets and PLC (Programmable Logic Controller ) equipment.
For example, the addition of a Kenwood's KAS-10 dispatch messaging and GPS/AVL application software package which includes Virtual Radio IP Dispatch allows a dispatch PC to connect directly into a NEXEDGE® trunked radio network and is both Microsoft® MapPoint® and Google Earth compatible to expand mapping areas covered to the entire globe and empowering the network with the ability to send/receive messaging, track fleet radios, voice dispatch and record over an entire NEXEDGE® trunked system via IP connectivity.
Safety first with Kenwood ATEX / IECEx certified digital and analogue radios
Kenwood offers a wide range of high performance analogue and digital radio communications solutions to the oil and gas industry including analogue and NEXEDGE® digital ATEX / IECEx hand portable radios certified for operation in hazardous environments where combustible gases and airborne particles are present. These radios must be deployed in appropriate areas but can be used alongside intrinsically safe and non certified radios within the same system and feature a host of advanced worker protection, safety and operation features including GPS (NEXEDGE® ATEX models) and a battery life to last a typical 12 hour shift.
Kenwood analogue and NEXEDGE® NXDN, NEXEDGE® dPMR, Kenwood DMR digital two-way radio equipment and systems are employed extensively in oil and gas operations around the world.
Key Features of Kenwood equipment for Oil and Gas industries include:
• Reliable and Robust meeting with IP64/65/67 and MIL/ETSI Standard
Kenwood ATEX radios are fully compliant with MIL-STD 810 C/D/E/F/G
• Flexible through Over-the-Air-Programming (OTAP)
OTAP Allows the re-programming of radios over the air. No requirement for radios to physically connect to a PC or recall the user/radio back into the office. (NEXEDGE® only).
• Safe and Secure through Over-the-air Alias (OTAA)
Both the radio name and numeric ID are sent over the air every time the user transmits. There is no need to maintain a "telephone book" record of each radio in the fleet as the user is easily identified and stuck PTT's can be resolved quickly (NEXEDGE® only).
• Compatible with Analogue and MPT1327 Radio Systems
NEXEDGE® ATEX radios support the MPT1327 trunking protocol. From small groups to large scale fleets, the radios provide reliable communications over existing MPT trunking networks. Offering a migration path from an analogue system to digital in a phased and controlled manner.
• Extended range and improved coverage
Kenwood ATEX radios strike a successful balance between a high protection class, excellent performance and 1.2W of effective radio output power. Kenwood NEXEDGE® digital radios further improve communication range with higher reception performance, resulting from the higher sensitivity of a true 6.25 kHz channel bandwidth.
• Extended battery life
Equipped with the appropriate battery, Kenwood hand-portable radios will easily operate throughout a 12 hour shift.
• ATEX & IECEx Certified
ATEX & IECEx Certification provide comprehensive protection for professional radio users in the Oil & Gas industries. The certified gas group is suitable for use in most of types of gas atmospheres including Hydrogen. The temperature class covers most gases and vapours (see table above).
► Please complete our Enquiry Form for help with
your project