Warehouse
---
As a key component in the manufacturing and supply chain processes, warehouse operations, whether in-house or outsourced, have become increasingly critical in business performance not only as a cost centre but also as a means to delivering improved efficiency productivity and customer satisfaction.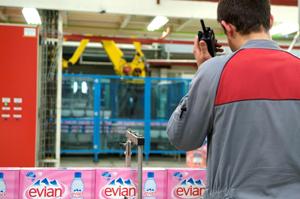 As a global manufacturer of electronics products, we are more than aware of the impact warehouse operations have on the productivity of our manufacturing facilities and distribution centres.
The free-flow of communications between warehouse management, their staff, production, stores, purchasing, sales teams and customers is vital to keeping production lines moving and the efficient management of component and finished stock inventory where accuracy, speed and detailed reporting are in high demand.
We designed NEXEDGE® digital two-way radio systems to operate efficiently in the difficult environment of a modern warehouse where extensive use of concrete, steel racking, a proliferation of electronics, mechanical handling equipment and great distances can make communications a real challenge, with radio frequency interference and background noise adding to the mix.
Kenwood's NEXEDGE® peer to peer and trunked digital two-way radios and walkie talkie solutions have been proven in the most demanding manufacturing and distribution warehouse operations around the world, including our own.
Among its many benefits, NEXEDGE® Digital Two-Way walkie-talkies and in-vehicle units additionally feature an Analogue/Digital Mixed Mode which allows them to communicate automatically with any existing analogue radios whatever the make; providing a straightforward and economical way to use existing radios while migrating to the benefits of digital without compromising service quality and reliability.
Today, in addition to its NEXEDGE® fully scalable digital systems, Kenwood can offer dPMR, DMR digital solutions alongside the latest ProTalk digital license-free PMR446 radios featuring digital/analogue mixed mode and ProTalk DECT fully duplex digital wireless intercom systems.
Kenwood hand portable walkie talkies conform to MIL-STD-810 C/D/E/F/G for ruggedness and durability and are IP54/55 Water & Dust Intrusion rated, making them ideal for operation in a wide variety of open or harsh environments.
Applications include storage depots, component stores, manufacturing facilities, bonded warehouses and distribution centres where ruggedness, dependability, performance, safety and efficiency key considerations.
Click here to read about Kenwood NEXEDGE® systems in manufacturing industries.
► Please complete our Enquiry Form for help with
your project