Healthcare
---
Two-way radio communications are widely in use in the healthcare sector supporting patient care, enhancing staff safety, ensuring security and improving the efficient management of facilities.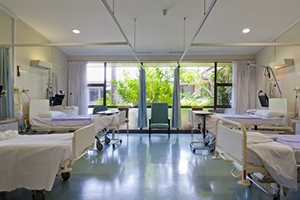 It provides instant communication in voice or data to individuals, departments or groups and offers a practical and reliable solution in healthcare environments, whether surgeries, health centres or hospitals.
Management, Security, Maintenance, Portering, Domestics, Catering, Estate and Cleaning teams can all use radio communications to improve operational efficiency and performance within a safe working environment.
Larger sites, would typically employ a trunked digital radio communications system accommodating multiple user groups all linked to a resource management dispatch and event logging programme where tasks are prioritised and dispatched via text message or voice and tracked through all key stages to completion. Integrated systems, like the NEXEDGE® digital system operating with CARPS applications installed at the new 708 bed Pinderfields Hospital in Wakefield demonstrate just how flexible, effective and accountable a state-of-the art communications system can be.
Some staff operating in healthcare environments work alone and no matter how careful, can find themselves in situations where they may be vulnerable. Many of Kenwood's more advanced digital hand portable walkie talkies feature advanced lone-worker functions with programmable alert signaling and GPS to provide staff with the reassurance they need to work alone in safety.
In addition, Kenwood NEXEDGE®, dPMR and Kenwood DMR hand portable walkie talkies conform to MIL-STD-810 C/D/E/F/G for ruggedness and durability and are IP54/55 Water & Dust Intrusion rated, making them equally ideal for operation in a variety of demanding environments.
Kenwood NEXEDGE®, dPMR and Kenwood DMR digital two-way radio communications systems can be found operating in healthcare applications around the world including the Lithuanian Ambulance Service, Pinderfields and Pontefract hospitals in Yorkshire, The Williamson Medical Centre, USA and St Michaels Hospital in Toronto, Canada.
► Please complete our Enquiry Form for help with your project