Lone Worker
---
Every employer has a duty of care under the Health and Safety at Work Act 1974, to ensure so far as is reasonably practicable, the health, safety and welfare of all its employees in the workplace and equally that persons not in their employment are "not exposed to risks to their health and safety so far as is reasonably practicable" – with the Corporate Manslaughter and Corporate Homicide Act introduced in 2007, the implications for enterprises in the public and private sectors of not taking lone worker protection seriously have escalated.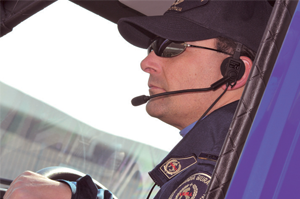 Two-way radios are already widely in use in lone worker applications across chemical and manufacturing plants, utilities, mining, security and transport industries where personnel often cover large, remote areas or operate in hazardous environments.
However, with the increase in flexible working times, care in the community services, home deliveries and reductions in workforces operating from fixed locations, more people than ever are now operating as lone workers, often in situations where they may be exposed to potential accidents and inappropriate or violent behaviour.
While the reliability and quality of any Kenwood two-way radio would prove to be an asset in most lone worker scenarios, the NEXEDGE® range of digital two-way hand portable walkie talkies and mobile in-vehicle two-way radio units offer much more than the ability to transmit voice and data instantly and efficiently.
All models feature Emergency Key and Emergency Call features as standard, while more advanced models additionally offer built-in or optional GPS modules, Lone Worker and an Emergency Advanced Motion Detection Function, which make them ideal for incorporating within a robust health and safety and lone worker policy.
NEXEDGE® Digital Two-way Radios with Lone Worker features can be found in both hand-portable walkie talkies and mobile in-vehicle units which all conform to MIL-STD-810 C/D/E/F/G for ruggedness and durability and are IP54/55 Water & Dust Intrusion rated, making them ideal for operation in harsh environments.
Today, in addition to its NEXEDGE® fully scalable digital systems, Kenwood can offer dPMR, DMR digital solutions alongside the latest ProTalk digital license-free PMR446 radios featuring digital/analogue mixed mode and ProTalk DECT fully duplex digital wireless intercom systems.
To discover more about the millions of Kenwood devices in use by countless customers in hundreds of applications around the world, including the innovative multi-protocol NX-5000 Series (NXDN, DMR, P25 and FM Analogue) and NX-3000 Series (NXDN, DMR and FM Analogue) hand portable walkie talkies and mobiles, please visit the linked pages, look into our Professional Communication System Solutions, complete the Enquiry Form or contact an authorised Kenwood Communications reseller.
For lone worker applications in hazardous and potentially explosive environments where explosive gas or combustible dust threaten worker safety, Kenwood offer ATEX certified digital and analogue hand-portable radio solutions.
► Please complete our Enquiry Form for help with
your project