PKT-23E
PMR446 Consumer FM Transceiver - EU use (non-UK)
Find your nearest Approved Kenwood Centre
Where to Buy
---
Key Features
Simple and Compact design
Intuitive to operate - all keys are on the front panel
Small, light and slim
Includes all 8 PMR446 Channels pre-programmed
Comes complete with Battery, Charger and Belt Clip
---
The PKT-23. An easy-to-use, license-free PMR446 UHF FM transceiver. Thin, lightweight and durable. Compliant with IP54 and 11 US MIL-STD standards.

Brochure
Click on the image to download the brochure on the PKT-23E - PMR446 Consumer FM Transceiver - EU use (non-UK). -->
---

Small
Fitting in the palm of your hand, the PKT-23 is easy to take anywhere your staff needs to go. At only 110 g, it can fit comfortably in a pocket or attached with the included belt clip.
PKT-23 is the smallest & lightest 2-Way Radio from Kenwood. Dimensions W: 46mm x H: 85 mm x D:21 mm *excluding the antenna.
---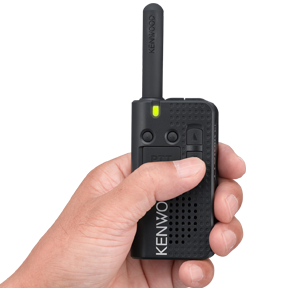 Simple
Simple and license-free operation in an all-in-one package ready for immediate use. The front panel button layout makes the PKT-23 easy to operate.
8 Channels with Voice Guide
The PKT-23 provides up to 8 channels, allowing you to assign channels to specific team members. The Voice Guide alerts you when you change channels.
Calling Alert
You are alerted to an incoming call by the flashing LED light and a beep.
---
Tough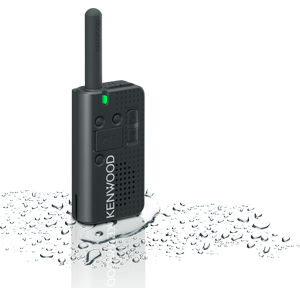 Complies with IP54 (dust/water resistant) and durability meeting or exceeding MIL-STD 810 C/D/E/F/G 11 items.
---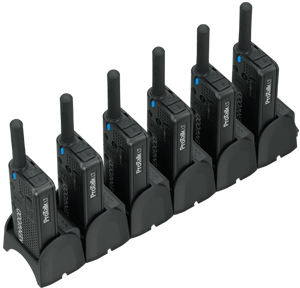 Powerful
The PKT-23 offers 500 mWatts of power, for direct radio-to-radio communication on the same frequency. The built-in 1,430 mAh lithium-ion battery provides up to 15 hours of use.
Charge 6 radios at the same time with the multi-charger, using the optional extra fast charger KSC-44CR and the KSC-44ML AC adapter multiple.
---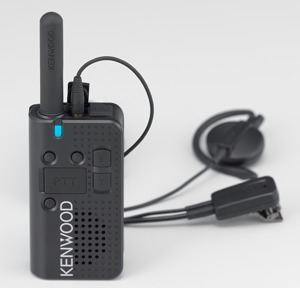 Built-in 3.5D Jack
Connect the KHS-33 or KHS-34 headphone for better use in noisy environments or for private conversations.

*Headphones and earphones are not supplied with the unit.
Built-in VOX
Built-in VOX allows hand free operation which automatically starts transmission in response to your voice when using an external microphone.
---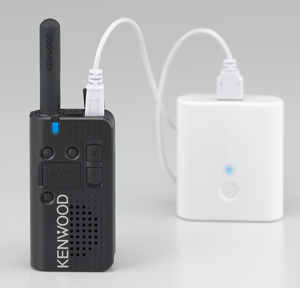 Equipped with Micro USB terminal
The standard micro USB port means a smart phone charger can also be used to charge the PKT-23.