Axel Telecom
---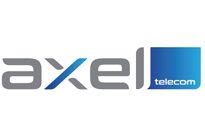 Axel TELECOM was established in 1992 to provide communication solutions for businesses in Romania. Over the past 13 years we have expanded our portfolio to include all the latest communications technology and are able to offer our clients a very comprehensive range of services. In 2002 we moved to our purpose built premises in Bucharest HQ with fully equipped workshops and vehicle installation fitting bays. We also operate five wide area repeater sites which give coverage through Romanian cities and rural areas.
We supply and hire the very best products, at the keenest prices for users of two-way radio systems including mobiles, hand portables and base stations by Kenwood. Our client base includes many and varied applications ranging from domestic (Romania) public authorities, military forces, police, law enforced organisations to overseas airports, police, mining and petroleum companies. So, regardless of the size or complexity of your communications requirements, Axel Telecom can offer the most appropriate and cost effective solution.
To compliment our range of services we are proud to offer full maintenance and support packages tailored to meet your own individual needs. Communications is the cornerstone of business success, and no-one is better equipped to help trade and industry build an effective communications network than Axel Telecom.
Axel Telecom
Strada Panait Moșoiu 32-34
Constanta
900178
Romania

Tel No: +40241 638025
Fax No: +40241 638027
Website: axeltelecom.ro