Faem Elektronik
---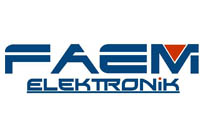 Faem Elektronik is a company based in Izmir and established in 1999. Our company has experience in the creation and implementation of regional and urban scale communication and security systems and the supply and installation of telecommunications and safety equipment. which provides service in security areas such as wireless, wireless audio and video systems all over the country, aimed to be one of the selected companies working based on customer satisfaction and has accomplished this.
Faem Elektronik, which has been crowned with years of experience, professional staff and fully equipped technical service facilities with 100% customer satisfaction, has achieved a successful project in many subjects such as supplying domestic and international border products and service. We provide integrated solutions at various levels, allowing you to not only improve the efficiency of your business, but also the reassurance for making a long-term investment in your business solutions.
Our integrated telecommunications solutions including digital trunking and control is based on professional equipment, covering analog and digital radio communications, integrated security and access control. Highly qualified specialists in our company will develop an optimum scheme which integrates with existing communications systems for today and into the future. Municipalities, Military communication, Airports, Universities, Hotels, Rental Stores, Restaurants and Cafes telecommunication and electronic security services FAEM ELEKTRONIK will be happy to provide service to increase the value of service.
Faem Elektronik Fatih Emirdag
Mimar Sinan Mah.
Can Kulduk Sok.
No:9 D:2 Ful Apartmani
Kahramanlar Konak / Izmir
Turkey

Tel No: +90 232 4636869
Fax No: +90 232 4635749
Email: info@faemelektronik.com
Website: www.faemelektronik.com