Sectron Security & Communication Systems Ltd
---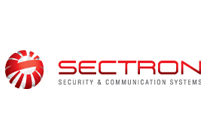 Established in 1990, Sectron Security & Communication Systems Ltd was one of the first companies in Bulgaria to design and deliver security and communication systems. Over the past 20 years, Sectron has firmly established itself as a leader in the distribution of security products and provision of turn-key project solutions to the Bulgarian market.
Sectron specialises in the design and distribution of security systems including CCTV, Intruder alarm, Access control, Fire-alarm, Fire-suppression, Hotel security, Police equipment, Perimeter protection and Radio-Telecommunication.
With a prestigious record of offering high-quality products and exceptional customer service, Sectron has become a highly regarded and leading security product distributor and systems integrator in the Bulgarian security market.
Sectron has branch offices in Plovdiv, Varna, Burgas, Stara Zagora, Rousse, Blagoevgrad, Pleven and Pazardjik augmenting the long lists of partner companies that cover almost every region in the country.
In addition, two Sectron companies operate from Serbia (since 2001) and Macedonia (since 2005) and Sectron has also successfully exported security equipment and know-how to Moldova, Romania and Kosovo.
In January 2003, Sectron was certified as meeting the requirements of ISO 9001:2000 for the design and sale of security systems. This quality standard reflects the company's dedication to offering quality products and exceptional customer service.
In April, 2004, Sectron widened its activities certified by the quality standard, which now include installation, maintenance and service of security, communication and lighting and sound signalling equipment.
Sectron Security & Communication Systems Ltd
Sectron/SOT Building
52, D-r G.M. Dimitrov Blvd
1125 Sofia

Tel No: (+359 2) 91982
Fax No: (+359 2) 8732 576, 9711 282
Email: info@sectron.com
Website: www.sectron.com
Bulgarian Police deploy nationwide NEXEDGE® system:-
► Case Study on Bulgarian Police

NEXEDGE® for Sectron Private Security Sofia Bulgaria:-
► Case Study on Private Security