---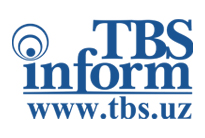 TBS Inform Ltd Co. has been operating in the telecommunications market since 1993 and offers:
*    Design and construction of mobile radio communication systems. We are ready to offer you comprehensive solutions in building radio communication networks of any complexity, from digital trunking communications with encryption of negotiations, dispatching, GPS monitoring and recording of conversations to the simplest networks based on Amateur stations and PoC terminals.
*    Delivery, commissioning and subsequent maintenance and repair of digital and analog radio equipment
*    Restoration, modernization and improvement of outdated or faulty radio communication systems.
Over the years, the company has gained the image of a solid, technically competent and reliable integrator of radio communication systems in the market of Uzbekistan and has been supporting it for more than 20 years. 
We also offer the service of operational organization of mobile radio communications on the territory of the Republic of Uzbekistan, with the rental of radio stations and other necessary equipment.
Our main principle is a comprehensive approach and maximum convenience for the customer:
-    we carry out the selection and configuration of equipment for the tasks set for You;
-    we deliver equipment in a short time;
-    programming and configuring subscriber equipment;
-    we install car radio stations in vehicles and stationary (base radio stations) at the customer's facilities;
-    test operation of the selected equipment and communication system as a whole;
-    we provide consulting assistance in obtaining the necessary permits;
-    we provide consulting and technical support throughout the entire period of our cooperation.
TBS Inform Ltd Co.
13B Khamid Alimjan st.,
Tashkent
100000
Uzbekistan

Tel No: +998 71 237 00 86
Fax: +998 71 237 53 52
Email: info@tbs.uz
Website: www.tbs.uz