Telecommunication Systems, LLC
---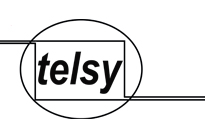 Telecommunication Systems - as a system integrator
Our company has experience in the creation and implementation of regional and urban scale communication and security systems and the supply and installation of telecommunications and safety equipment.
We provide integrated solutions at various levels, allowing you to not only improve the efficiency of your business, but also the reassurance for making a long-term investment in your business solutions.
Our integrated telecommunications solutions including digital trunking and control is based on Kenwood and ZETRON equipment, covering analog and digital radio communications, integrated security and access control. Highly qualified specialists in our company will develop an optimum scheme which integrates with existing communications systems for today and into the future.
Telecommunication Systems - as a distributor of telecommunications equipment
Our dealer network covers all regions in the Ukraine, which allows you to solve any problems in the design, assembly and installation of equipment in the region and also ensures hardware warranty and repairs support "on the ground", whether to carry out prompt repairs or provide temporary replacements of faulty equipment.
Our company provides a wide range of radio communications solutions - from the smallest simplest communication devices to entire integrated systems.
Telecommunication Systems LLC
73 Konstantynivska Str
Kiev
P.C. 04080
Ukraine

Tel No: +380 (44) 585 37 07
Fax No: +380 (44) 585 37 02
Email: info@drsua.com
Website: www.drsua.com
Website: www.kenwood.org.ua