Airsys Communications Technology Ltd
---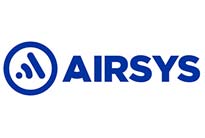 Airsys was established in 1992 with the objective of becoming one of the UK's leading distribution companies for wireless-based technology products.
Airsys is now Europe's most successful value-added distributor of Two-Way Radio, Accessories and Network equipment. With over 20 years of experience, Airsys delivers true value-added by providing technical, sales and marketing support, efficient logistics. We are committed to service excellence and unrivaled product choice.
Airsys Communications Technology Limited
35 City Industrial Park
Southern Road
Southampton
SO15 1HG

Tel No: +44 (0) 23 8071 8700
Fax No: +44 (0) 845 544 2868
Email: sales@airsys.co.uk
Website: www.airsys.co.uk
Opening Hours:
Monday - Friday: 09:00 - 17:30
A New Greater London Digital Network That's Serious About Waste:-
► Case Study on RF Lincs Ltd.