TK-3701DE
Compact PMR446/dPMR446 Digital/FM Portable Radio (EU use)
Find your nearest Approved Kenwood Centre
Where to Buy
---
Key Features
Digital and Analogue
License-free dPMR446 and PMR446 operation in an all-in-one package that's ready for immediate use
48 Channels pre-programmed with the 16 Analogue PMR446 Frequencies plus 32 dPMR446 Digital Frequencies
AMBE+2 Vocoder for Natural Sounding Digital Voice
QT/DQT Signalling Formats
Built-In Voice Scrambler
"Industrial Strength" Construction, to US MIL-STD Specification 810G and IP54/55
Supplied with rechargeable battery, battery charger and belt clip
---
UHF Digital Transceiver TK-3701DE - No License Required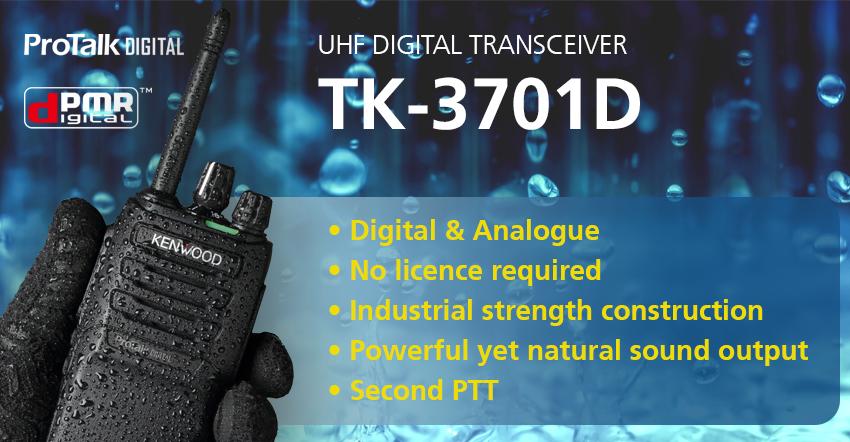 The ProTalk TK-3701DE is a license-free UHF digital transceiver featuring both digital dPMR446 and analogue PMR446 communications. The ready-to-use package comes with a transceiver, rechargeable battery, battery charger, mains adapter and belt clip. The TK-3701DE is perfect for professional applications requiring a license-free, stylish, compact, light and easy to use digital two-way radio.
Digital & Analogue
The TK-3701DE features the latest digital dPMR446 technology with a total of 48 preset channels (32 digital and 16 analogue) in 3 zones (2 digital and 1 analogue).
No licence required
Licence-free dPMR446 and PMR446 operation in an all-in-one package that's ready for immediate use.
Industrial strength construction
Compliant with IP54/55 and US MIL-STD 810 C, D, E, F, and G standards.
Powerful yet natural sound output
AMBE+2™ vocoder for natural audio with minimum delay; BTL audio amplifier for powerful 1 watt output.
Second PTT
Make use of the Second PTT for giving different instructions to different staff as the radio allows the use of main channel plus another channel*.
*PC programming required.
---
Watch our video on the TK-3701D - How to mix Digital & Analogue User Second PTT PMR446-dPMR446
---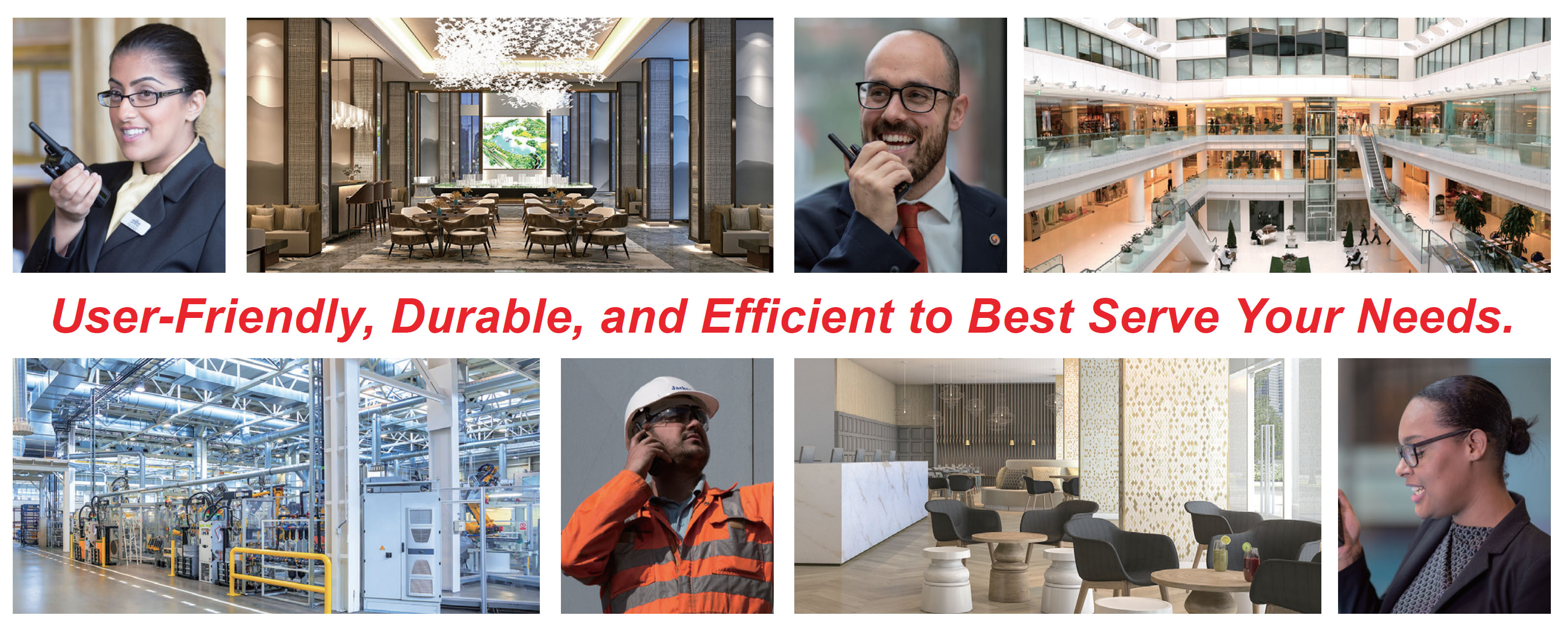 User-friendly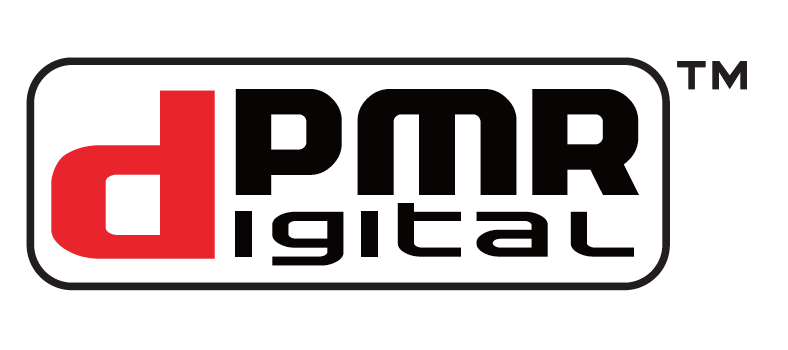 Compatible with digital or analogue
This radio allows Digital and Analogue combined operation, which means it can handle both digital and analogue signals in a zone. This gives you the freedom to migrate at your own pace — whether you are ready to go fully digital, or use with the current analogue transceivers with a view to gradually switching to digital.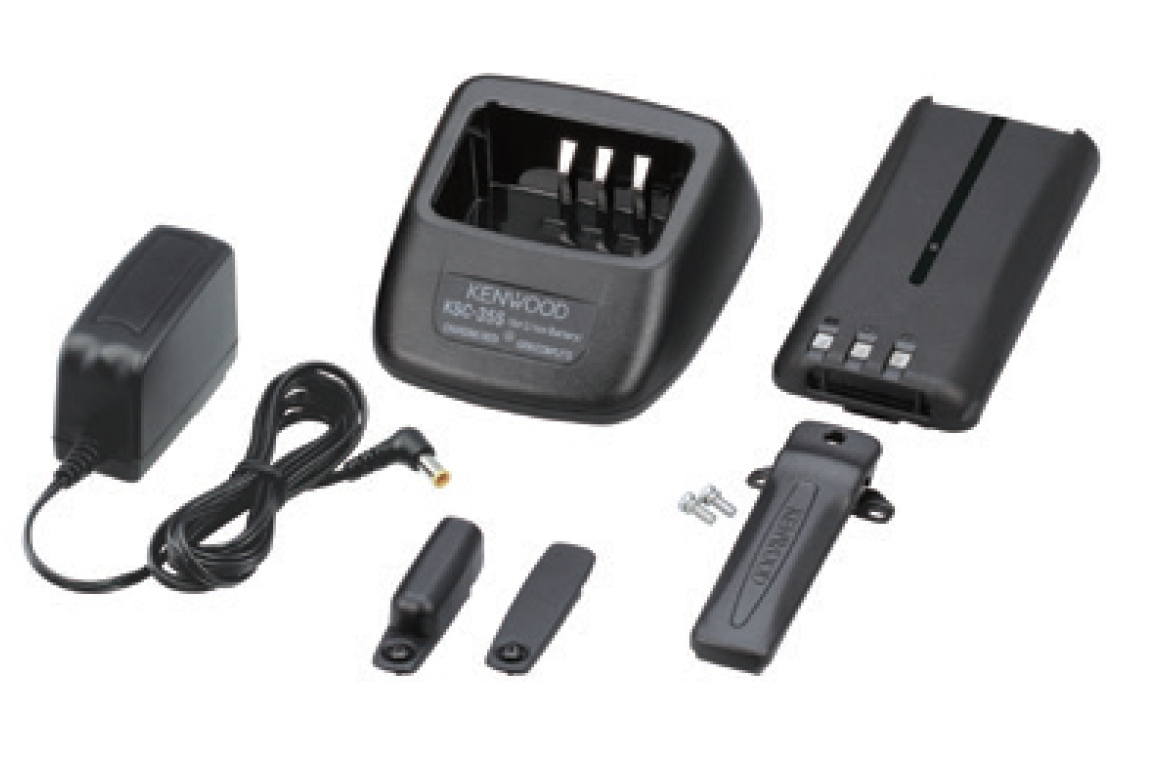 No licence required
The TK-3701DE is a licence-free dPMR446 and PMR446 UHF digital transceiver. The ready-to-use package comes with a transceiver, rechargeable battery, battery charger, and belt clip. If you are looking for a radio system that covers only small areas without the need for a repeater, the TK-3701DE is an ideal choice.

Selectable 7-colour LED*
A large 7-colour LED indicator on the top panel illuminates to notify multi-status functions including power-on and different unit identification.
*PC programming required.
Clear and powerful sound output
Digital means clear, crisp audio quality
When the radio is in digital mode, the user can hear clearer sound with less residual noise. Delay associated with digital audio can be a drawback at times however such delay can be minimised as the radio features DSP with AMBE+2™ vocoder.
BTL audio amplifier for powerful 1W output
Operator's usage environment can be noisy at times however with the large internal speaker combined with a BTL audio amp, the radio can deliver up to 1 watt of clear sound.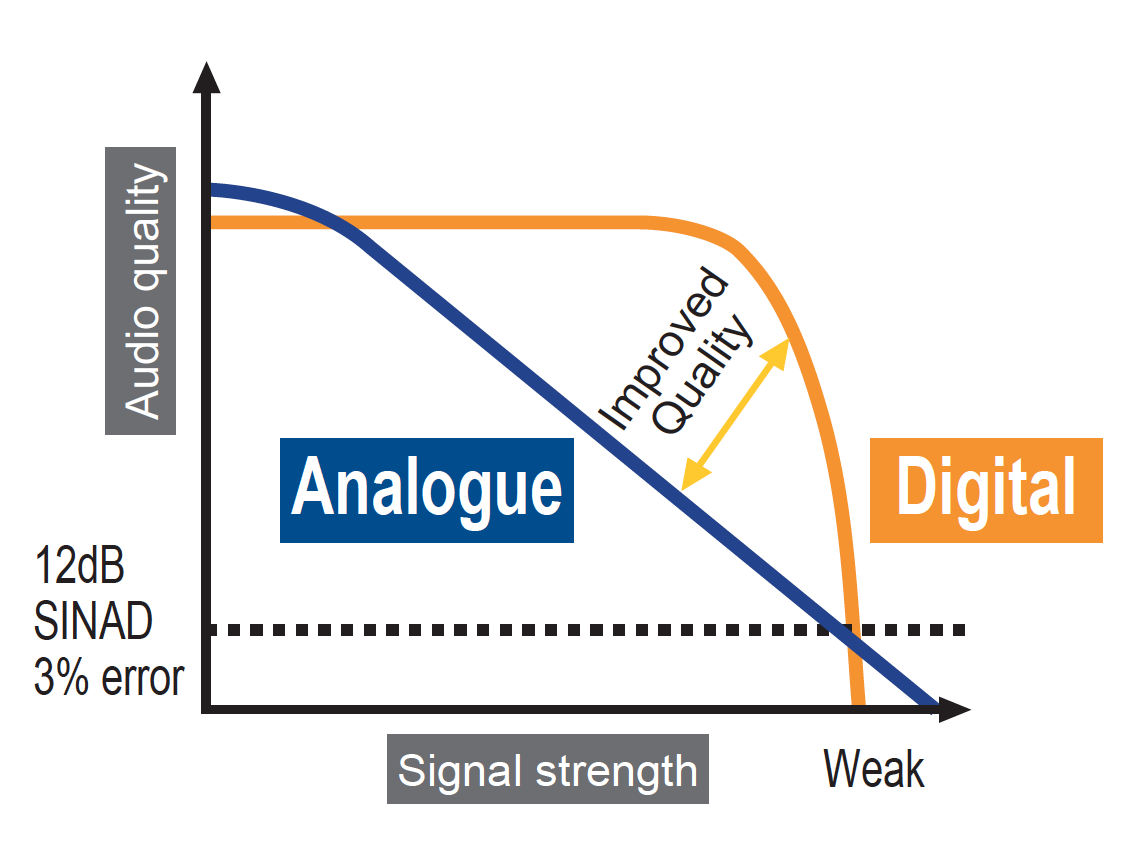 Digital technology provides superior clarity in extended coverage
As RF signal strength weakens with distance, analogue reception becomes increasingly noisy and intermittent. dPMR446's digital modulation technology improves reception in fringe areas, thereby "effectively" increasing coverage as much as 20% compared to analogue.
---
Durable
IP54/55 and US MIL-STD 810 C, D, E, F, and G standard-compliant
Compliant with 11 US military standards (MIL-STD). IP54/55 protection against water jets is also featured on the TK-3701DE*.
*All interfaces must be fully sealed with appropriate covers or by designated genuine accessories.
A High-capacity battery for long-lasting operation
The TK-3701DE comes with a high-capacity Li-ion battery to deliver long hours of operation. The ability to keep going with no battery replacement means better reliability even in harsh working environments. Besides the supplied Li-ion battery, optional rechargeable batteries and other accessories that can be used with the TK-3701DE are available.
---
Highly efficient
254 common ID codes (Digital mode)
User can change the pre-programmed common ID for each channel.
Other features:
● Voice Announcement*
● SCAN*
● VOX / Semi-VOX (headset required)
● Button Lock
● Time-out Timer
● Battery Saver*
● Calling Alert
● QT / DQT
● Compander
*PC programming required.