On the road with dPMR446 Walkie Talkies
---
The provision of mobile communications on a motorbike is fraught with problems; from simple physical issues such as where to place a PTT when the rider needs both hands on the controls at all times, to how to ensure a reliable RF link with no significant earth planes for an effective antenna placement.

A system commonly in use in the biking world makes use of PMR446 licence-free radios in conjunction with a bike-specific control and interface box. This provides a VOX (voice operated switch) operation to remove the need for a PTT, an intercom solution so that the rider and pillion can communicate, a power supply so that the radio is not reliant on battery operation and finally, interfaces to helmet-mounted microphones and speakers. Mounting the radio on the handlebars, provides a reasonably high position for the antenna and allows the radio display to still be visible to the rider. This method has solved many of the issues, but still, some problems remain, in particular, the quality of analogue voice reception which will vary enormously from quite good to unbearably noisy and "choppy" as the RF signal fluctuates in strength due to variations in the radio path and interference from other systems and the continual noise and hiss of an analogue radio in your ear during a long ride is both annoying and distracting - and distraction can result in dire consequences on a bike.
Crystal clear voice communication with no hiss, warbles or background noise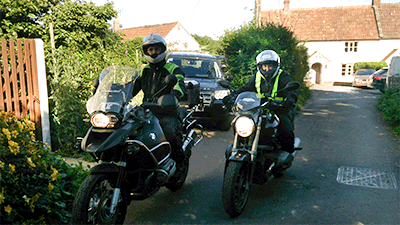 Graham and Karen have been riding bikes for years for both work and pleasure, and it is when riding in company that they make the most use of their PMR 446 radios for warning following riders of potential hazards and to provide directions and general communication. They have equipped both of
their bikes (and those of many of their friends) with Kenwood analogue PMR446 radios, which have performed well enough, but recently they upgraded to the latest Kenwood ProTalk TK-3401D Digital dPMR446 radios. Their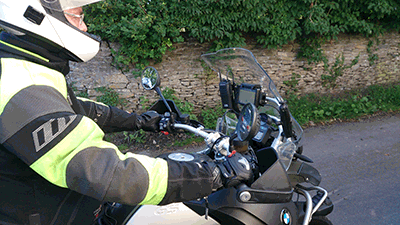 initial test from home (in rural Somerset, UK) with demonstration units was enough to convince them to purchase their own hand portable units. The most immediate advantages they noticed were the crystal clear voice communication - no hiss, warbles or background noise - and the increased range.
50 to 100% improvement in range over analogue PMR446
Graham comments: "In our hilly rural environment, the analogue radios became unusable about half a mile from home, whereas the ProTalk dPMR446 radios maintained effective communication for between 50 and 100% further (depending on the intervening topology and obstructions). Also of significant importance was the fact that the dPMR446 radios are 'plug and play' replacements to our existing analogue radios, so that the investment in the intercom and interfacing system was not wasted and the swap-over was as simple as changing the battery". Although many of their friends are now migrating to digital technology, for those that have yet to upgrade, the Kenwood radios also provide an analogue mode so that they can still be used to talk to the analogue user community.
During a recent road trip around Europe, with another pair of riders on the fast autobahns to the Harz mountain range in Northern Germany and onto the flat plains of Holland proved that the performance of the dPMR radios was exemplary, and thanks to the harmonised PMR446 frequencies across most of Europe, were legal to use.
Membership of the dPMR Association and certification by the dPMR Technical Working Group has also meant that the Kenwood ProTalk Digital radio is fully compatible with other dPMR446 radios from other manufacturers.
Article by Derek Love, Chairman dPMR Association Technical Working Group