TK-3601DE
Compact PMR446/dPMR446 Digital/FM Portable Radio (EU use)
Find your nearest Approved Kenwood Centre
Where to Buy
---
Key Features
Fully compatible with TK-3401DE
Operates on the PMR446 License-Free Service in both Digital and Analogue FM modes. dPMR mode complies with the ETSI TS 102 490 Standard
48 Channels pre-programmed with the 16 Analogue PMR446 Frequencies plus 32 dPMR446 Digital Frequencies
AMBE+2 Vocoder for Natural Sounding Digital Voice
QT/DQT Signalling Formats
Built-In Voice Scrambler
"Industrial Strength" Construction, to US MIL-STD Specification 810G and IP54/55/67
Supplied with KSC-44SL AC Adapter, KSC-50CR Charger Pocket, KNB-81L Li-ion Battery Pack, KBH-14 Belt Clip and User Manual (English, Spanish, German, French, Dutch, Italian, Turkish, Greek & Portuguese)
---
---
Simple, user-friendly - No License Required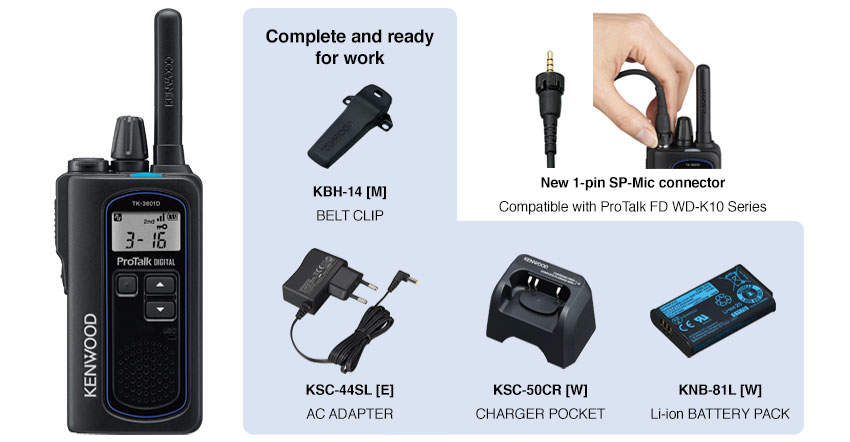 ► Compatible with ProTalk FD WD-K10 Series
The TK-3601D is a license-free dPMR446 and PMR446 UHF digital transceiver. The ready-to-use package comes with a transceiver, rechargeable battery, battery charger, mains adapter and belt clip. The TK-3601D is perfect for professional applications requiring a license-free, stylish, compact, light and easy to use digital two-way radio.
---
Digital / Analogue Compatibility
The TK-3601D is fully compatibility with legacy Analogue PMR 446 radios which means you can continue to use your existing Analogue radios without having to replace them until you need to.
As you'd expect, it implements ECC Decision (15)05 to capitalise on the new frequencies and provide a total of 48 channels (32 digital and 16 analogue) in three zones.
But, what really sets the TK-3601D apart is that it features a second PTT (Push-To-Talk) button which makes it extremely easy to operate in both analogue and digital modes:
TK-3601D Digital to Analogue mode:
- Press the primary PTT and talk on your selected channel in Digital.
- Press the secondary PTT and talk on your legacy Analogue channel. The radio now waits in Analogue mode for the reply.
- When a caller uses Digital mode you simply hear them.
- When an existing Analogue radio transmits on your chosen Analogue channel, the TK-3601D automatically scans and you hear the call.
- To respond to an Analogue call, simply press the secondary PTT.
In addition, the TK-3601D also features the latest digital dPMR446 technology for improved radio interference protection.
---
Built for professional use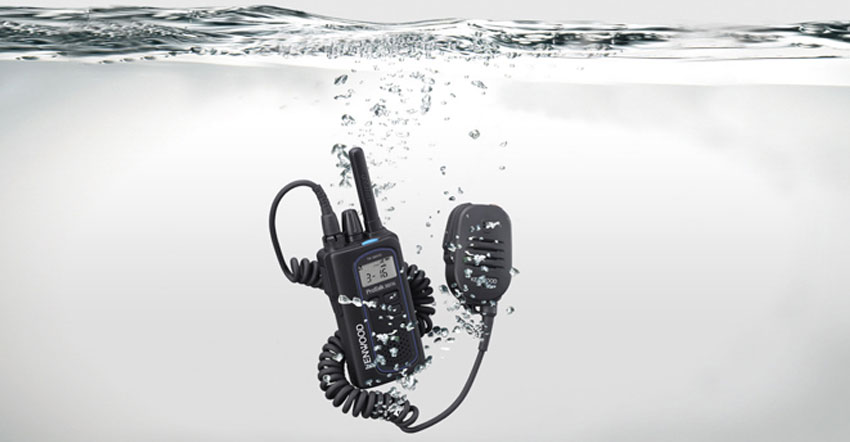 Despite its light weight and compact dimensions, the TK-3601D is very much built for professional use and to provide reliable communications in all condition. It is Compliant with United States Military Standards (MIL- STD) and offers IP67 protection against dust and immersion, and IP54/55 protection against water jets.
---
High-quality audio, powerful output
Digital technology's lack of residual noise produces clear, crisp audio quality:

Residual noise in analogue mode drowns out voices, making it hard to hear.

The lack of residual noise in digital mode delivers clear, crisp communications.
- DSP delivers high-quality audio with minimal delay
The high-quality audio design draws on Kenwood's state-of-the-art technology and features a DSP with an AMBE+2TM vocoder. Optimized DSP internal processing also minimizes the delay associated with digital voice audio.
- Powerful 750mW output internal speaker and 100mW external
The powerful output delivers clear audio even in noisy environments.
---
7-colour Large LED indicator

Selectable 7 LED colour LED options – can be set to identify different caller units at a glance.
---
Bright easy to read display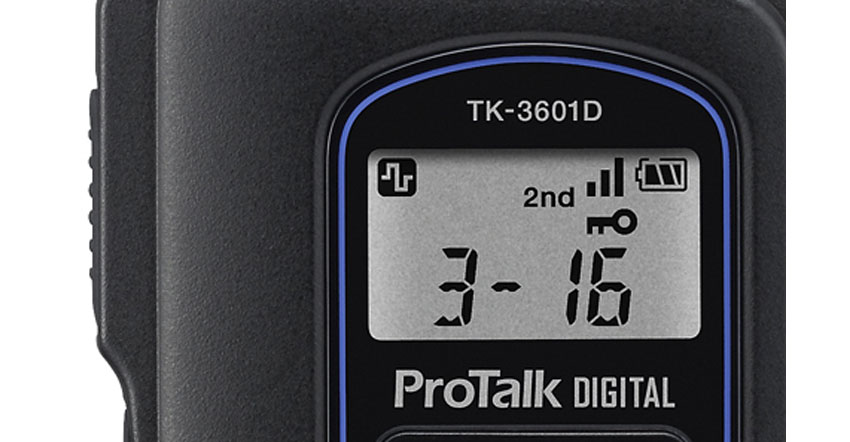 White backlight 8-seg. x 6-digit, 1-line LCD for clear display in all lighting conditions.
---
A High-Capacity Battery for Long-Lasting Operation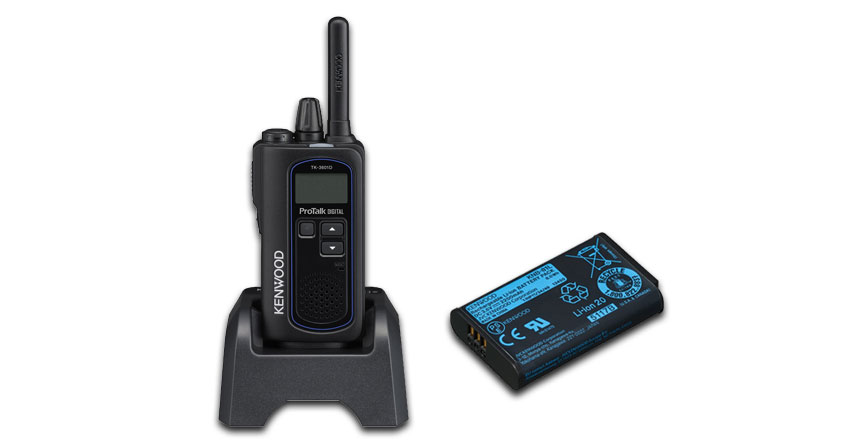 The TK-3601D comes with a high-capacity 3.6v/2200mAh Li-Ion battery to deliver up to 19 hours of operation (battery saver mode on), mains charger and charging cable, while its ability to keep going for a working day without having to charge the battery is great for optimising efficiency.
---
Accessories to meet your needs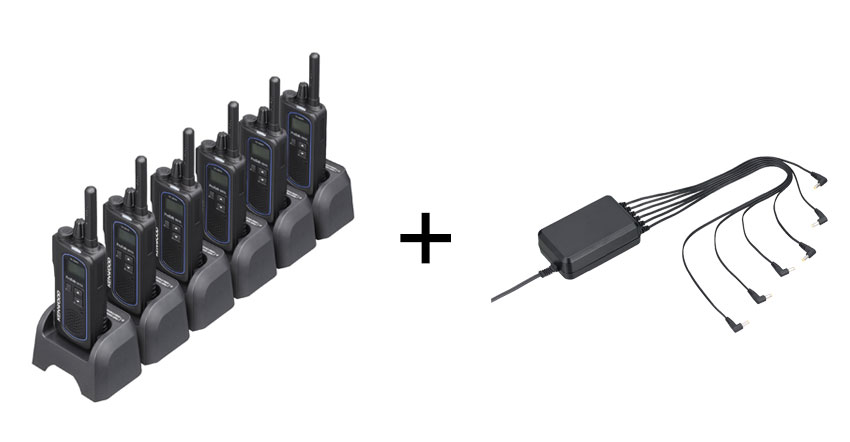 Select from a wide range of optional accessories to tailor the TK-3601D to precisely meet your needs.