Apex Radio Systems Ltd
---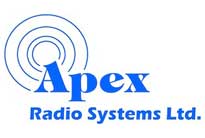 Our business lies in the hire and sales of high quality two way radios, and in expert design and installation of complex two way radio solutions.
Apex was established in 1990 in Newcastle upon Tyne. In 2011, Apex expanded its premises to overseas by opening offices in Dublin, and in 2015 we opened offices in Cardiff to cater for ever-expanding business needs in Wales and the South of England.
Apex provides two way radio communications solutions across the whole business spectrum, and in the fast moving world of today's business, two way radio communications play a crucial role in the safety and welfare of people.
Safety is essential to us at Apex, and our clients depend on us to deliver reliable communications every time. Because of our commitment and care to our customers Apex is dedicated to providing technical support, rapid response repairs and top quality service which is accredited by our European ISO 9001:2015 quality standard.
In addition, Apex currently supplies and supports over 250 Shopwatch & Pubwatch schemes, from Northern Scotland to the Southern Coast of England which makes us one of the leading providers of radio link schemes in the UK. Many Police forces throughout the country are linked to CCTV control rooms and retail's security radio systems, using Apex Radios in the constant fight against crime and disorder.
Over 5000 retailers, schools, hospitals, security services, construction companies, waste management companies, hospitality providers, and many others use Apex for security protection of their own customers and employees while receiving loyal service care from us.
Amongst our diverse portfolio belong organisations such as Royal Bank of Scotland, EDF Trading, Horizon Nuclear Power, Regents University, New Look, Boots, Newcastle United FC, Copthorne Hotels, Centre of Life, Cristal Pigments, and Sita, along with many major towns and cities which we support on radio link schemes.
We at Apex also have a great interest in community wellbeing. Our company supports a wide range of charities and encourages fundraising between all employees. We also invest in our local area and the community by employing staff through apprenticeship schemes and progressing staff members where appropriate through various NVQ qualifications.
For further information about us and how we can help to improve your communications please don't hesitate to give us a call on 0191 228 0466.
Apex Radio Systems Ltd
102 Tantobie Road
Denton Burn
Newcastle upon Tyne
NE15 7DQ

Tel No: 0191 228 0466
Fax No: 0191 228 0467
Email: info@apexradio.co.uk
Website: www.apexradio.co.uk
Opening Hours:
Monday - Friday: 09:00 - 17:00