Premier Communication Electronics Ltd
---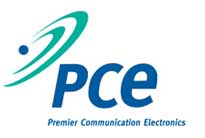 Premier Communication Electronics (PCE) specialises in two-way radio and mobile communications. PCE has built its business upon supplying, installing and maintaining communication solutions for a wide range of public and private sector businesses and organisations. We design, install, service and support every aspect of our customers' communication systems, including:
- Two-way radio solutions
- Radio hire
- Radio accessories
- Blue lights communications solutions
- Vehicle & asset tracking systems
- Lone worker solutions
PCE supplies and maintains solutions to a variety of business sectors. These include attractions, shop/pub watch schemes, large site areas such as quarries, warehouses and college campuses, etc. PCE also supplies to the emergency services, local authorities and the National Health Service.
Premier Communication Electronics Ltd
Premier House
Bittern Road
Sowton Industrial Estate
Exeter
Devon
EX2 7LW

Tel No: +44 (0) 1392 445040
Fax No: +44 (0) 1392 445041
Email: sales@pce-exeter.co.uk
Opening Hours:
Monday - Friday: 09:00 - 17:30