Radcomm UK Ltd
---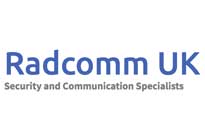 Radcomm UK has been trading for almost 40 years. Our philosophy is providing wireless solutions in a Simple, Cost-Effective Way. We guarantee a step-by-step, hassle-free process from our first meeting to commissioning your system onsite.
Our solutions range from Hand Portables talking back-to-back; Digital Inter-site Radio Systems; CCTV in vehicles; Audio Recording solutions;
You will be surprised at our Wireless solutions portfolio, its tailored to provide the necessary levels of Wireless Solutions for all businesses and Local Authority.
Radcomm UK
352 Westdale Lane
Mapperley
Nottingham
NG3 6ET

Tel No: +44 (0) 115 9522777
Fax No: +44 (0) 115 9522888
Email: sales@radcommuk.co.uk
Opening Hours:
Monday - Friday: 09:00 - 17:00