Airports & Airlines
---
Efficiency, business continuity, service recovery, utilisation, safety and security on a massive scale.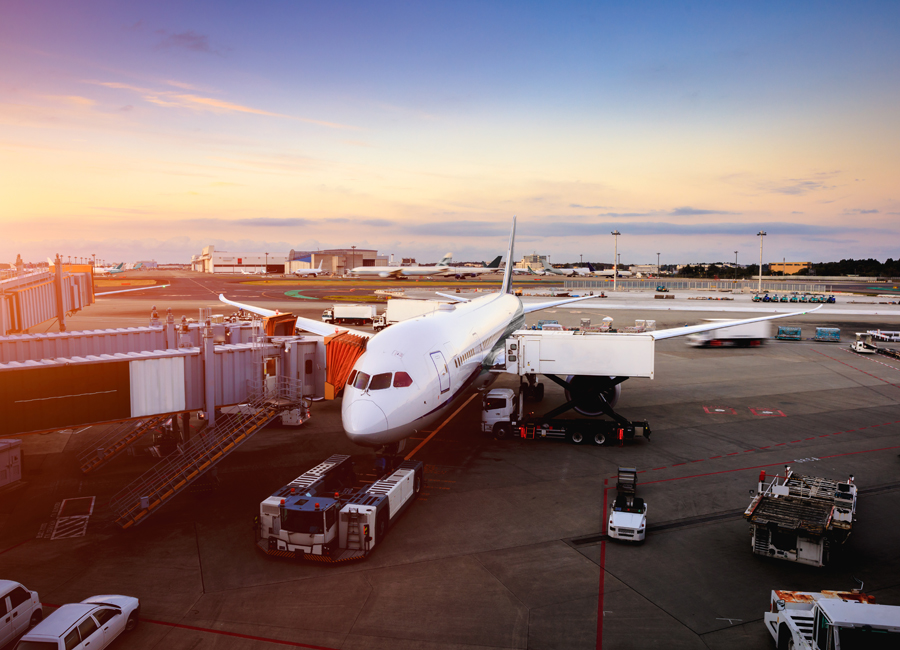 Airports are remarkable places, entire communities, employing tens of thousands of people within their perimeters, and covering areas measured in square miles, operating around the clock, 365 days a year.
Operating an airport can be likened to running a large town, for instance the 76.5 million m2 site covered by Istanbul Airport which includes its own power plant, water treatment and waste facilities, hotel, restaurants, shops, parking for 70,000 cars, 500 aircraft and an annual capacity of over 150 million passengers.
Clear, reliable and effective two-way radio communications is critical to operational safety and efficiency
Clear, reliable and effective two-way radio communications of both voice and data between diverse teams in an airport is not just important, it's critical to operational efficiency, business continuity, safety and security.
In the past, companies within airports operated as separate entities and developed their own two-way radio systems to allow them to communicate with their clients, typically airlines; while in turn, airlines needed to communicate with both their suppliers and their own teams.
This led to a proliferation of stand-alone communications systems and resulted in huge inefficiencies and a high risk to the resident airport community and passengers in the event of an emergency or disaster.
In recent years however, this situation has changed across the world's airports with investment in integrated solutions to allow cross communication between individuals and user groups operating at desks, on foot or from vehicles, including:
 

- Airport management
- Airlines
- Airline agents
- Ground services
- Flight and cabin crew
- Engineering
- Construction
- Maintenance
- In-flight catering

- Retail and catering
- Hotels and Car Parks
- Transfer services
- Baggage handling
- Cleaning services
- Freight handling
- Border control
- Security teams
- Safety teams
Kenwood two-way radio systems proven in airports around the world
As you would expect, Kenwood professional two-way radio communications systems are employed at many of the world's leading airports with NEXEDGE® NXDN, NEXEDGE dPMR and NEXEDGE DMR digital two-way radio systems incorporating hand-portable walkie-talkies, mobile units and repeaters operating in fully scalable IP and trunked digital systems, more airports than ever are migrating to the outstanding coverage, flexibility and security that digital two-way radio offers.
In addition, Kenwood can offer the license-free ProTalk DECT digital wireless intercom solutions for localised applications within airport operations.
Recent installations in Airports include the world's largest in Istanbul (NEXEDGE Gen2 NXDN), ten other airports in Turkey, Vnukovo Airport (NEXEDGE NXDN) and Rostock Airport (NEXEDGE DMR).
Istanbul Airport

NEXEDGE NXDN Gen2 provides operations critical communications for what is set to become the world's largest airport.
Rostock-Laage Airport

Kenwood DMR delivers operations critical communication for passenger and aircraft management at Rostock-Laage Airport - the largest airport for passenger transport in the state of Mecklenburg-Vorpommern in northern Germany.
To discover more about the millions of Kenwood devices in use by countless customers in hundreds of applications around the world, including the innovative multi-protocol NX-5000 Series (NXDN, DMR, P25 and FM Analogue) and NX-3000 Series (NXDN, DMR and FM Analogue) hand portable walkie talkies and mobiles, DMR simulcast systems and DECT wireless intercoms systems please visit the linked pages, look into our Professional Communication System Solutions, complete the Enquiry Form or contact an authorised Kenwood Communications reseller.
► Please complete our Enquiry Form for help with
your project