Broadcast Production
---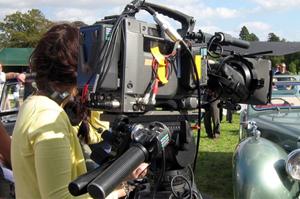 Outside broadcast units, location filming and film sets are often difficult environments with so many variables to take into account, from background noise, weather, demanding directors, temperamental talent and equipment, to coordinating a small army of crew, specialists, cast and extras to be in the right place at the right time.
It's an industry that understands that time is money and that mistakes cost – whether in missing that crucial news shot or interview, having to do an additional take or paying for overtime.
It's no wonder that in spite of the ubiquity of mobile phones, two-way radio communications reign supreme in broadcast production. The ability to communicate between director, producers, technicians, talent and the myriad of support personnel within and across groups, clearly and instantly, can often make the difference between chaos and success.
Kenwood communications equipment has featured strongly in the broadcast production industry for many years, whether ProTalk PMR446 license-free hand-portable walkie talkies in outside broadcast units or on location, analogue radios on permanent sets or digital radio systems across entire film and studio facilities, customers have come to rely on Kenwood to deliver the reliable and economical voice and data communications that help to keep productions on schedule and budgets in check.
As you would expect, Kenwood professional two-way radio communications equipment has been in use in supporting broadcast production for years and now with NEXEDGE® NXDN, NEXEDGE dPMR and DMR digital two-way radio systems incorporating hand-portable walkie-talkies, mobile units and repeaters operating in fully scalable IP linked digital systems, more airports than ever are migrating to the outstanding coverage, flexibility and security that digital two-way radio offers.
In addition, Kenwood can offer the license-free ProTalk DECT fully duplex digital wireless intercom systems for studio and outside broadcast productions.
To discover more about the millions of Kenwood devices in use by countless customers in hundreds of applications around the world, including the innovative multi-protocol NX-5000 Series (NXDN, DMR, P25 and FM Analogue) and NX-3000 Series (NXDN, DMR and FM Analogue) hand portable walkie talkies and mobiles, please visit the linked pages, look into our Professional Communication System Solutions, complete the Enquiry Form or contact an authorised Kenwood Communications reseller.
See also Kenwood in Event Management and our case study on RT UK equips its London studios with NEXEDGE® Digital.
► Please complete our Enquiry Form for help with
your project