Construction
---
TWO-WAY RADIO IMPROVES WORKER SAFETY AND DELIVERS INCREASED EFFICIENCY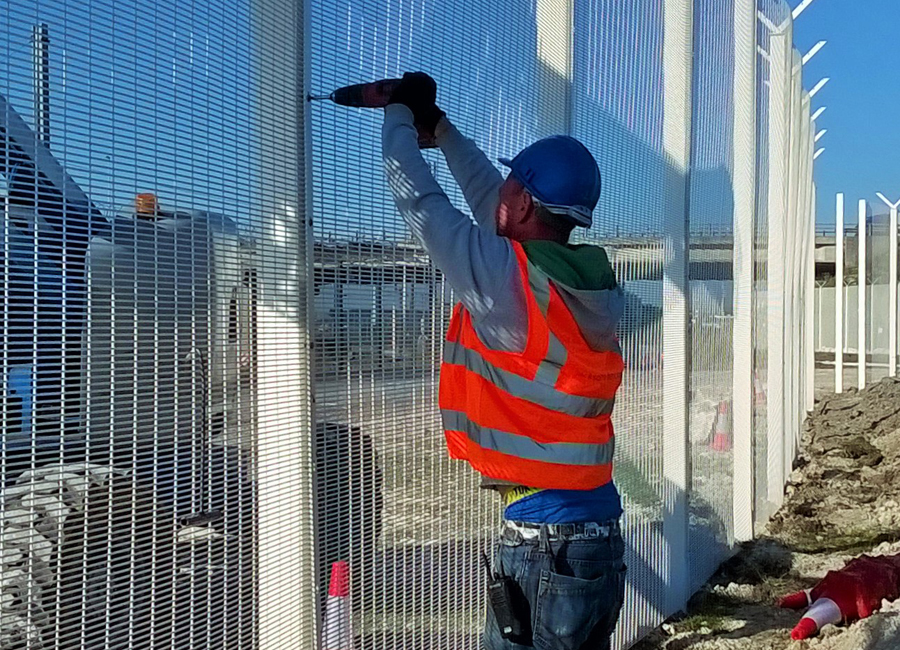 Employ the benefits of two-way radios on construction projects to improve site safety and deliver completion on time and within budget.
Construction sites can pose real threats to worker safety and account for one-fifth of all fatal accidents at work in the EU-27 in 2018 (Eurostat/ESAW). Plant, heavy machinery, vehicles, noise, dust and changing weather conditions conspire to make safe, efficient operations a real challenge.
Clear, concise voice communication makes a real difference, and thankfully with two-way radio, it's increasingly rare to hear workers having to shout warnings and instructions to each other on professionally run sites or see them communicate using mobile phones, which are difficult to use with gloved hands, fragile and prone to signal dropouts.
ADVANTAGES OF TWO-WAY RADIOCOMMUNICATION ON CONSTRUCTION SITES
- Instant, clear communication between all workers
- Increased worker safety
- Support emergency and first aid response protocols
- Enhanced site security
- Long battery life

- Reliable and durable equipment
- Ability to cover large areas indoors and out
- Increased productivity
- Multiple channels for group and individual calls
- Flexible configuration to suit each project
DIGITAL TWO-WAY RADIO SUPPORTING SAFER, MORE EFFICIENT WORKING PRACTICES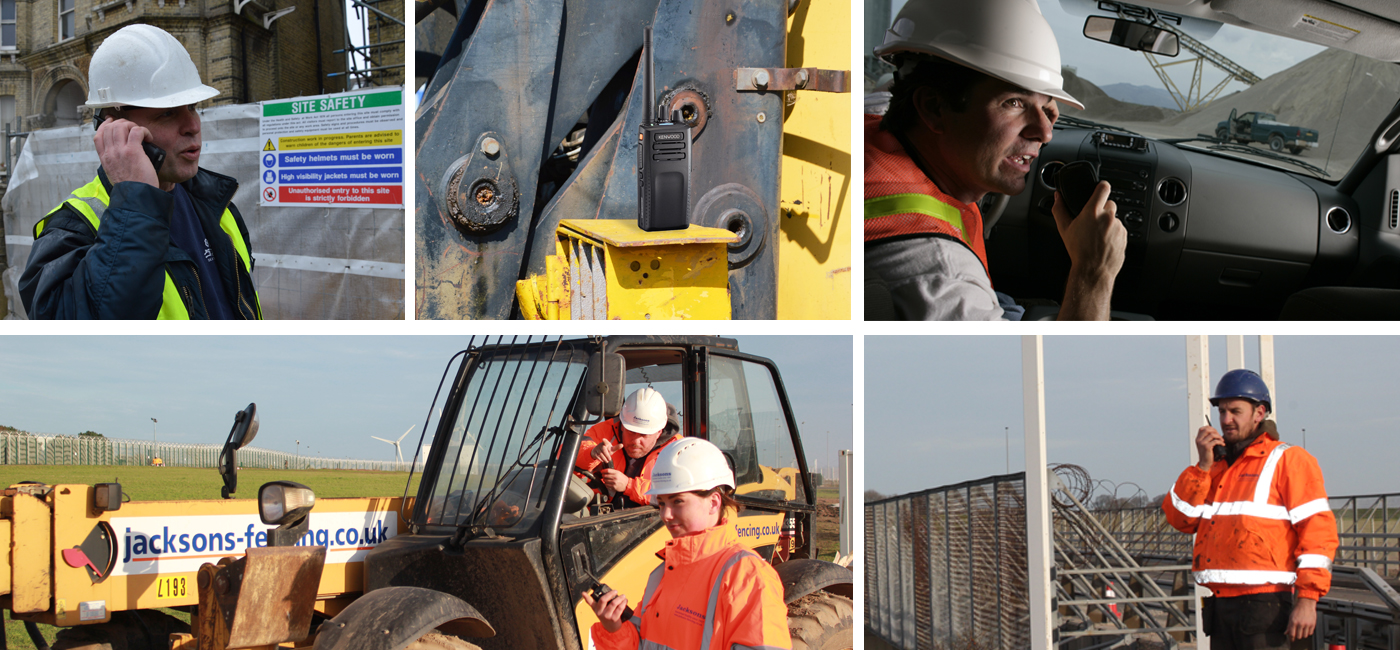 While license-free analogue PMR446 two-way radios have proven to be effective on-site for many years, the growing trend is to digital technologies where the benefits of backward compatibility with existing analogue radios, ease of use, more channels, improved clarity and security and more effective background noise suppression are supporting safer and more efficient working practices.
Not only do digital radios provide better reception to the full extent of the coverage area, but they are also more effective in reaching difficult areas. For example, workers operating below ground, at height and within structures are important considerations in the event of an accident or emergency.
DIGITAL LICENSE-FREE PMR446 IMPROVES EFFICIENCY BY REDUCING DOWNTIME
Digital dPMR446 is by far the most popular license-free PMR446 format among professional users, and with 32 digital channels and 16 analogue channels, it's particularly suited to operations in congested areas or where channels are allocated to specific trades. Ruggedness, long battery life between charges and simplicity of operation in all conditions are some of the key attributes of the current generation of KENWOOD ProTalk dPMR446 radios, along with many advanced features only previously found in licensed radios.
ProTalk digital dPMR446 was employed for a major security upgrade at the Eurotunnel site

Jacksons Fencing, a leading perimeter security specialist, completed the installation of 8.5km of high-security fencing and more than 40 pedestrian and vehicle gates at the Eurotunnel Terminal, Coquelles, France, as part of a high-profile Anglo-French initiative to upgrade safety and security at the terminal's 41.8km perimeter. The project was delivered in just eight weeks, supported by ProTalk dPMR446 radios to coordinate teams and supply materials across the site.
LICENSED DIGITAL RADIO SYSTEMS BRING ENHANCED WORKER PROTECTION AND EVEN GREATER ACCOUNTABILITY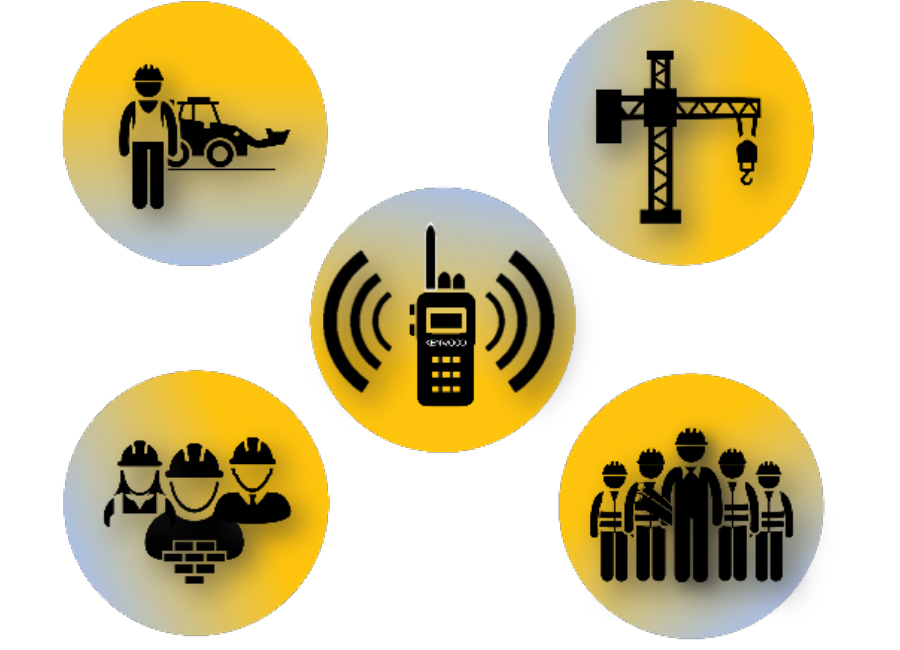 A licensed digital radiocommunication system brings even greater benefits for larger sites and longer-term or infrastructure projects. Individual and group calls, lone worker, man down and emergency alerts, data messages and automated alerts, longer range, enhanced encryption against malicious interception and eavesdropping, GPS, and the flexibility to link multiple sites together mean that resources can be accounted for instantly and allocated as required. KENWOOD DMR and NEXEDGE NXDN offer the capability to build digital flexible and scalable conventional, IP conventional and trunked radio systems suitable for covering single or multiple sites.
ADVANCED HEALTH & SAFETY AND LONE WORKER PROTECTION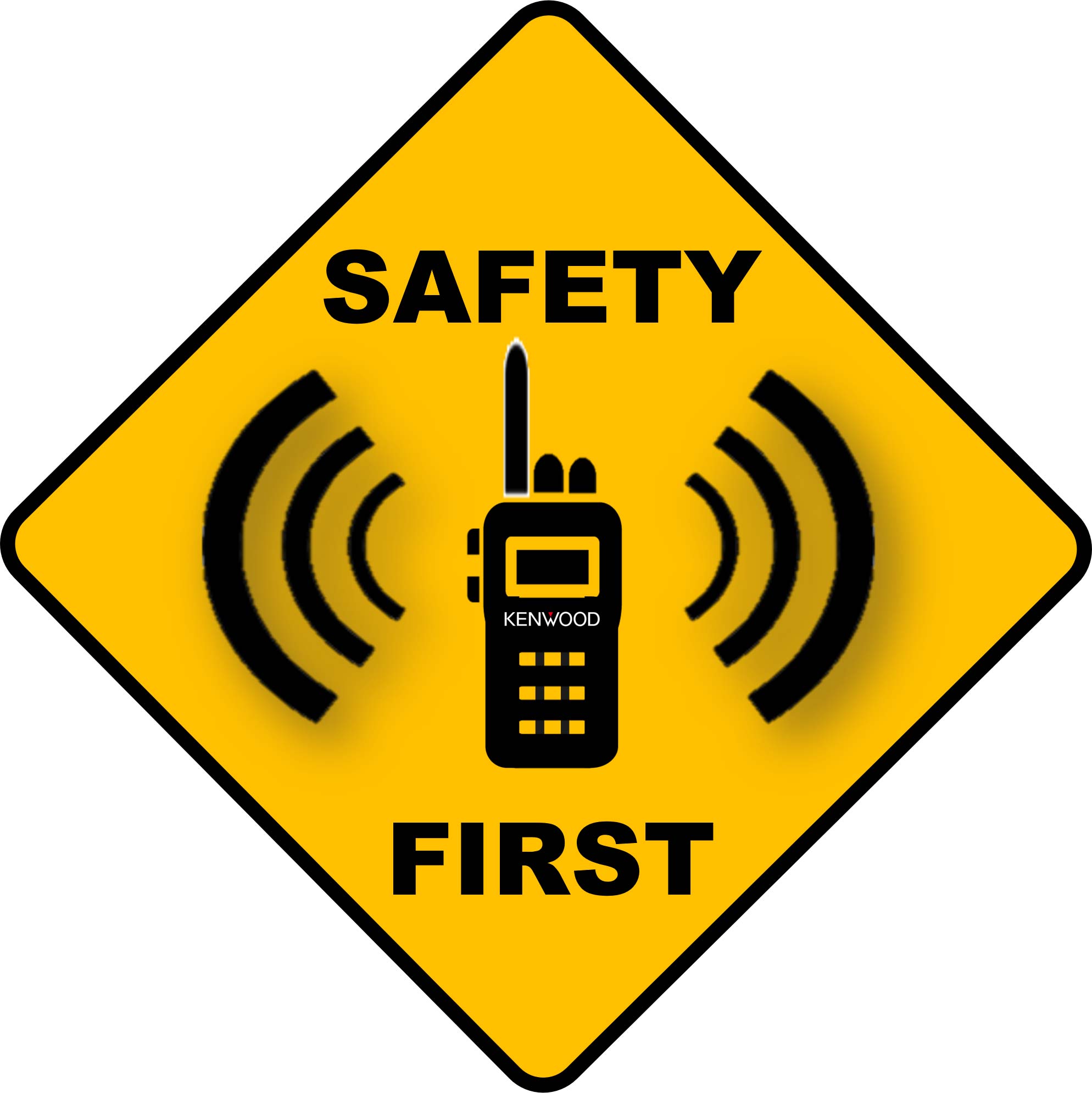 All NEXEDGE NXDN and DMR digital two-way radio devices feature an Emergency Key and Emergency Call features as standard. At the same time, more advanced models additionally offer built-in or optional GPS modules, Lone Worker, Motion Detection and compatibility with Location Services, which can be programmed to deliver automated proximity triggered prompts. For example, when site workers enter a hazardous area where special safety clothing is required or for specific functions such as tower cranes and other machinery operators – making them essential in a robust health and safety policy.
These advanced safety features offer an added layer of protection in support of emergency and first aid protocols with the ability to automatically send alerts and alarms to the site office and/or other radio users:
Priority Call:

The Priority Call feature ensures the availability of a radio channel in the event of an emergency and allows a dispatcher to interrupt all existing calls on a channel.

Emergency Key:

An alarm is triggered along with the sender's user ID when the Emergency Key button is pressed. GPS equipped radios can also send the user's location (GPS coordinates).

Lone Worker:

An alarm is triggered along with the sender's user ID if a user does not respond to a status prompt within a specified time.

Man Down:

An alarm is triggered along with the user ID of the sender if the radio is tilted beyond a pre-determined angle, indicating that the user may have fallen or become incapacitated. Other programmable features include:
- Stationary Detection: Emergency mode is triggered along with the user ID of the sender when the radio remains in a stationary position for a period exceeding a pre-set time, indicating that the user is unable to operate the transceiver, or it's has been lost, mislaid etc. GPS equipped radios can additionally send the location (GPS coordinates) of the user to a control centre using software such as KAS-10 and KAS-20 AVL and Dispatch suites.
- Motion Detection: Emergency mode is triggered along with the user ID of the sender when the radio is vigorously shaken or swung for a period exceeding a pre-set time, indicating that the user is running to or from an incident. GPS equipped radios can additionally send the location (GPS coordinates) of the user to a control centre using software such as KAS-10 and KAS-20 AVL and Dispatch suites.

Location Services:

NEXEDGE NXDN and DMR radios equipped with GPS can additionally be programmed to send location information to the control centre using software such as KAS-10 or KAS-20 AVL and Dispatch suites so that the user at risk can be located quickly and response times reduced.

Asset Tracking and Monitoring:

With Trackuracy, KENWOOD DMR and NEXEDGE NXDN systems can be equipped with low-energy, real-time asset monitoring and tracking across single and multiple sites, indoors and out. Alerts, alarms delivered as audible tones, voice or data messages can be programmed to trigger automatically should the user stray off course or enter restricted areas.

Remote Monitor:

Remote Monitor allows control centre staff to listen in to a radio through its microphone in situations where an alarm is activated, and the radio user is unable to respond. This provides Health, Safety and Security management with the intelligence to assess a situation in real time and to quickly initiate an appropriate response.

Intrinsically Safe Radios:

NEXEDGE NXDN ATEX/IECEx certified radios provide the solution for lone workers operating in explosive atmospheres or situations where hazardous airborne particles are present.
LOCATION SERVICES
In the drive to reduce costs, improve productivity and ensure worker safety, construction companies are increasingly looking to their radiocommunications systems to not only provide failsafe voice and data capability but also to support the implementation of automation, provide all-site mobility and traceability, and the data and metrics to analyse workplace productivity.
Trackuracy Platform
KENWOOD DMR and NEXEDGE NXDN systems integrated with the Trackuracy asset tracking and monitoring platform enable you to monitor people and assets in real-time, indoors and out, throughout the full extent of a site or multiple sites.
Its rich feature set includes the ability to automatically switch views seamlessly between indoor and outdoor tracking when users are in vehicles. It also allows you to receive location information on multiple devices, including Dispatch Positions (PC), iOS and Android Tablets and Smartphones.
Trackuracy provides Real-time Location Services (RTLS) that help you get the right resources to the right place at the right time – with information visible to you as it happens, including live-action views, reporting and analytics. Data accuracy, low-energy Bluetooth and reduced radio bandwidth consumption, and the ability to automate actions and notifications form the backbone of a Trackuracy system.
Trackuracy employs simple, reliable I-beacons and smart sensors, which combine with GPS and either KENWOOD DMR or NEXEDGE NXDN radio systems to deliver a simple, scalable, cost-effective solution to real-time tracking, reporting and recording of each person's location and status.
KAS-10 & KAS-20 AVL/Dispatch Suites
For applications requiring lower levels of automation and location services, the basic KAS-10 or more advanced KAS-20 software suites empower KENWOOD DMR and NEXEDGE NXDN systems with AVL and Dispatch capabilities, including dispatch and voice recording, fleet management, call logging and event sharing features.
EXCEPTIONAL AUDIO QUALITY EVEN IN NOISY ENVIRONMENTS
Construction sites are noisy, with plants and machinery in constant operation. KENWOOD radiocommunication devices benefit from JVCKENWOOD Group's 60 years of experience producing consumer audio and visual equipment (Trio, JVC and KENWOOD), renowned for exceptional sound quality.
This transfer of knowledge and experience has led to the development of several novels and innovative solutions which overcome the problem of cancelling ambient noise while improving the audio clarity of the transmitted voice in any operating environment.
Ultimate noise cancellation:

NX-5000 Series hand-portable radios achieve optimum noise cancellation using two integrated microphones. The main microphone is closer to the desired source (front of the radio), while a second microphone in the rear receives the ambient noise. In a noisy environment, both microphones receive noise at a similar level. However, the main microphone receives the user's voice more strongly. The processor in the radio subtracts one noise source from the other so that most of the ambient noise is cancelled, which effectively enhances the quality of the transmitted audio of the user's voice.

Active Noise Reduction:

Both NX-5000 and NX-3000 Series radios feature Active Noise Reduction (ANR).  ANR cancels the collected audio's noise component to improve the transmitted audio quality.

Noise cancellation functions can be 'Custom' configured to adjust the vocoder, DSP, filters, specific noises etc., to suit the operating environment.

Selectable Audio profiles:

The received audio will sound different depending on the usage environment of the radio, characteristics of the device (such as the microphone to be combined with the radio and external devices), and the tone of voice and manner of speaking of the speaker. The received audio will also sound different depending on the output method, such as using the speaker of the radio or via an earphone to hear the received audio. KENWOOD radios feature 6 customisable audio profiles, which can be configured for specific scenarios and selected by the user to suit the operating environment.
COST-EFFECTIVE MIGRATION FROM ANALOGUE TO DIGITAL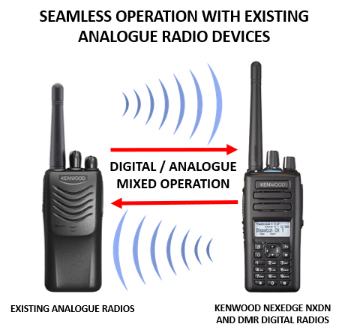 The beauty of a KENWOOD digital two-way radio solution is that your investment in new equipment when upgrading from analogue can be phased over time as all KENWOOD DMR and NEXEDGE NXDN digital radio devices feature automatic analogue/digital Mixed Operation (which allows them to communicate with any existing analogue radios whatever the make seamlessly) providing a predictable and cost-effective path to full digital implementation.
BUILT TOUGH FOR USE IN STUDIOS, FILM SETS AND ON LOCATION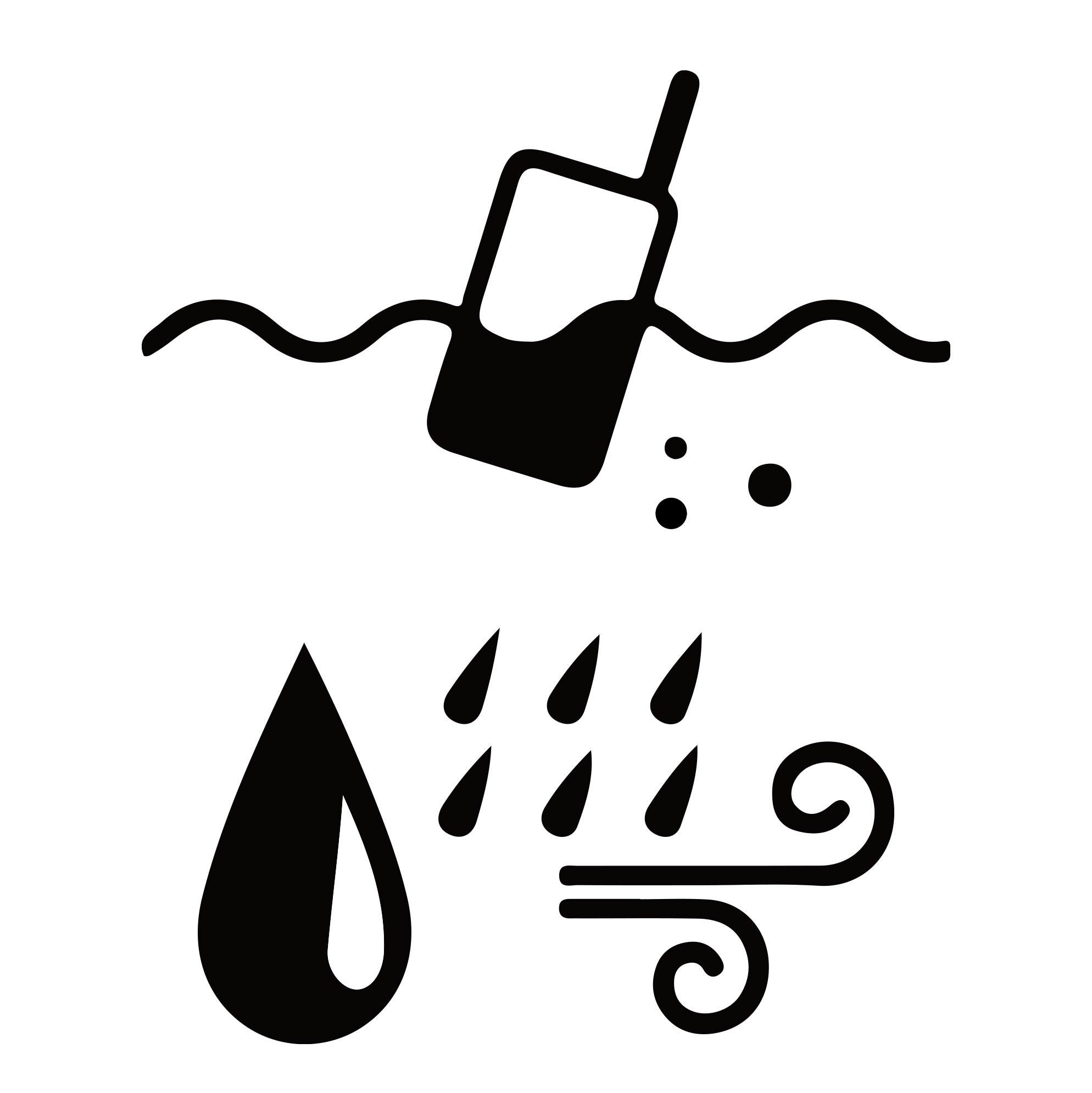 As you would expect, all Kenwood professional hand portable walkie-talkies and mobile radios conform to MIL-STD-810 C/D/E/F/G for ruggedness and durability and are IP54/55/67 Water & Dust Intrusion rated, making them suited for use in any environment.
In addition, KENWOOD can offer ATEX IECEx devices for use in hazardous, explosive atmospheres.
EXPLORE KENWOOD SOLUTIONS FOR YOUR OPERATION
To discover more about the millions of Kenwood devices in use by countless customers in hundreds of applications around the world, including the innovative, multi-protocol NX-5000 Series (NXDN, DMR, P25 and FM Analogue), NX-3000 Series (NXDN, DMR and FM Analogue) and exceptional value offered by the entry-level NX-1000 Series hand portable walkie talkies and mobiles. Please click on the banners below.
For more information on KENWOOD digital system solutions including, DMR Tier 3 trunking and Simulcast, NXDN Type-C, Type-D and Gen2 trunking, click here.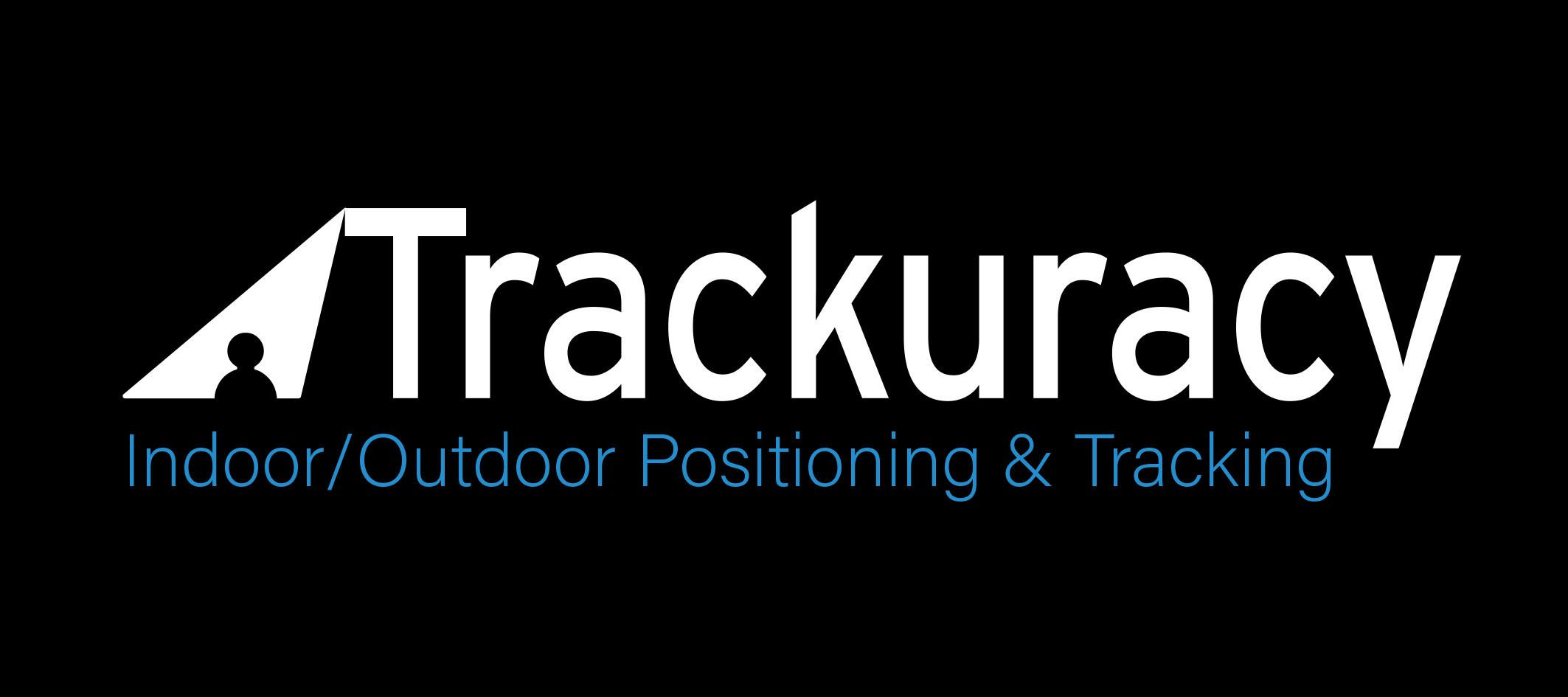 If you'd like to learn more about our TRACKURACY, our real-time Bluetooth Low Energy asset tracking and monitoring solution, click here.
Alternatively, please post an enquiry to us or contact an authorised KENWOOD Communications reseller.
► Please complete our Enquiry Form or contact an Authorised reseller
for help with your project
QUICK LINKS
Please click the banners to explore your choice of technology and solution