Facilities Management
---
Spanning the private and public sectors, the Facilities Management industry is notoriously difficult to define, but it is all about taking control of 'non-core' services, allowing organisations to concentrate on what they do best.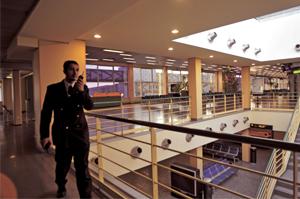 The industry is a large and dynamic £ multi-billion provider of a wide range of in-house and outsourced services.
Facilities Management performs a vital function in the smooth running of offices, retail centres, industrial buildings, schools and hospitals. It has grown to become a strategic business discipline and today offers a wider range of choice in how specific functions and services are delivered.
The extent to which services offered will vary and flex around a client's need, the site being managed and the resources available but would typically include:
- Health and Safety
- Fire Safety
- Security
- Maintenance and Repair
- Cleaning

- Landscaping
- Statutory Testing and Inspections
- Operational Services
- Commercial Property Management
- Business Continuity Planning
The use of Kenwood two-way radio communication to coordinate services within facilities is widespread providing the ability to deliver clear voice and data transmissions to different teams located around a site to prioritise work, respond to situations, manage emergency procedures, maximise the efficient use of resources and ultimately to speed up and improve the quality of service delivered.
However as sites and user groups have become larger and buildings more complex in construction, existing analogue two-way radio networks are stretched beyond their economical capability resulting in less than ideal reception dead spots. But now, with the extended coverage, programmable features and security offered by Kenwood NEXEDGE® Digital Two Way radios and their unique analogue/digital Mixed Mode (which allows them to communicate automatically with any existing analogue radios whatever the make) and turn-key trunked capability, facilities managers have a predictable and economical path to migrate to the benefits of digital at an affordable cost.
Today, in addition to its NEXEDGE® fully scalable digital systems, Kenwood can offer dPMR and DMR digital solutions alongside the latest ProTalk digital license-free PMR446 radios featuring digital/analogue mixed mode and ProTalk DECT fully duplex digital wireless intercom systems.
As you would expect, all Kenwood professional series hand portable walkie talkies conform to MIL-STD-810 C/D/E/F/G for ruggedness and durability and are IP54/55 Water & Dust Intrusion rated, making them ideal for use in facilities management applications.
To discover more about the millions of Kenwood devices in use by countless customers in hundreds of applications around the world, including the innovative multi-protocol NX-5000 Series (NXDN, DMR, P25 and FM Analogue) and NX-3000 Series (NXDN, DMR and FM Analogue) hand portable walkie talkies and mobiles, please visit the linked pages, look into our Professional Communication System Solutions, complete the Enquiry Form or contact an authorised Kenwood Communications reseller.
Follow these links to read more about NEXEDGE® digital two-way radio in facilities management at the One New Change shopping and office complex in the City of London, at Chapelfield Shopping Centre, Norwich, La Sagrada Familia, Barcelona and the CN Tower, Toronto.
► Please complete our Enquiry Form for help with
your project