Forestry
---
Two-way radio brings improved safety and productivity to forestry operations.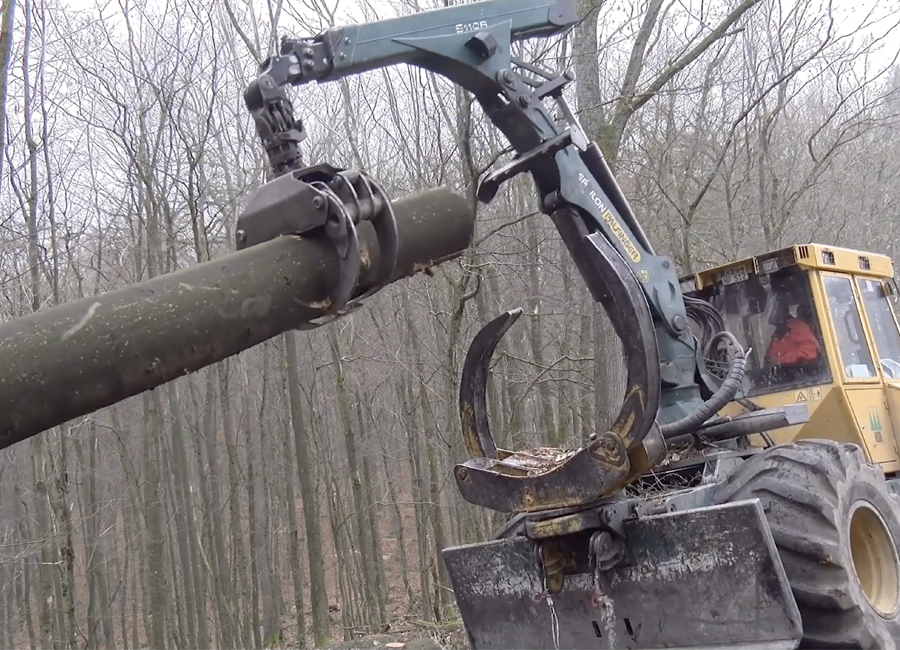 Man, machines, and technology work together to protect the planet and nurture and harvest an essential resource.
With some 3,999 million hectares of tree cover extending to cover 30% of the Earth comprising natural and seminatural forests, tree plantations, and agricultural tree crops, forestry management will continue to play a vital role in environmental protection and cultivation of timber for commercial usage.
The management of forests is one of the oldest industries and remains one of the most dangerous activities. However, practices have evolved and made safer with training, professional working procedures and state of the art equipment.
A working environment characterised by its many hazardous
Most injuries sustained by forestry workers are associated with trips, slips, falls, being struck by objects, using chainsaws, and adjusting machinery. According to a UK Health & Safety Executive report, forestry has the highest fatality and major injury accident rate of all industry sectors, so alongside the drive for greater productivity, forest work managers are looking for practical and effective solutions that will support more vigorous safety procedures for workers.
- Accidents when operating chainsaws/hand saws, axes
- Crush injuries while operating/maintaining machinery
- Slips and trips on uneven terrain
- Falls from a height

- Being struck by a moving or falling object
- Allergies and exposure to biological hazards
- Strains and sprains
- Contact with high voltage power lines and fire
The forestry sector employs over 13 million formal foresters and conservation technicians globally. They are a hardy breed, carrying out hard, physically demanding work in natural, untamed environments and exposed to the elements. Typically working in small, close-knit teams, they rely heavily on verbal communication to ensure safety and organise workflow.
Thankfully, the days when workers had to rely on shouting instructions and warnings to each other over the din of chainsaws and heavy equipment are gone. The introduction of radio communications to the sector has made a massive, positive impact on worker safety and improved efficiency in this challenging working environment.
RADIOCOMMUNICATION SUPPORTING SAFETY FOR FORESTRY WORKERS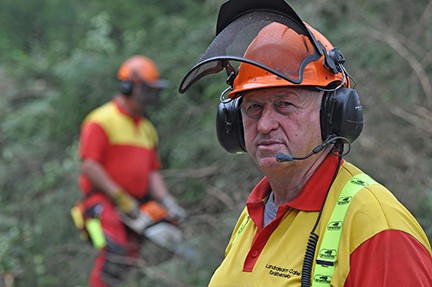 KENWOOD digital two-way radio communication equipment and systems have been employed to coordinate teams operating in forests for many years. Providing the ability to deliver clear voice and data transmissions to different teams located around a site to prioritise work, respond to situations, manage emergency procedures, and maximise the efficient use of resources.
But it's not just more extensive forestry operations that benefit from two-way radio communications. Smaller teams of tree surgeons operating in the public urban landscape and domestic gardens equally benefit from the enhanced safety radio communications bring.
While the use of two-way analogue radio has been in use for many years. Its limitations in providing effective coverage and maintaining clear reception across extensive areas can result in less-than-ideal dead spots. The restricted functionality and worker safety features are out of step with today's safety practices.
Digital two-way radio offers the ideal solution. Allowing increased range and clarity up to the limits of the coverage area, the flexibility to configure systems and devices to meet specific situations and most importantly, advanced worker safety features to ensure best practice is supported.
The key area in which radiocommunication can support increased productivity and worker safety is providing instant communication needed to ensure workers and machinery are in the right place at the right time. In the event of an accident, help is close to hand.
Despite the ubiquity of smartphones and tablets in the forestry sector, two-way radiocommunication remains the optimum communication tool of first and last resort that continues to work even in the event of cellular or ISP network service outages.
Which radiocommunication technology is best for your forestry operation?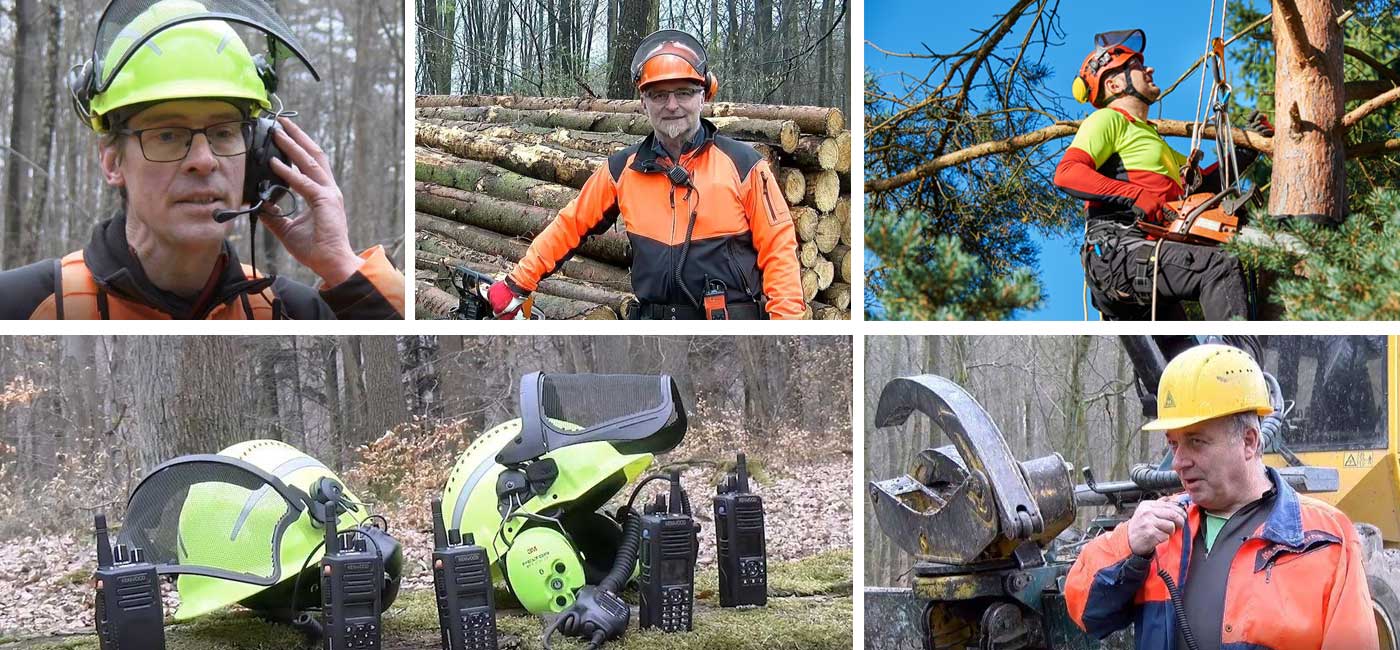 As with virtually any electronic device, there are always cheaper alternatives to tested and proven professional equipment.
With the financial and environmental pressures on the forestry industry, it's tempting to cut corners and shave costs where possible. For example, multi-packs of consumer PMR446 walkie-talkies from a supermarket, catalogue store or even toy shop bought for little more than half the price of a small, cheap chainsaw. While they might work, they are not designed to survive the rough and tumble of forestry activities, usage in all weather conditions (and with gloved hands) or last a long day's work without needing to be charged or replacing the batteries.
A license-free or licensed two-way radio is a critical piece of equipment. Allowing forestry management, the ability to coordinate operations being carried out by workers, often working out of the sight colleagues, reliably and clearly at the push of a button to optimise safety and efficiency - especially important when circumstances change or in the event of incidents and accidents requiring urgent assistance, so it pays to invest in the right kit for the job.
Typical applications include:
- Safety of lone / out of sight workers
- Locating workers
- Monitoring and logging workforce
- Monitoring equipment
- Evaluating efficiency

- Incident reporting
- Workflow management
- Supervision of seasonal workers
- Coordinating machinery operations
- Safety and implementation of emergency plans
KENWOOD PROVEN PERFORMANCE IN THE WIDER FORESTRY SECTOR
The use of KENWOOD two-way radio communication to coordinate workflow and safety in the forestry sector is widespread. Providing the ability to deliver clear voice and data transmissions to workers located within a single site or across widely spread spaces to prioritise work, respond to situations, manage emergency procedures, and ultimately maximise the efficient use of resources, improve safety and productivity.
Solutions include the simplicity of license-free digital dPMR446 walkie-talkies to highly flexible, voice and data-enabled digital conventional, IP networked and trunked DMR and NEXEDGE NXDN communications systems. The utility can be significantly extended with the addition of applications and software suites to include dispatch and location capabilities, automated and event-triggered audio and text alerts and real-time asset tracking and monitoring.
ProTalk License-Free PMR446 – simple and effective
The simplicity and convenience of analogue and digital license-free PMR446 technology have made it popular in smaller operations. For example, arborists working in private, public gardens and grounds. Their reliability, ruggedness and ease of use provide instant communication between individuals and groups at the push of a button.
KENWOOD ProTalk digital dPMR446 is particularly suited for arborists working in open spaces in congested cities where channels are required to be allocated to specific teams. It offers better reception to the full extent of the coverage area and 32 digital channels and 16 analogue channels (compatible with existing and other analogue PMR446 radios). Durability, long battery life between charges and simplicity of operation even while wearing protective equipment in all conditions are critical attributes of the current generation of KENWOOD ProTalk dPMR446 radios. Along with many more advanced features only previously found in licensed radios.
KENWOOD ProTalk digital dPMR446 at a glance:
- Compact hand-portable format
- dPMR446: 32-digital channels + 16-analogue channels
- Built-In Voice Scrambler
- Construction to US MIL-STD Specification 810G
- IP54/55 rated
- Native analogue/digital modes of operation
- Programmable second PTT

- 7-colour LED indicator illuminates to notify multi-status functions, including power-on and different unit identification
- Simple to programme and use
- Long battery life between charges
- Rugged and durable
- Reliable and resilient RF coverage
- Supplied with battery, battery charger and belt clip
KENWOOD licensed digital radio – the flexibility to meet the demands of large operations and multiple sites
For larger single sites or communications to units and crews across multiple locations, a licensed KENWOOD DMR and NEXEDGE NXDN digital technologies bring even greater benefits, including:
- Multi-protocol DMR/NXDN + FM Analogue options
- Native analogue/digital Mixed Mode operation
- Portable and in-vehicle formats
- Individual, group and 'all radios' calls
- Advanced built-in and programmable user safety functions including lone-worker, man-down and emergency call
- Over the air programming
- Programmable automated alerts
- Emergency alert functions
- Voice and data messages

- Optional and built-in GPS
- More extended range/improved coverage
- Encryption against interception and eavesdropping
- Flexibility to link multiple locations
- Scalable digital conventional, IP conventional and trunked operation
- A suite of application solutions to tailor a system to meet specific operational requirements
- Simple to programme and use
- Long battery life between charges
- Rugged and durable radio devices
- Reliable and resilient RF coverage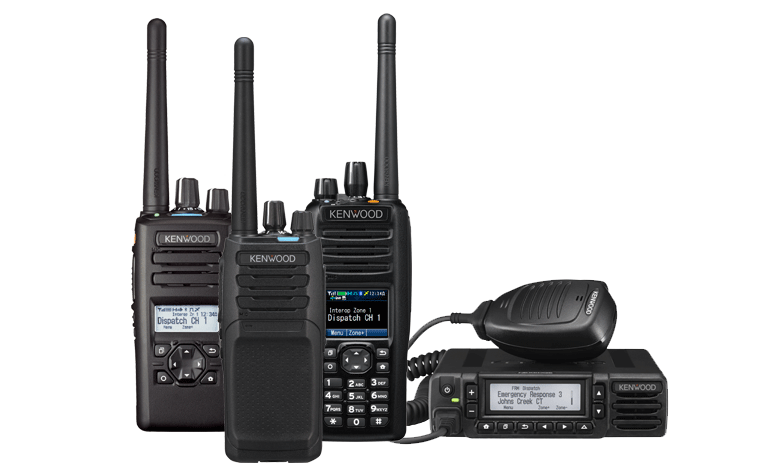 KENWOOD licensed DMR and NEXEDGE NXDN offers both hand-portable and in-vehicle devices that can be integrated with existing security and safety systems. Including fire, security, access control, telemetering etc., provides a failsafe, scalable and future-proofed communication solution.
An important point to note is that all KENWOOD digital radiocommunication devices feature native mixed-mode operation, which allows them to communicate with existing analogue radios automatically.
KENWOOD DMR and NEXEDGE NXDN digital protocols both offer the capability to build flexible and scalable systems. In contrast, the native analogue/digital Mixed Operation (enabling radios to communicate automatically with existing licensed analogue radios) provides a predictable, economical migration path to a complete digital two-way radio implementation at an affordable cost and the basis to build a future-proof radio communications system.
KENWOOD DMR

The KENWOOD DMR range offers users comprehensive and cost-effective operations and business-critical digital two-way radio solutions employing 2-slot TDMA technology in an ETSI TS 102 361-1, 2 & 3 compliant format. Options include low, mid and fully featured high-tier devices with and without GPS, keypads and displays, and DMR Tier III Trunked and Simulcast capabilities.
KENWOOD NXDN

With millions of devices in use, KENWOOD's ITU-R accepted, spectrum-efficient NEXEDGE® NXDN™ Common Air Interface (CAI) is proven to deliver innovative, flexible, and spectrum-efficient digital conventional and trunked radio solutions to meet the demands of today's radio users alongside a multitude of advanced voice and data features.
A KENWOOD DMR or NEXEDGE NXDN system equipped with GPS devices can not only provide multiple communications channels and talk groups. But also, the addition of the optional KAS-10/20 software or Trackuracy 'asset' tracking suites allow you to monitor and track every radio so you always know where staff or assets are and can pinpoint and alert workers best able to respond quickly to situations.
Advanced Worker Protection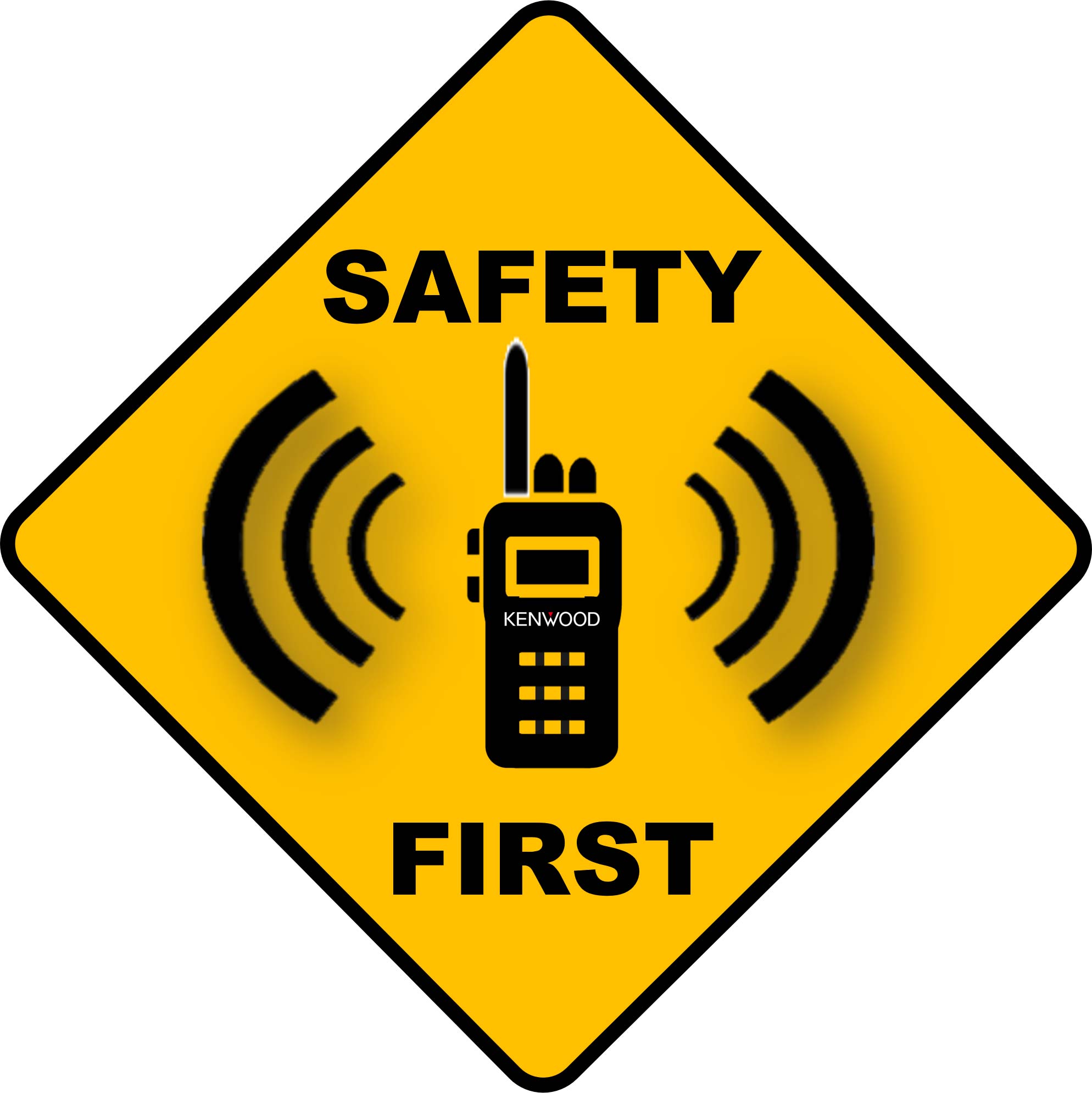 Forestry workers, including seasonal staff, can have their radios programmed and monitored so that they will be called automatically at predetermined times to check on their status. Should there be no response, an alarm will be raised. Similarly, a programmable function key on the radio can be assigned to trigger an emergency alert which is transmitted immediately to all other radio users.
In addition to the efficiency that radio communication brings to coordinating activities and improving productivity. It also serves to help you comply with health and safety requirements/regulations, for example, alerting workers to the presence of threats, calling for medical assistance, reporting accidents, suspicious activities, fires etc.
However, where radio communication really excels is in the event of a significant incident, whether that be a medical emergency, a worker at risk or a more serious event that requires staff everywhere on-site to be alerted instantly and to initiate appropriate emergency procedures.
To reassure your workforce, all KENWOOD NEXEDGE NXDN and DMR models feature Emergency Key and Emergency Call features as standard. In contrast, more advanced models additionally offer built-in or optional GPS modules, Lone Worker and Emergency Advanced Motion Detection Function, which make them ideal for incorporating a robust health and safety policy. Once programmed and activated, these advanced safety features can include:
Priority Call:

The Priority Call feature ensures the availability of a radio channel in the event of an emergency and allows a control centre to interrupt all existing calls on a channel.

Emergency Key:

An alarm is triggered along with the sender's user ID when the Emergency Key button is pressed. GPS equipped radios can additionally send the location (GPS coordinates) of the user.

Lone Worker:

An alarm is triggered along with the sender's user ID if a user does not respond to a status prompt within a specified time.

Man Down:

An alarm is triggered along with the sender's user ID if the radio is tilted beyond a pre-determined angle, indicating that the user may have fallen or become incapacitated. Other programmable features include:

- Stationary Detection: Emergency mode is triggered along with the sender's user ID when the radio remains in a stationary position for a period exceeding a pre-set time, indicating that the user is unable to operate the transceiver or it has been lost, mislaid etc. GPS-equipped radios can additionally send the user's location (GPS coordinates) to the office or forest work managers using software such as KAS-10 and KAS-20 AVL and Dispatch suites.

- Motion Detection: Emergency mode is triggered along with the sender's user ID when the radio is vigorously shaken or swung for a period exceeding a pre-set time, indicating that the user is running to or from an incident. GPS-equipped radios can additionally send the user's location (GPS coordinates) to the office or forest work managers using software such as KAS-10 and KAS-20 AVL and Dispatch suites.

Location Services:

NEXEDGE NXDN and DMR radios equipped with GPS can also be programmed to send location information to the office or forest work managers using software KAS-10 or KAS-20 AVL and Dispatch suites so that the user at risk can be located quickly and response times reduced.

Asset Tracking and Monitoring:

With Trackuracy, KENWOOD DMR and NEXEDGE NXDN systems can be equipped with low-energy, real-time asset monitoring and tracking across single and multiple sites, indoors and out. Alerts, alarms delivered as audible tones, voice or data messages can be programmed to trigger automatically should the user stray off course or enter restricted areas.

Remote Monitor:

Remote Monitor allows the office or forest work managers to listen in to a radio through its microphone in situations where an alarm is activated, and the radio user cannot respond. This provides the Forest Manager with the intelligence to assess a situation in real-time and quickly initiate an appropriate response.
EXCEPTIONAL AUDIO QUALITY EVEN IN NOISY ENVIRONMENTS
KENWOOD radiocommunication devices benefit from JVCKENWOOD Group's 60-years of experience in producing consumer audio and visual equipment (Trio, JVC and KENWOOD), renowned for exceptional sound quality.
This transfer of knowledge and experience has led to the development of several novel and innovative solutions which overcome the problem of cancelling ambient noise while improving the audio clarity of the transmitted voice in any operating environment.
Ultimate noise cancellation:

NX-5000 Series hand-portable radios achieve optimum noise cancellation using two integrated microphones. The primary microphone is situated closer to the desired source (front of the radio), while a second microphone in the radio's rear receives the ambient noise. In a noisy environment, both microphones receive noise at a similar level. However, the primary microphone receives the user's voice more strongly. The processor in the radio subtracts one noise source from the other so that most of the ambient noise is cancelled, which effectively enhances the quality of the transmitted audio of the user's voice.

Active Noise Reduction:

Both NX-5000 and NX-3000 Series radios feature Active Noise Reduction (ANR). ANR serves to cancel the noise component of the collected audio to improve the transmitted audio quality.
Noise cancellation functions can be 'Custom' configured to adjust the vocoder, DSP, filters, specific noises etc., to suit the operating environment.

Selectable Audio profiles:

Received audio will sound different depending on the usage environment of the radio, characteristics of the device (such as the microphone combined with the radio and external devices), and the tone of voice and manner of speaking of the speaker. The received audio will also sound different depending on the output method, such as using the radio speaker or via an earphone to hear the received audio. KENWOOD radios feature six customisable audio profiles which can be configured for specific scenarios and selected by the user to suit the operating environment.
Accessories to suit your forestry operation
| | |
| --- | --- |
| | KENWOOD offers a comprehensive range of accessories for its professional two-way radio systems and devices. Including earpieces, remote mics and headsets for discrete and hands-free operation, along with the cables, connectors and software packages that will allow you to tailor your equipment and system to precisely meet your operational requirements. |
Built tough to withstand rain, dirt and the rough and tumble of daily use
Forestry workers and their radios work side by side in all conditions. So, it's good to know that all KENWOOD professional hand portable walkie talkies and mobile radios conform to MIL-STD-810 C/D/E/F/G for ruggedness and durability and are IP54/55/67 Water & Dust Intrusion rated, making them suited for use in harsh environments.
In addition, KENWOOD can offer ATEX IECEx devices for use in hazardous, explosive atmospheres.
Explore KENWOOD solutions for forestry management
KENWOOD equipment and systems are used to manage forestry operations worldwide, including the KWF Association approved NX-3000 Series based system at Hessenforst state forestry enterprise in Germany and digital conventional trunked NEXEDGE NXDN systems in South Africa and Cyprus.
KENWOOD digital upgrades communications for forestry workers in Germany
"Forestry remains one of the most dangerous activities, there's no question about that; but with good training and professional working procedures, we can make it safer" states Meik Gerlach, Special Coordinator for Occupational Health & Safety at Hessen Forest Management. He cites the emergency call function of the NX-3000 Series radios as essential to its workers and integral to the accident prevention concept of the Hessenforst state enterprise.
To discover more about the millions of KENWOOD devices in use by countless customers in hundreds of applications around the world. Including the innovative, multi-protocol NX-5000 Series (NXDN, DMR, P25 and FM Analogue), NX-3000 Series (NXDN, DMR and FM Analogue) and exceptional value offered by the entry-level NX-1000 Series hand portable walkie talkies and mobiles, please click on the banners below.
For more information on KENWOOD digital system solutions, including DMR Tier 3 trunking and Simulcast, NXDN Type-C, Type-D and Gen2 trunking click here.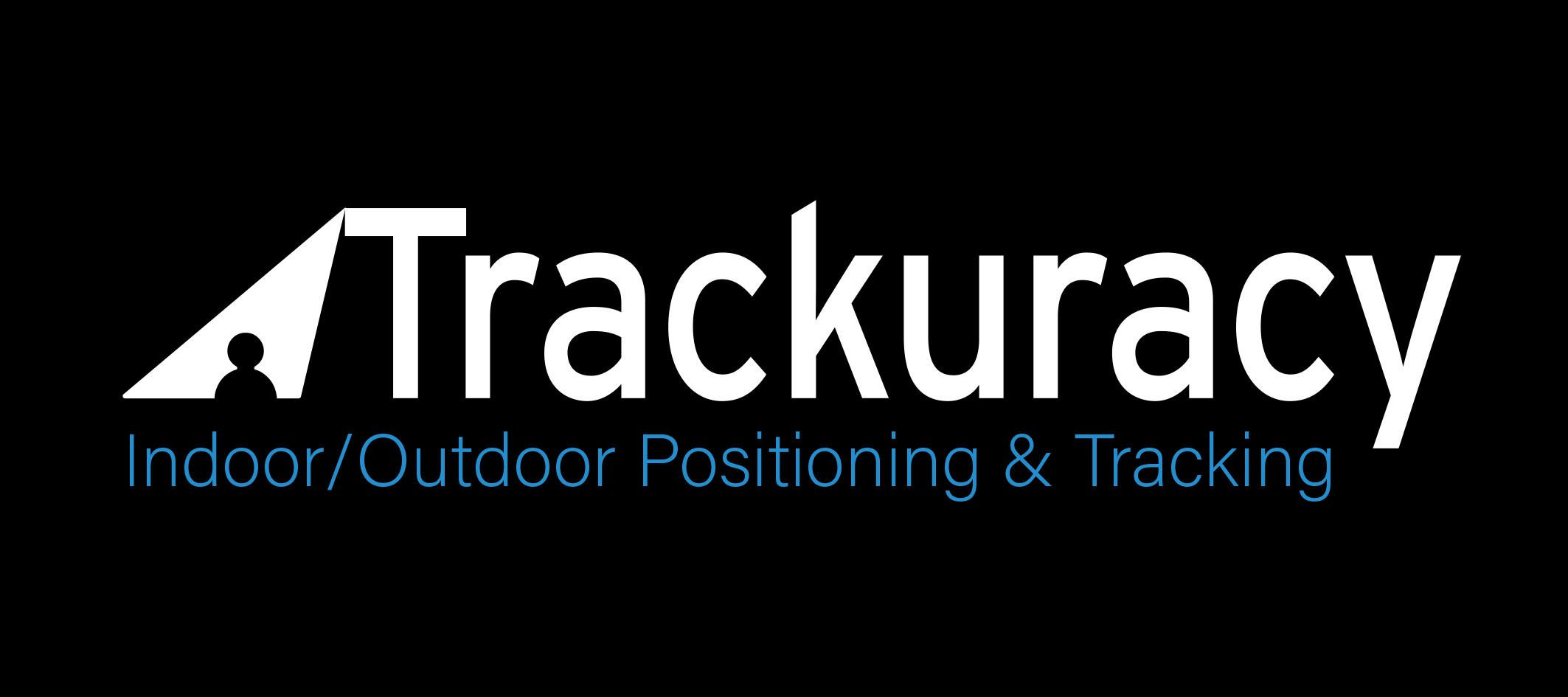 If you'd like to learn more about our TRACKURACY, our real-time Bluetooth Low Energy asset tracking and monitoring solution, click here.
Alternatively, please post an enquiry to us or contact an authorised KENWOOD Communications reseller.
► Please complete our Enquiry Form or contact an Authorised reseller
for help with your project
QUICK LINKS
Please click the banners to explore your choice of technology and solution