Motorsports
---
Driver to team management, team management to driver, pit wall to driver, team management to crew, race management, event and venue management, marshals, medics, security, race organisers and their staff… the use of two-way radios across all forms and levels of motorsport has become ubiquitous at race circuits around the world.
From the most sophisticated and secure voice and data systems employed in elite classes of motorsport to voice only communication at local clubman events, two-way radios have helped to make motorsports race teams safer and more competitive while also improving the spectator experience.
Kenwood's experience in developing mission critical analogue and digital two-way radio communications systems to operate effectively in extreme conditions has informed the development of radios able to withstand the immense heat, vibration and shock of race and rally cars.
Today, through our specialist resellers including MRTC, you'll find Kenwood analogue and digital two-way radios, walkie talkies, mobile in-vehicle units, digital trunked systems and networks including the advanced NEXEDGE® digital system, in use with some of the most successful motorsport teams in the world, including Formula 1, WTCR, WRC, WEC and MotoGP, at race circuits and with Organising Bodies and Circuit Management.
Even at a more modest level, including amateur motorsport (See our short video below), Kenwood equipment is widely used, including the ProTalk Digital license-free, professional two-way radio system; a simple to use and highly effective tool for voice communications over short ranges of up to 6km.
Kenwood Offical Supplier to McLaren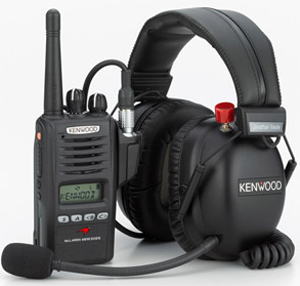 KENWOOD established its relationship with McLaren in 1991 and has maintained its partnership by supplying professional radio systems ever since. During the 2014 season, KENWOOD will continue to supply digital wireless radio systems used for communication among drivers and team members, as well as provide full-scale technical support through its professional staff.
Starting from the 2014 season, KENWOOD will supply new customized digital wireless radio systems designed specifically for the McLaren Formula 1 Team based on KENWOOD's NEXEDGE®* professional digital radio systems lineup — a series that has been deployed worldwide and has achieved strong performance especially in the business and industry markets of North America, Europe.
The NEXEDGE® Series not only demonstrates excellent reliability and performance, even within severe environments, but also offers key features such as voice securing, a noise suppressing function and wide communication range based on digital signal correction technology and narrow band sensitivity enhancement.
NEXEDGE® technology allows the team's drivers and staff to exchange prompt and accurate communications even in a racing conditions where the levels of impact, vibration, and noise are far beyond what one can normally imagine.
In addition, KENWOOD is offering new model headsets for team staff. Developed and manufactured specifically for the McLaren F1 Team, these headsets provide superior sound insulation and durability, as well as comfort when worn for long periods.
Discussing the relationship, Eric Boullier, Racing Director at the McLaren Formula 1 team said: "Formula 1 is the ultimate team sport. For every driver pushing their car to the limit, we have hundreds of engineers, technicians and strategists helping them to win. Over the last 23 years, Kenwood has become an invaluable member of our team, enabling our drivers and engineers to communicate effectively, no matter what the conditions. Kenwood and McLaren have the same ethos of innovation and continuous improvement, we both constantly innovate to enhance performance, which is why our partnership has lasted so long and has gone from strength to strength."
* The actual model supplied is a customized version of the "NEXEDGE®" Series of professional digital radio systems developed specifically for the McLaren F1 Team.
Today, in addition to its NEXEDGE® fully scalable digital systems, Kenwood can offer dPMR, DMR digital solutions alongside the latest ProTalk digital license-free PMR446 radios featuring digital/analogue mixed mode and ProTalk DECT fully duplex digital wireless intercom systems.
To discover more about the millions of Kenwood devices in use by countless customers in hundreds of applications around the world, including the innovative multi-protocol NX-5000 Series (NXDN, DMR, P25 and FM Analogue) and NX-3000 Series (NXDN, DMR and FM Analogue) hand portable walkie talkies and mobiles, please visit the linked pages, look into our Professional Communication System Solutions, complete the Enquiry Form or contact an authorised Kenwood Communications reseller.
Click to read the case study on Frédéric Sausset, a remarkable man who, and quadruple amputee who successfully completed the 24 Hours of Le Mans in 2016.
► Please complete our Enquiry Form for help with
your project