Theme and Leisure Parks
---
In spite of the uncertain economic outlook, according to a report published by Global Industry Analysts, Inc. (GIA), the global market for theme parks is forecast to reach US.5 billion by the year 2015.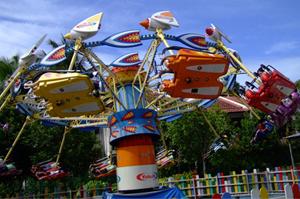 Their findings suggest the key drivers of this growth will include the continuing trend for families to spend their free time on outdoor activities and the increasing popularity of mass entertainment; which is good news for theme and leisure park operators who invest heavily in developing attractions to draw new visitors and repeat customers looking to experience the thrills of the latest in technology and engineering.
The requirement to provide a safe and secure environment for both staff and visitors, free from the threat of anti-social behavior, petty crime, personal assault and risk of injury is of course paramount.
However, reducing these risks while managing the efficient flow of visitors, staff and supplies is a huge logistical feat.
Core to the management of risk, containment of incidents, implementation of emergency plans and providing an excellent customer experience lays in the ability to report threats, situations and status quickly and efficiently on a daily operational basis, but most especially in the event of a natural or man-made catastrophe where access for emergency services and the safe and fast evacuation of large numbers of people through multiple access points will need to be managed.
The most powerful means to achieving operational efficiency lays in the ability for management and cross functional teams to communicate with each other reliably and instantly, anywhere on site, which is why Kenwood two-way radios feature so prominently in many theme park operations including Puy du Fou, France, Georgia Aquarium, North America
Typical uses of two-way radio communications in and around a theme park include:
 

- Protection of staff and visitors
- Implementation of emergency plans
- Incident reporting and management
- Coordination of on-site events
- Management of support staff
- Streamlining of queues

- Protection of property
- Parking management
- Access control
- Managing First Aid teams
- Operations Management
- Coordination of on-site catering
Ideally suited to enabling voice and data communications throughout a theme park, Kenwood's Nexedge® Digital trunked Two-Way radio solutions are designed to provide clear and reliable, multi-user group radio communications in an infinitely scalable system. Nexedge® Digital Two-Way devices include walkie-talkies and in-vehicle mobile units which feature an Analogue/Digital Mixed Mode allowing them to communicate automatically with your existing analogue radios whatever the make; providing a straightforward and economical migration path to the benefits of digital.
Kenwood hand portable walkie talkies conform to MIL-STD-810 C/D/E/F/G for ruggedness and durability and are IP54/55 Water & Dust Intrusion rated, making them ideal for operation in harsh environments.
Today, in addition to its NEXEDGE® fully scalable digital systems, Kenwood can offer dPMR, DMR digital solutions alongside the latest ProTalk digital license-free PMR446 radios featuring digital/analogue mixed mode and ProTalk DECT fully duplex digital wireless intercom systems.
To discover more about the millions of Kenwood devices in use by countless customers in hundreds of applications around the world, including the innovative multi-protocol NX-5000 Series (NXDN, DMR, P25 and FM Analogue) and NX-3000 Series (NXDN, DMR and FM Analogue) hand portable walkie talkies and mobiles, please visit the linked pages, look into our Professional Communication System Solutions, complete the Enquiry Form or contact an authorised Kenwood Communications reseller.
► Please complete our Enquiry Form for help with
your project