Golf Club Management
---
From fairway to clubhouse, two-way radio improves the visitor's experience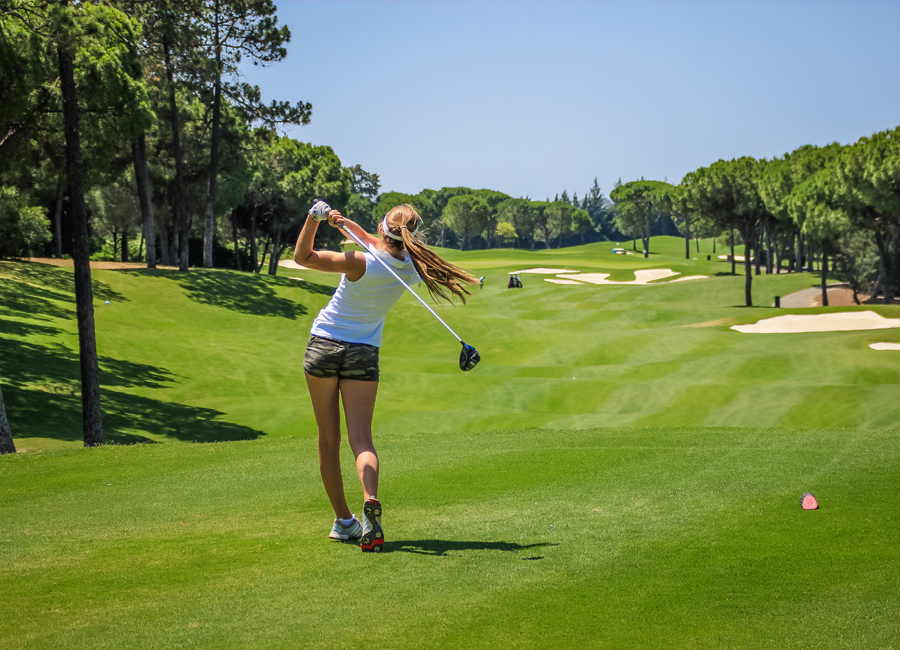 Streamlining everyday communications between golf professionals, pro-shop staff, course managers, greenkeepers, maintenance staff, caddies, timekeepers, bars, and restaurants makes operations safer, more efficient, and reduces cost. Most importantly, it improves the visitor and player experience.
With typical 18-hole golf courses covering over 100 acres, selecting the suitable method to enable communications between different teams in different places can be costly and inefficient, especially if mobile phones are used. In sharp contrast, a two-way radio system will allow staff to communicate instantly and effectively, saving costs, improving efficiency, and ensuring resources are available and in a place where they are needed.
Using two-way radios supporting major golf tournaments is commonplace for a good reason; it's about ensuring the right people are always in the right place at the right time and know precisely what they are doing. Being able to instantly communicate with individuals and groups, anywhere on-site, from car parks to courses, at the push of a button, makes radiocommunication indispensable to delivering a successful event.
But it's not just in major tournaments that two-way radio proves its value. From the routine of daily operations to hosting societies and monthly medal competitions, general managers and club secretaries know that there are so many variables beyond their control that get in the way of efficient operations, not least the weather and travel, so having the flexibility to rearrange plans on the move is a real benefit.
BENEFITS OF TWO-WAY RADIO OVER MOBILE PHONES
In an age of smart, connected devices, what advantages does two-way radio bring to course management and club operations? It's an often-asked question. Robust, low purchase cost and no dialling, waiting for a connection, dropped calls, service contracts, call, or data charges are just some of the benefits of two-way radio, providing instant communications indoors and out, at the push of a button without unnecessary distractions.
Hand-portable two-way radios (walkie-talkies) can provide one-to-one, group and all users communication options, giving you the flexibility to build a radio system that will underpin your everyday and special operations, keep staff up to date and alert them to changes instantly, anywhere on site.
Think of two-way radio as the communication tool of first and last resort at events, connecting people even in places that mobile networks can't cover.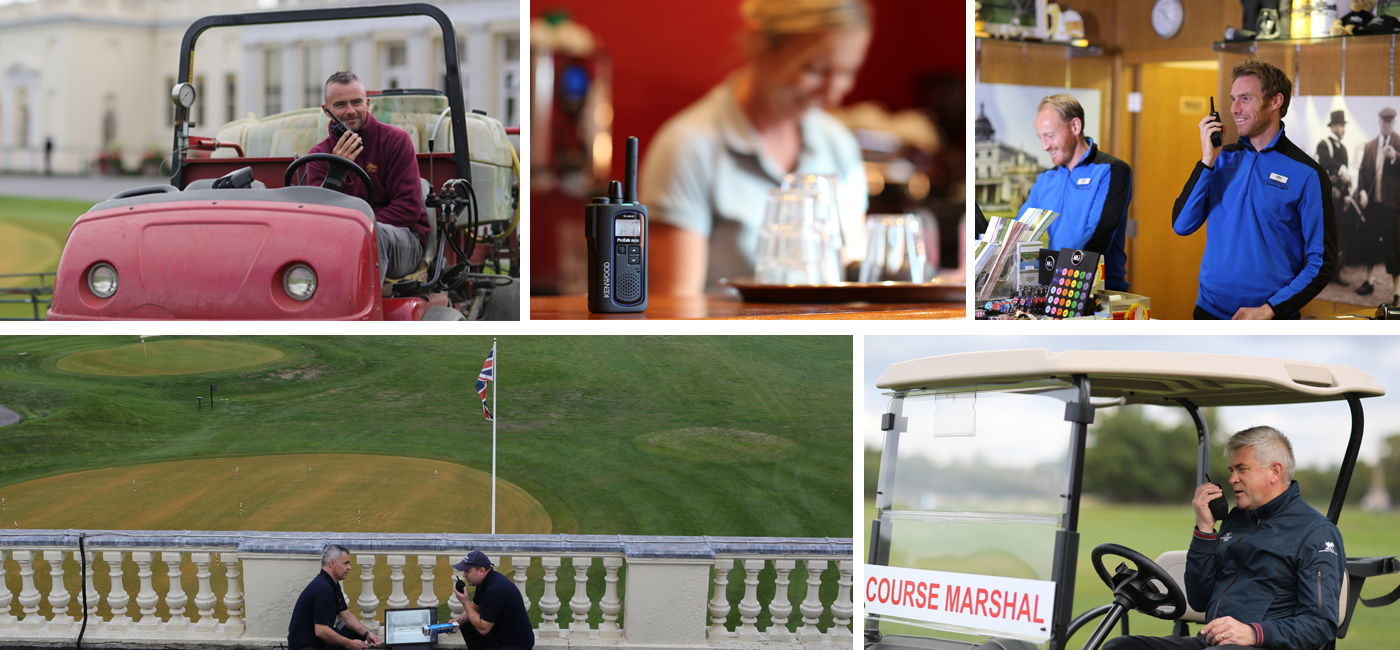 For any golf club, once you have added a two-way radio communication capability, whether license-free PMR446 hand-portables or a licensed DMR or NEXEDGE NXDN system, all communications between users are instant and free, saving the cost of the equipment. And with the advances in digital two-way radio technology, the ability to communicate by voice and data has been significantly improved. So has sound quality, range, security and enhanced functionality.
Two-way radio supporting operations at golf clubs:
Management of Health, Safety & Security

A faster, more effective response to emergencies such as illness and injuries on-course.
Warning staff and players of the risk of storms and lightning.
Provide on-course staff with the ability to report security issues.

Feedback on course condition

Respond quickly to player feedback on the condition of the course.

Improved Tournament Management:

Instantly connects tournament management with timekeepers, the pro-shop/player registration desk, practice area, car parks, referees, marshals, officials, caddies, food and beverage and other staff.

Efficient maintenance operations:

A light bulb in the changing room, a heating system problem, a seized lock? Getting the request to the maintenance team quickly will reduce the time it takes to carry out the repair.

Managing Pro Shop resources:

Ensuring teaching professionals are kept updated on arrivals, caddies are organised, carts are available, and players' equipment is to hand.

Increased F&B sales:

Improve stock availability on beverage carts and on-course catering outlets.

Reporting breaches of course etiquette:

Allows staff on course to report on violations of club rules and etiquette.

Organising event staff:

Maintain club standards, especially when casual support staff are brought in for events.

Improved player experience:

The seamless management of players from arrival at the club, through the pro-shop, during play and at the clubhouse.
VHF or UHF - which is the right radio frequency range for your club?
A key consideration in the selection of a radio system is whether the principal usage will be outdoors or a combination of in and outdoors as radio operating frequencies are different; here's why: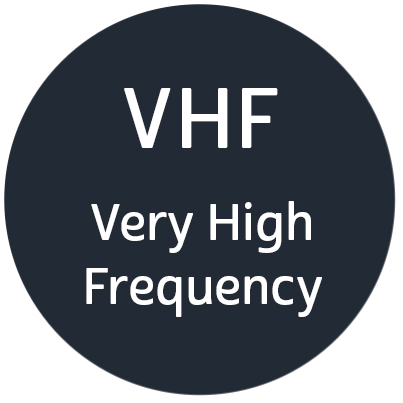 If you plan to use your radios mainly outdoors or in indoor spaces free from obstructions between transmitter and receiver, VHF would probably be best suited to you as its longer wavelength means it can transmit almost twice as far as UHF, giving the same power output.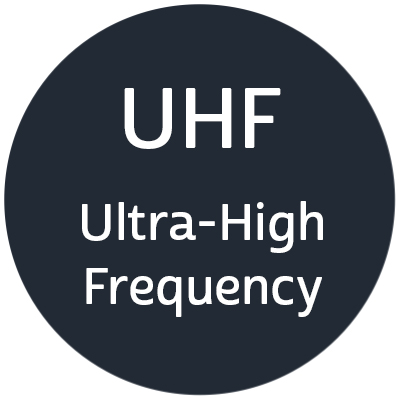 UHF has a shorter wavelength which makes it better at penetrating wood (trees included), steel and concrete structures to provide better coverage in environments that include buildings and structures and also in and around buildings.
The UHF spectrum offers more channels and is less prone to signal interference from distant radios, providing a good general-purpose solution.
License-free PMR446 radios operate in UHF.
SELECTING THE RIGHT KIT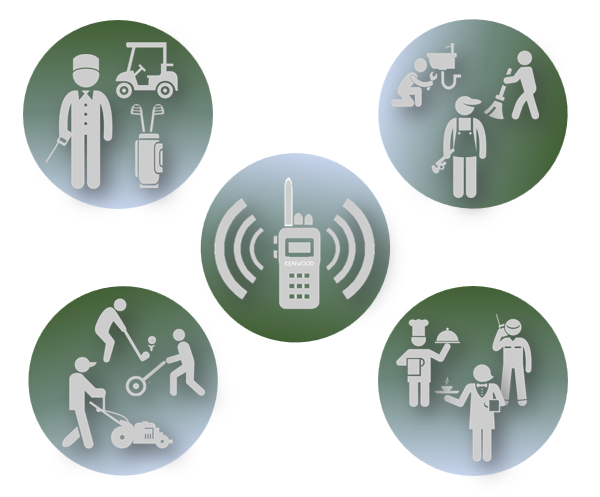 Just as using a driver to sink a putt is unlikely to give a good result, so too would using a multi-pack of consumer walkie-talkies bought from a supermarket, catalogue store or even toy shop for little more than the price of a dozen golf balls to save a few pennies. While they might work, they are not designed to give you the range and battery life you will need or survive the rough and tumble of professional use in all weather conditions.
Whether in license-free or licensed format, a two-way radio is a critical piece of equipment, giving management and staff the ability to coordinate workflow. It also provides reassurance and a lifeline to those working alone and out of sight, especially when circumstances change or in the event of an incident requiring assistance, so it pays to invest in the right kit for the job.
Given the large area and topography of golf courses, several factors come into play when selecting the right technology, system and equipment, not least:
- Is there a requirement for radio communications to cover every part of the course, including inside buildings?
- Do you need different user groups to have their channels?
- Would GPS-equipped radios with tracking and monitoring software assist safety and efficiency?
- Would having a radio system that allows emergency calls take priority on all radios?
- Would a man-down feature that triggers an automatic alert to all radios be appropriate?
ProTalk License-Free PMR446 – simple and effective
The simplicity and convenience of analogue and digital license-free PMR446 technology have made it a popular choice for smaller and 9-hole golf clubs, where its reliability, ruggedness, adequate coverage and ease of use have provided an instant, convenient and low-cost communication solution for individuals and groups at the push of a button.
Digital ProTalk dPMR446 is by far the most popular format with professional users. It offers better reception to the full extent of the coverage area. With 32 digital and 16 analogue channels, it's particularly suited to use in more congested areas and where channels are allocated to specific teams. Durability, long battery life between charges and simplicity of operation in all conditions are some of the key attributes of the current generation of KENWOOD ProTalk dPMR446 radios, along with many more advanced features previously found in licensed radios.
KENWOOD licensed digital radio – the flexibility to meet the demands of larger clubs
For larger clubs and those with leisure, accommodation and function facilities, a licensed KENWOOD digital radiocommunication system brings even greater benefits, including:
- Individual, group and all radio calls
- Advanced built-in and programmable user safety functions, including 'man-down' and emergency call
- Over-the-air programming
- Emergency / Evacuation / Lockdown alert functions
- Voice and data messages
- Optional and built-in GPS
- Native analogue/digital mixed operation
- Longer range/improved coverage

- Programmable automated alerts
- Encryption against interception and eavesdropping
- Flexibility to link multiple locations
- Scalable digital conventional, IP conventional and trunked operation
- Suite of application solutions to tailor a system to meet specific operational requirements
- Simple to use and durable
- Long battery life between charges
KENWOOD DMR and NEXEDGE NXDN digital protocols offer the capability to build flexible systems suitable for covering larger sites. In contrast, the native analogue/digital operating modes (enabling radios to communicate automatically with existing licensed analogue radios) provide a predictable, economic migration path to digital two-way radio operation at an affordable cost and to build a scalable, future-proof radio system.
A KENWOOD DMR or NEXEDGE NXDN system equipped with GPS devices can not only provide multiple communications channels and talk groups but also, with the addition of the optional KAS-10/20 software or Trackuracy 'asset' tracking suites, allow you to monitor and track every radio so you always know where staff are and can pinpoint and alert those closest to an incident to reduce response times.
Run tournaments more efficiently:
- Coordinate club staff and contractors
- Coordinate supplies
- Control event logistics
- Manage VIP and concierge services
- Manage visitors and spectators
- Organise F&B teams

- Monitor and report on activity
- Move resources where needed
- Maintain player security
- Raise alerts and call for assistance
- Efficient implementation of emergency plans
- Enhance the visitor and event experience
Advanced Lone Worker protection
Lone workers, including teaching pros, maintenance teams and grounds staff, can have their radios programmed and monitored so that they will be called automatically at predetermined times to check on their status. If there is no response, an alarm will be raised. Similarly, a programmable function key on the radio can be assigned to trigger an emergency alert which is transmitted immediately to all other radio users.
Health & Safety (Including Lockdown and Evacuation)
In addition to the efficiency that radio communication brings, it also serves to help you comply with health and safety and security requirements/regulations, for example, alerting staff to the presence of threats, calling for medical assistance, and reporting accidents and security breaches.
However, radio communication excels in the event of a major incident, whether that be a medical emergency, staff at risk or a more serious event that requires key staff everywhere on site to be alerted instantly and to initiate emergency procedures.
BUILT TOUGH TO WITHSTAND RAIN, DIRT AND THE ROUGH AND TUMBLE OF USE ON COURSE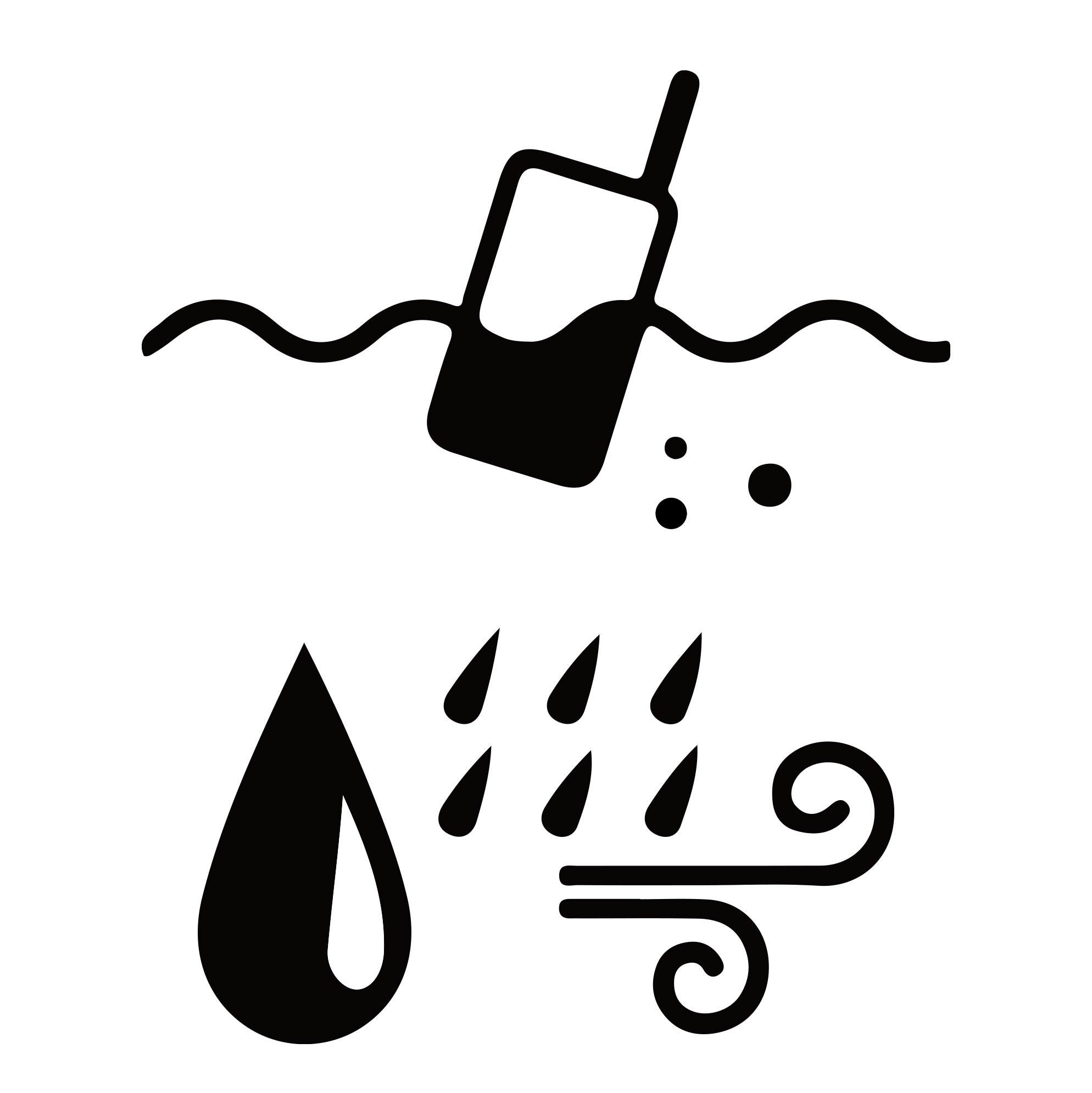 As you would expect, all KENWOOD professional hand portable walkie talkies and mobile radios conform to MIL-STD-810 C/D/E/F/G for ruggedness and durability and are IP54/55/67 Water & Dust Intrusion rated, making them suited for use in any environment.
In addition, KENWOOD can offer ATEX IECEx devices for use in hazardous, explosive atmospheres.
DISCRETE OPERATION
You can connect a discrete microphone and earphone accessories to KENWOOD radios so that others cannot hear transmissions. This is important while on-course during a golf tournament or in security and front-of-house situations. Kenwood NEXEDGE NXDN and DMR hand portable radios are also compact and light, making them easy to carry or keep hidden out of view.
PROVEN PERFORMANCE
KENWOOD has been supplying its proven two-way radio equipment for use at golf clubs for years, from the simplicity of license-free PMR446 walkie-talkies to the complete trunked communications systems.
You can read the case study on the Kenwood Nexedge NXDN system in use at the exclusive Stoke Park Hotel and Members Club in Buckinghamshire.
Stoke Park

Read about the trunked NEXEDGE NXDN digital radio communication system at Stoke Park, the enigmatic hotel and country club that delivers a five-star experience with such natural ease and poise across so many customer touchpoints.
EXPLORE KENWOOD SOLUTIONS FOR YOUR CAMPUS
To discover more about the millions of Kenwood devices in use by countless customers in hundreds of applications around the world, including the innovative, multi-protocol NX-5000 Series (NXDN, DMR, P25 and FM Analogue), NX-3000 Series (NXDN, DMR and FM Analogue) and exceptional value offered by the entry-level NX-1000 Series hand portable walkie talkies and mobiles. Please click on the banners below.
For more information on KENWOOD digital system solutions including, DMR Tier 3 trunking and Simulcast, NXDN Type-C, Type-D and Gen2 trunking, click here.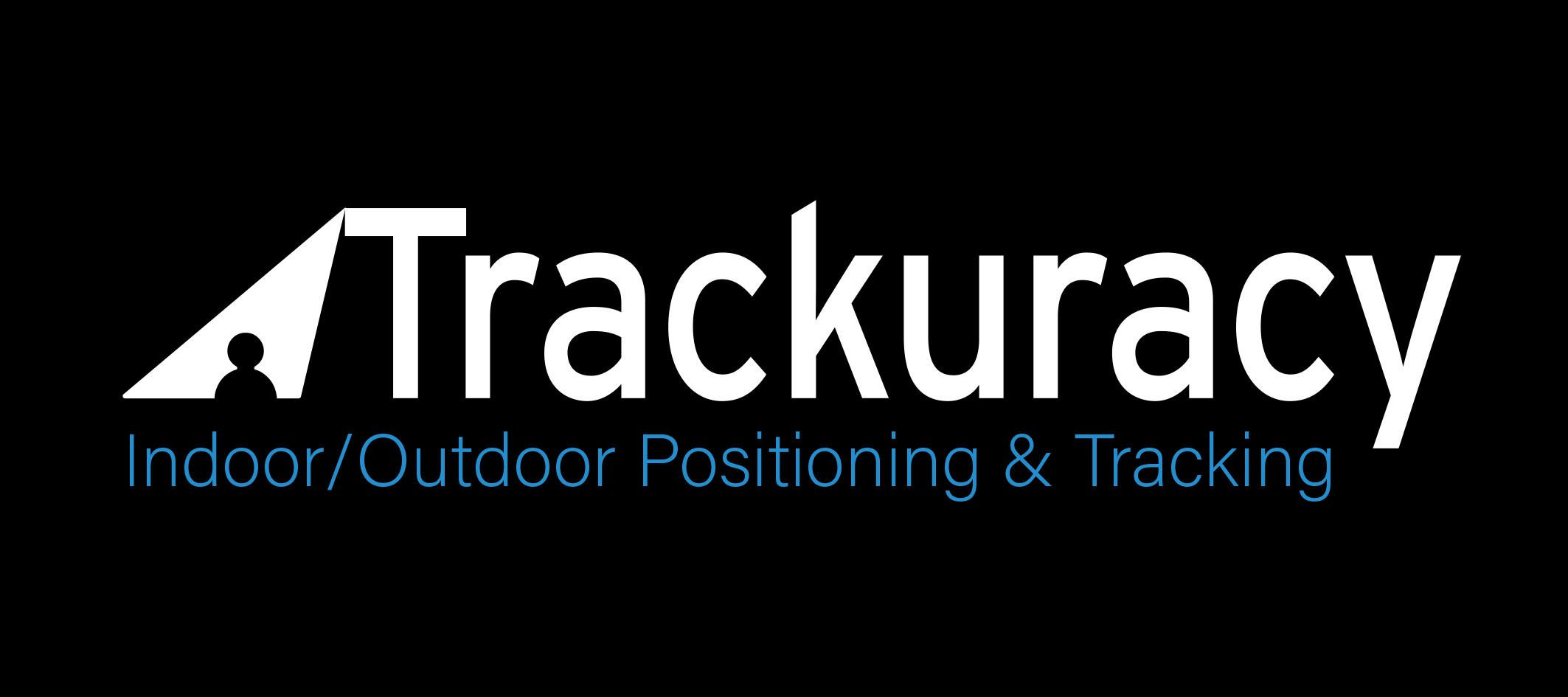 If you'd like to learn more about our TRACKURACY, our real-time Bluetooth Low Energy asset tracking and monitoring solution, click here.
Alternatively, please post an enquiry to us or contact an authorised KENWOOD Communications reseller.
► Please complete our Enquiry Form or contact an Authorised reseller
for help with your project
QUICK LINKS
Please click the banners to explore your choice of technology and solution