High Security
---
Terrorism, Contamination, Disruption to infrastructure and services, Malicious damage, Active protest, Civil unrest, Border breaches, Invasion of privacy, Piracy, Organised Crime, Data Theft, Kidnapping, Personal assault…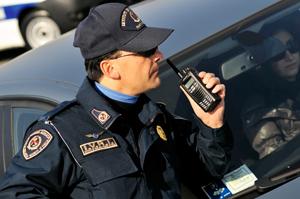 …the range of threats being managed by public and private security services, agencies and individuals changes and evolves with social, political and economic dynamics.
And while surveillance technology, physical protection and increased intelligence gathering have made a major contribution in identifying and managing threats, the central element in any robust security strategy is the ability to effect instant communication by voice or data across a wide variety of situations and environments; linking control centres with field operatives whether on foot or in vehicles.
Kenwood's analogue and digital two-way radio systems have been proven in the highest security situations and can be found in operation within military forces, police services, public and private security agencies around the world.
Applications include the protection of critical infrastructure, borders, transport, communication and utilities services and public safety at air and sea ports, research facilities, government buildings, military bases, transport and utilities infrastructure, stadia and entertainment venues, oil and gas processing and supply installations, data centres, cash warehouses, secure storage facilities, research facilities, shopping malls as well as high profile personalities, in fact wherever enhanced levels of security and safety is required without compromising operations.
NEXEDGE Digital delivering security and safety around the world
Kenwood NEXEDGE digital two-way radios are in use by numerous security services around the world including special security forces in Africa, Russian Federation, Japan, North America, Ukraine and Poland. Read more about G8 Hokkaido Toyako Summit, G8/G20 Summits in Huntsville and Toronto, SOT-161 private security, Bulgaria Police Service, Georgia Public Safety Agencies, USA and National Police of Ukraine system delivered through the United Nations Office for Project Services (UNOPS).
Today, in addition to its ITU Recognised NEXEDGE NXDN fully scalable digital systems, Kenwood can offer ETSI compliant dPMR and DMR Tier 2, Tier 3 Trunked and Simulcast solutions. For more localised operations requiring a simple turnkey communication solution Kenwood offers its ProTalk digital license-free PMR446 and ProTalk DECT fully duplex digital wireless intercom systems.
NEXEDGE NXDN and NEXEDGE DMR systems can be supported by KAS-10 and KAS-20 AVL and Dispatch Software Suites to give greater control of operations and resources and enhance safety.
Cost-effective migration from analogue to digital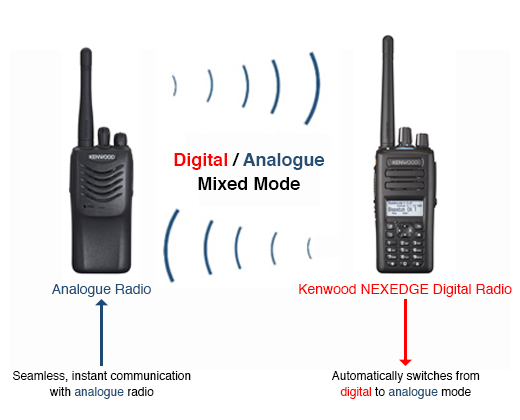 The beauty of Kenwood digital two-way radio solutions is that the investment in new equipment when upgrading from analogue can be phased over time as all Kenwood digital radio devices feature automatic analogue/digital Mixed Mode operation (which allows them to communicate automatically with any existing analogue radios whatever the make) providing a predictable and cost effective path to full digital implementation.
Rugged, Durable and Dependable
As you would expect, all Kenwood professional series hand portable walkie talkies conform to MIL-STD-810 C/D/E/F/G for ruggedness and durability and are IP54/55 Water & Dust Intrusion rated, making them ideal for use in high security applications.
To discover more about the millions of Kenwood devices in use by countless customers in hundreds of applications around the world, including the innovative, future-proof, multi-protocol NX-5000 Series (NXDN, DMR, P25 and FM Analogue) and NX-3000 Series (NXDN, DMR and FM Analogue) hand portable walkie talkies and mobiles, please visit the linked pages, look into our Professional Communication System Solutions, complete the Enquiry Form or contact an authorised Kenwood Communications reseller.
► Please complete our Enquiry Form for help with
your project