Manufacturing
---
The widespread adoption of lean processes and just-in-time practices have helped leading manufacturers to maintain a competitive edge in a dynamic and highly competitive trading world.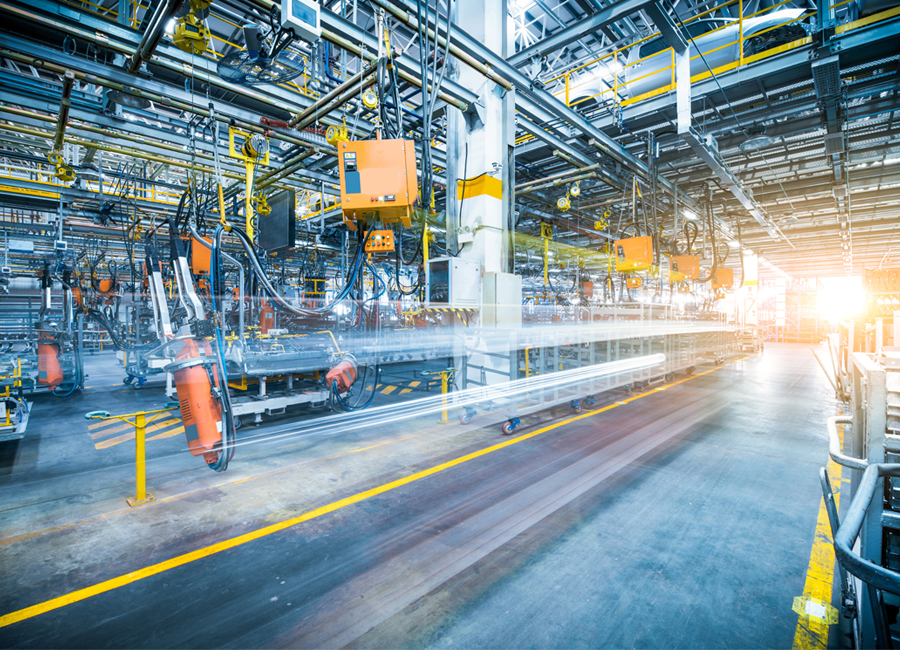 But there is another characteristic which defines modern manufacturing, and that's the use of voice and data communications between production units, component stores, QC, engineering and materials handling and so on, to ensure a smooth efficient flow through all production stages.
However, a modern factory can be a difficult operating environment for two-way radio communications with noise from machinery and mechanical handling equipment, expanses of steel and concrete across large areas and the risk of accidental damage presenting real challenges.
Proven at our own manufacturing facilities
As a global manufacturer of electronics products, we are more than aware of the need for reliable and instant communications throughout our own production centres – that's why in addition to analogue systems, we offer the flexibility and scalability of NEXEDGE® Digital NXDN, dPMR and DMR digital solutions alongside the latest ProTalk analogue and digital + analogue license-free PMR446 radios and the ProTalk DECT fully duplex digital wireless intercom systems.
For the ultimate in flexibility and scalability, both NEXEDGE NXDN and NEXEDGE DMR systems are fully scalable in digital conventional, digital conventional IP and trunked operation modes while in addition, NEXEDGE DMR can be offered with simulcast and multi-frequency capabilities.
The NEXEDGE® range of digital hand-portable walkie talkies, mobile radios, trunked and simulcast solutions provide outstanding voice and data performance in the most challenging environments and designed to be easy to use, reliable and durable in service.
Rugged, Durable and Dependable
NEXEDGE® Digital Two-way Radios with Lone Worker features are available in both hand-portable walkie talkies and mobile in-vehicle units which all conform to MIL-STD-810 C/D/E/F/G for ruggedness and durability and are IP54/55 Water & Dust Intrusion rated, making them ideal for operation in harsh, outdoor environments.
To discover more about the millions of Kenwood devices in use by countless customers in hundreds of applications around the world, including the innovative and future-proof, multi-protocol NX-5000 Series (NXDN, DMR, P25 and FM Analogue) and NX-3000 Series (NXDN, DMR and FM Analogue) hand portable walkie talkies and mobiles, please visit the linked pages, look into our Professional Communication System Solutions, complete the Enquiry Form or contact an authorised Kenwood Communications reseller.
Cost-effective migration from analogue to digital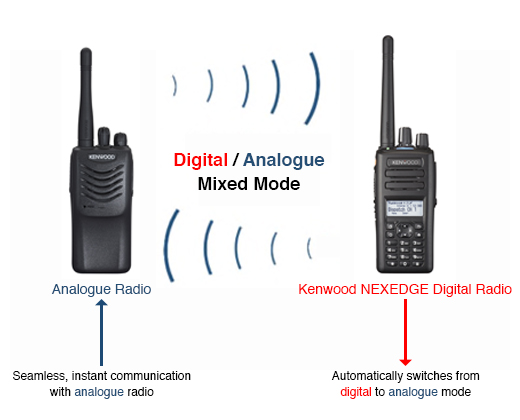 The beauty of Kenwood digital two-way radio solutions is that the investment in new equipment when upgrading from analogue can be phased over time as all Kenwood digital radio devices feature automatic analogue/digital Mixed Mode operation (which allows them to communicate automatically with any existing analogue radios whatever the make) providing a predictable and cost effective path to full digital implementation.
Cost-effective migration from analogue to digital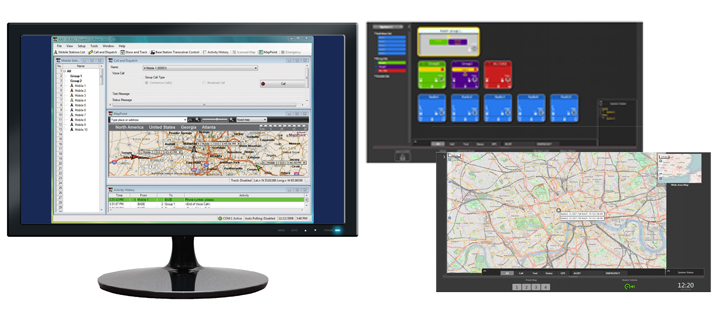 NEXEDGE NXDN and NEXEDGE DMR systems can be supported by KAS-10 and KAS-20 AVL and Dispatch Software Suites to give greater control of operations and resources and enhance worker safety with the ability to monitor voice traffic, precisely position the location of users and respond to incidents quickly and efficiently.
Kenwood professional digital two-way radio communications systems can be found operating in manufacturing operations around the world including every JVCKENWOOD production facility, the Guinness brewery in Dublin, Ireland, Rio Tinto Alcan, Lochaber, Scotland and the vast Voestalpine steel plant in Linz, Austria.
► Please complete our Enquiry Form
for help with your project