Ports
---
The global shipping industry expanded to revenues of over 8 billion by the end of 2008, growing at an average of 10% per year. The industry employs around 1.6 million people and some 8 billion tons of freight is handled each year through sea ports.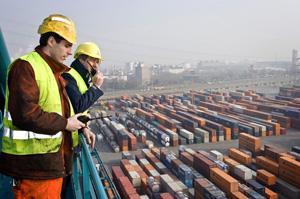 The emergence of new economies bringing strong demand for commodities matched to worldwide demand for cheaper manufactured goods has fuelled the growth of shipping as the most cost effective method to transport goods, accounting for some 90% of goods traded between countries.
Modern sea ports play a key role in the development of the global economy and service, not just geography, has become the driver to attracting traffic.
As port terminal operations have become more complex, with logistics, inventory controls, "just-in-time" service and sophisticated container tracking systems, so too has the need to maximise efficiency.
Clear reliable voice and data communication between port management and their many teams plays a pivotal role in delivering operational efficiency and improved safety and security; not easy across large areas with containers and mechanical handling equipment interfering with radio signals.
Kenwood's analogue and digital two-way radio systems have been selected by some of the most modern ports in the world including Mersin International Port, Turkey and PSA International Port, Vietnam where they are deployed to enhance the flow of cargo by reducing the incidence of bottlenecks, while ensuring the safety of staff and the security of the facility.
More recently, Kenwood NEXEDGE® Digital Two-Way radio systems employing walkie-talkies and in-vehicle mobile units (which feature an Analogue/Digital Mixed Mode allowing them to communicate automatically with any existing analogue radios whatever the make) have increasingly proven to be the right choice for customers seeking a straightforward and economical way to use their existing analogue fleet while migrating to the benefits of digital without compromising service quality and reliability.
Kenwood hand portable walkie talkies conform to MIL-STD-810 C/D/E/F/G for ruggedness and durability and are IP54/55 Water & Dust Intrusion rated, making them ideal for operation in harsh environments.
Today, in addition to its NEXEDGE® fully scalable digital systems, Kenwood can offer dPMR, DMR digital solutions alongside the latest ProTalk digital license-free PMR446 radios featuring digital/analogue mixed mode and ProTalk DECT fully duplex digital wireless intercom systems.
To discover more about the millions of Kenwood devices in use by countless customers in hundreds of applications around the world, including the innovative multi-protocol NX-5000 Series (NXDN, DMR, P25 and FM Analogue) and NX-3000 Series (NXDN, DMR and FM Analogue) hand portable walkie talkies and mobiles, please visit the linked pages, look into our Professional Communication System Solutions, complete the Enquiry Form or contact an authorised Kenwood Communications reseller.
Read about the Kenwood NEXEDGE® system in use at the SP-PSA International Port (SP-PSA) in Vietnam and recent article on Port Techologies website.
► Please complete our Enquiry Form for help with
your project