Transport & Fleet
---
Radio communications keeping the wheels of industry turning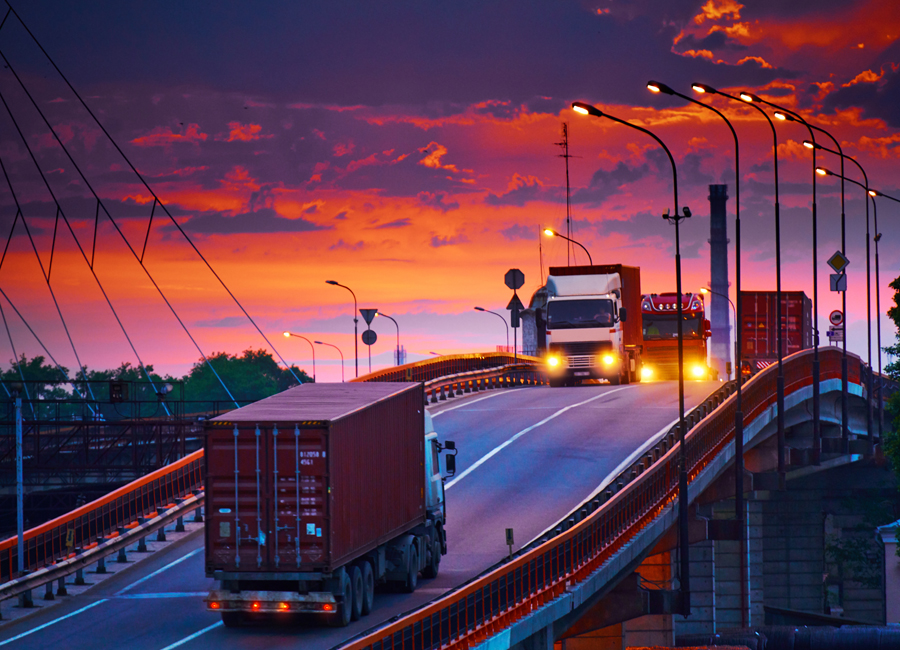 The rail, bus, trucking, logistics and fleet management industries employ two-way radio to provide the operations critical voice and data communication between control and dispatch centres and drivers, logistics staff and maintenance teams to keep staff safe and maximise productivity.
In recent years the industry has harnessed many of the advanced features offered by digital radio systems including GPS-based asset tracking, worker safety functions and integration with AI and enterprise applications. Fuelled by online shopping and home deliveries, the need for increased workforce mobility and just in time logistics, the demand for road and rail transportation services continues to grow.
To meet demand, transport operators have invested in equipment and systems to maximise capacity, increase flexibility, and reduce downtime, and despite the emergence of smart devices and Push-To-Talk-over Cellular (PoC) technologies, radiocommunication still provides the backbone to resilient communications systems which can continue to work even in the event of cellular network overloads and IP service outages.
HOW DOES DIGITAL RADIOCOMMUNICATION ENHANCE EFFICIENCY IN TRANSPORT OPERATIONS?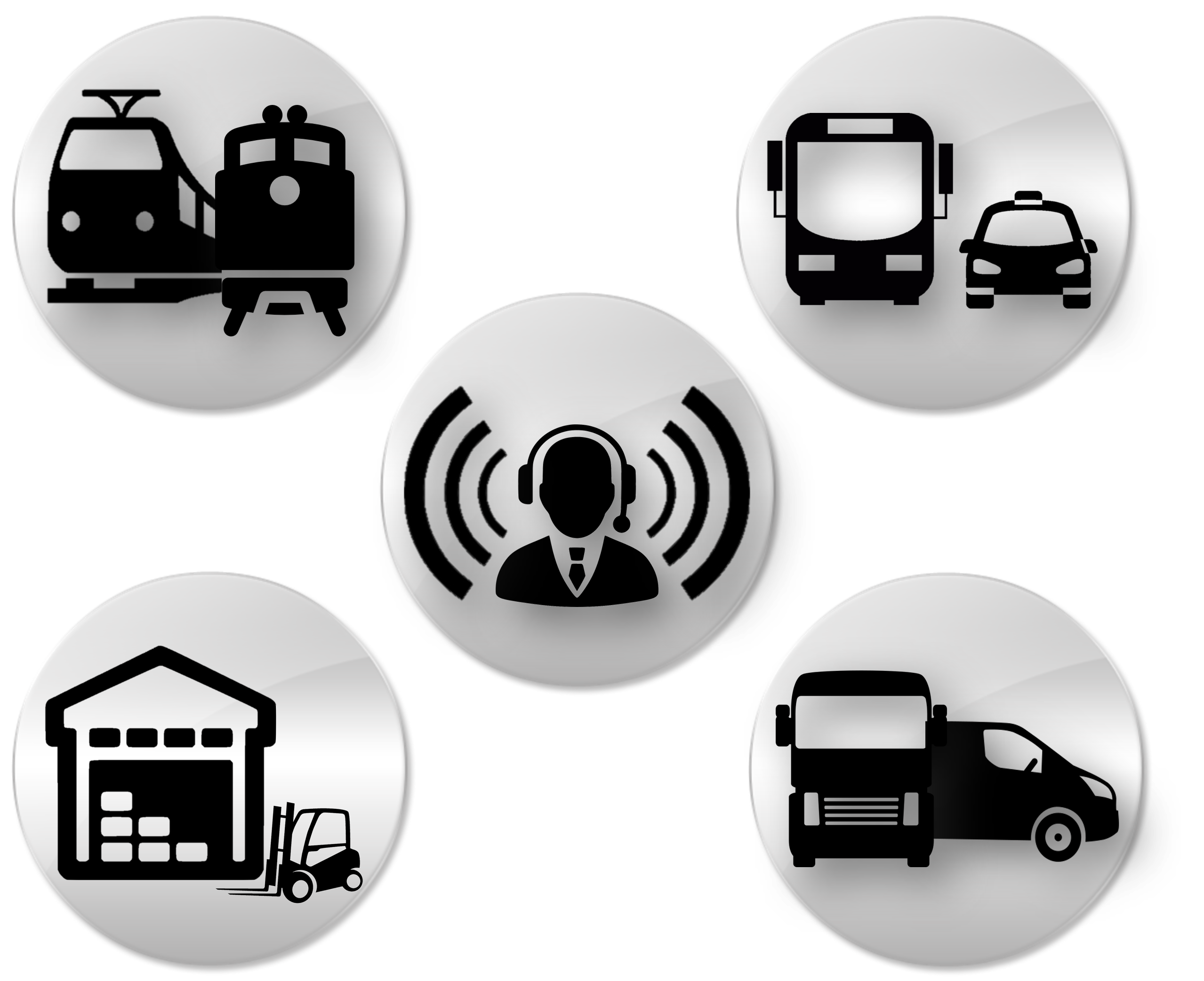 Digital two-way radio systems including NEXEDGE NXDN and DMR give transport operators the flexibility to deploy resources where they are needed quickly and efficiently, maximising productivity and reducing costs.
The ability to coordinate operations carried out by drivers and teams located in different places, reliably, clearly and instantly is critical to supporting daily operations, benefits include:
- Instant communication at the push of a button
- Flexible workforce coordination
- Streamlining workflow
- Realtime tracking of people and vehicles
- Dynamic rerouting of vehicles and resources
- Location services supporting efficient dispatch
- Provide drivers with advanced notification of weather and road conditions

- Improved safety of workers
- Improved security of vehicles and cargo
- Increased efficiency of maintenance operations
- Reduced downtime
- Improved customer satisfaction
- Improved profit retention
- Voice recording and data capture for operations analytics
KENWOOD DMR AND NEXEDGE NXDN SYSTEMS: THE FLEXIBILITY TO MEET THE DEMANDS OF TRANSPORT, FLEET AND LOGISTICS OPERATIONS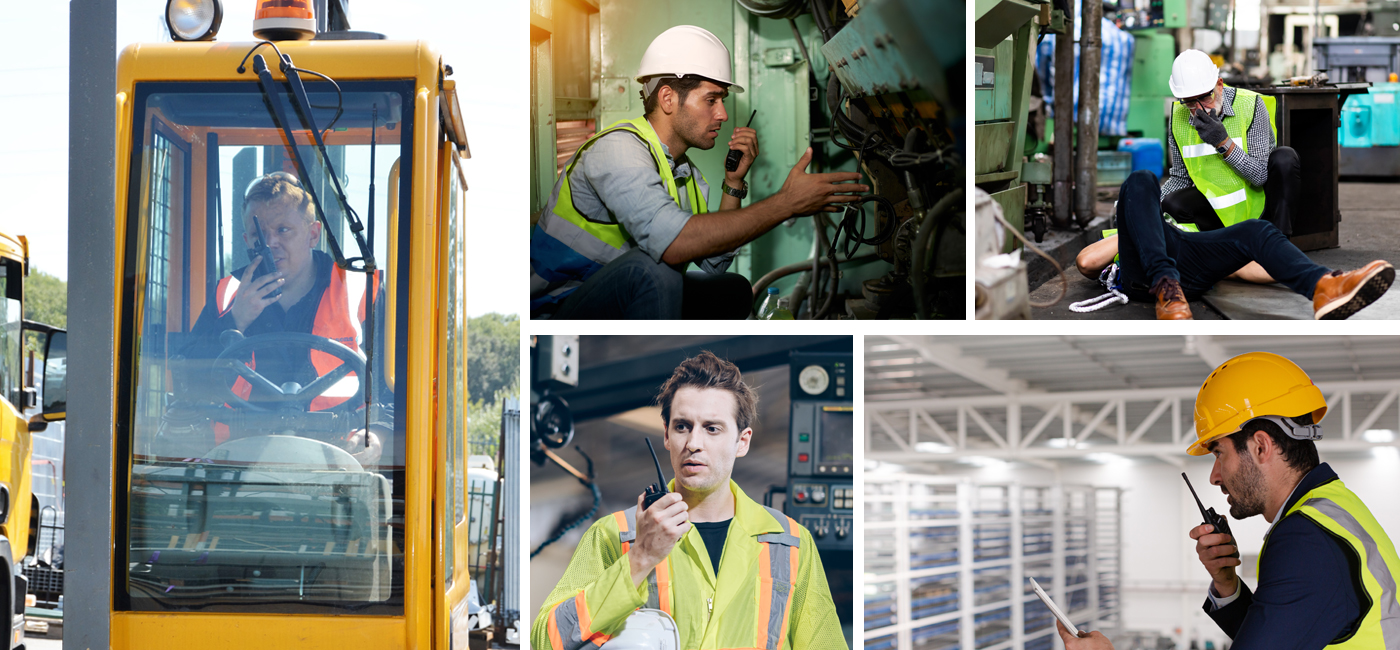 KENWOOD DMR and NEXEDGE NXDN digital protocols both offer the capability to build flexible, scalable and resilient systems suitable for single or multiple sites while the native analogue/digital Mixed operation capability (enabling radios to communicate automatically with existing licensed analogue radios), provides a predictable, economical migration path to digital two-way radio implementation at an affordable cost and a solid basis from which to build a scalable, future-proof radio system.
A KENWOOD DMR or NEXEDGE NXDN system equipped with GPS devices not only provides multiple communications channels and talk groups but also, with the addition of the optional KAS-10/20 software or Trackuracy 'asset' tracking suites, allow you to monitor and track every radio so you always know where staff and vehicles are and can redeploy them to suit changing circumstances or identify and alert those closest to an incident to reduce response times.
KENWOOD digital radiocommunication systems bring a wide range of benefits to highway transport, fleet and logistics operations, including:
- Individual, group and all radio calls
- Advanced built-in and programmable user safety functions, including 'man-down' and emergency call
- Over-the-air programming
- Emergency alert functions
- Voice and data messages
- Optional and built-in GPS
- Native analogue/digital mixed operation
- Longer range/improved coverage
- Integration with third party apps and systems
- Programmable automated alerts
- Encryption against interception and eavesdropping
- Remote radio stun/kill/revive function

- Flexibility to link multiple locations
- Digital conventional, IP conventional, trunked, simulcast, and multi-frequency operation
- Good coverage over all terrain
- Suite of application solutions to tailor a system to meet specific operational requirements
- Exceptional audio clarity in noisy environments
- Durable radio devices
- Easy to use hand-portable and mobile devices
- Hand-portable radios with long battery life
- Low-cost, high functionality AVL/Dispatch suites
A KENWOOD DMR and NEXEDGE NXDN system equipped with GPS devices can not only provide multiple communications channels and talk groups but also, with the addition of the optional KAS-10/20 software or Trackuracy 'asset' tracking suites, allow you to monitor and track every radio so you always know where available resources are, allowing you to greatly reduce response times.
DMR SIMULCAST AND MULTI-FREQUENCY CAPABILITY FOR SEAMLESS COMMUNICATION HANDOVERS
KENWOOD DMR systems can be upgraded to Simulcast and Multi-frequency operation. This capability is particularly suited to road and rail transport operations over long distances across undulating terrain as it allows radios to switch from one radio site to the next automatically without the user having to change channels (frequency) and effectively eliminates reception blackspots at the limits of radio coverage for each site.
Simulcast
- Frequency efficient
- Greater coverage with overlap
- Improved in-building/tunnel coverage
- Easily expanded without reprogramming radios
- Additional sites can be added without a requirement for new frequencies or any terminal changes
- Automatic roaming and handover

Multi-Frequency
- Good use of 'spare' channels
- Good mobile radio coverage
- Low number of talk-paths required at each site
- Reduced co-channel interference from multiple sites
NEXEDGE NXDN NARROWBAND GIVES INCREASED RANGE FOR LOWER INFRASTRUCTURE COSTS
Where wider area coverage is a requirement, NEXEDGE NXDN 6.25kHz native narrowband digital technology, offers a high carrier-to-noise ratio (CNR) enabling radios to communicate over greater distances free from interference from neighbouring systems. Other digital protocols require more repeater sites for equivalent coverage which adds to infrastructure and maintenance cost, a point reinforced by the Association of American Railroads (AAR) which has selected the NXDN standard as the de facto radio technology for railroad operators to migrate to.
COST-EFFECTIVE MIGRATION FROM ANALOGUE TO DIGITAL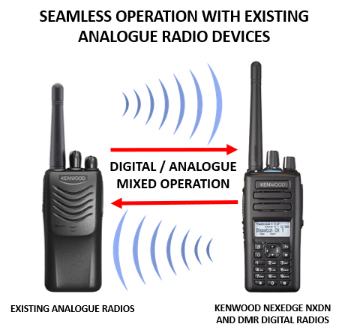 The beauty of a KENWOOD DMR OR NEXEDGE NXDN digital two-way radio solution is that your investment in new equipment when upgrading from a legacy analogue system can be phased over time as all KENWOOD digital radio devices feature automatic analogue/digital Mixed operation (which allows them to communicate automatically with any existing analogue radios whatever the make) providing a predictable and cost-effective path to full digital implementation.
ADVANCED WORKER PROTECTION
Lone workers or those working out of sight can have their radios programmed and monitored so that they will be called automatically at predetermined times to check on their status and should there be no response, an alarm will be raised. Similarly, a programmable function key on the radio can be assigned to trigger an emergency alert which is transmitted immediately to all other radio users.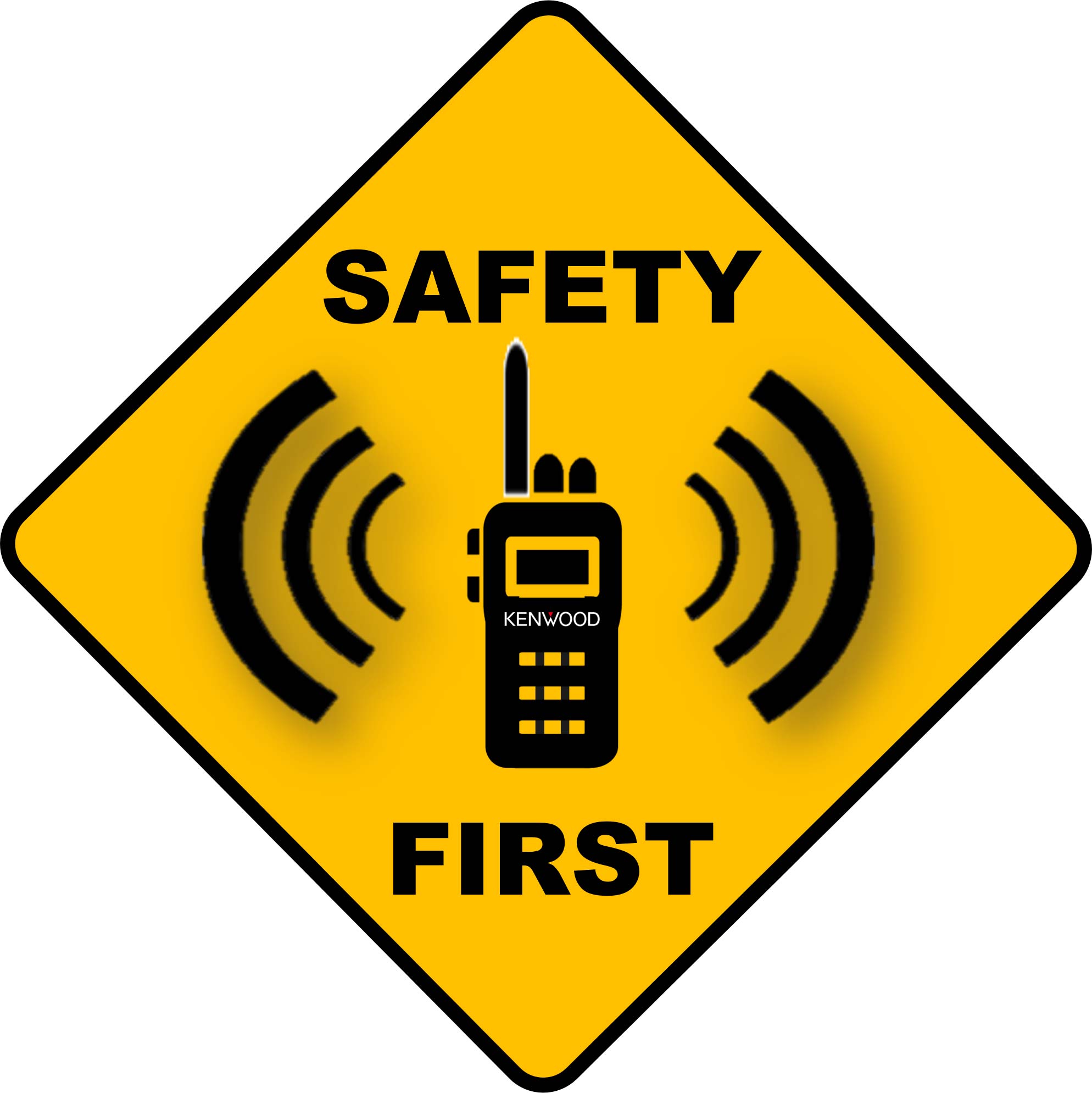 All NEXEDGE NXDN and DMR hand portable and mobile in-vehicle two-way radio devices feature an Emergency Key and Emergency Call features as standard, while more advanced models additionally offer built-in or optional GPS modules, Lone Worker, Motion Detection and compatibility with Location services, which make them suited for incorporation in a robust health and safety policy. Once programmed and activated, these advanced safety features can include:
Priority Call:

The Priority Call feature ensures the availability of a radio channel in the event of an emergency and allows a dispatcher to interrupt all existing calls on a channel.

Emergency Key:

An alarm is triggered along with the user ID of the sender and when the Emergency Key button is pressed. GPS equipped radios can additionally send the location (GPS coordinates) of the user.

Lone Worker:

An alarm is triggered along with the user ID of the sender if a user does not respond to a status prompt within a specified time.

Man Down:

An alarm is triggered along with the user ID of the sender if the radio is tilted beyond a pre-determined angle indicating that the user may have fallen or become incapacitated. Other programmable features include:
- Stationary Detection: Emergency mode is triggered along with the user ID of the sender when the radio remains in a stationary position for a period exceeding a pre-set time, indicating that the user is unable to operate the transceiver, or it's has been lost, mislaid etc. GPS equipped radios can additionally send the location (GPS coordinates) of the user to a control centre using software such as KAS-10 and KAS-20 AVL and Dispatch suites.
- Motion Detection: Emergency mode is triggered along with the user ID of the sender when the radio is vigorously shaken or swung for a period exceeding a pre-set time, indicating that the user is running to or from an incident. GPS equipped radios can additionally send the location (GPS coordinates) of the user to a control centre using software such as KAS-10 and KAS-20 AVL and Dispatch suites.

Location Services:

NEXEDGE NXDN and DMR radios equipped with GPS can additionally be programmed to send location information to the control centre using software such as KAS-10 or KAS-20 AVL and Dispatch suites so that a user at risk or requiring assistance can be located quickly and response times reduced.

Asset Tracking and Monitoring:

With Trackuracy, KENWOOD DMR and NEXEDGE NXDN systems can be equipped with low-energy, real-time asset monitoring and tracking across single and multiple sites, indoors and out. Alerts, alarms delivered as audible tones, voice or data messages can be programmed to trigger automatically should the user stray off course or enter restricted areas.

Remote Monitor:

Remote Monitor allows control centre staff to listen in to a radio through its microphone in situations where an alarm is activated, and the radio user is unable to respond. This provides the dispatcher and management with the intelligence to assess a situation in real time and to quickly initiate an appropriate response.
EXCEPTIONAL AUDIO QUALITY EVEN IN NOISY ENVIRONMENTS
Background noise is a big issue for communications in transport operations, making voice communication challenging. Effective noise cancellation results in clearly audible voice communication irrespective of the level of background noise.
KENWOOD radiocommunication devices benefit from JVCKENWOOD Group's 60-years' experience in producing consumer audio and visual equipment (Trio, JVC and KENWOOD), renowned for exceptional sound quality.
This transfer of knowledge and experience has led to the development of a number of novel and innovative solutions which overcome the problem of cancelling ambient noise while improving the audio clarity of the transmitted voice - in any operating environment.
Ultimate noise cancellation:

NX-5000 Series hand-portable radios achieve optimum noise cancellation with the use of two integrated microphones. The main microphone is situated closer to the desired source (front of the radio), while a second microphone in the rear of the radio receives the ambient noise. In a noisy environment, both microphones receive noise at a similar level, however, the main microphone receives the user's voice more strongly. The processor in the radio subtracts one noise source from the other so that most of the ambient noise is cancelled which effectively enhances the quality of the transmitted audio of the user's voice.

Active Noise Reduction:

Both NX-5000 and NX-3000 Series radios feature Active Noise Reduction (ANR).  ANR serves to cancel the noise component of the collected audio to improve the transmitted audio quality.

Noise cancellation functions can be 'Custom' configured to adjust the vocoder, DSP, filters, specific noises etc. to suit the operating environment.

Selectable Audio profiles:

The received audio will sound different depending on the usage environment of the radio, characteristics of the device (such as the microphone to be combined with the radio and external devices), and the tone of voice and manner of speaking of the speaker. The received audio will also sound different depending on the output method, such as using the speaker of the radio or via an earphone, to hear the received audio. KENWOOD radios feature 6 customisable audio profiles which can be configured for specific scenarios and selected by the user to suit the operating environment.
SECURITY & PRIVACY
As more products are connected by IP and to networked information and automation systems, there is a growing risk of leakage and theft of personal and other information, fabrication or destruction of data, and hijacking of products.
As one of the world's leading manufacturers of radiocommunication products and solutions, we take our responsibility for ensuring the security integrity of our products and the data we hold on systems developed on behalf of our customers. Click for more information on JVCKENWOOD's Group Privacy Policy.
Product Security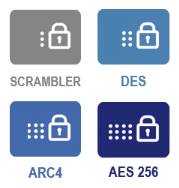 Secure encryption is an essential requirement in radiocommunications to provide security against eavesdropping, jamming and other malicious attacks on a radio system.
All KENWOOD digital radio devices are equipped with a voice scrambler feature as standard, while licenced NEXEDGE NXDN and DMR radios are further protected with more advanced encryption:
| | |
| --- | --- |
| PROTALK PMR446: | Voice inversion scrambler |
| NX-1000 Series: | Built-in digital scrambler as standard, optional upgrade to ARC4 Encryption for DMR |
| NX-3000 Series: | Built-in digital scrambler as standard, optional 56-bit DES encryption and upgrade to 256-bit AES (NEXEDGE NXDN and DMR) and 40-bit ARC4 encryption for DMR |
| NX-5000 Series: | Built-in digital scrambler and DES-56 bit (4 keys) as standard, optional hardware upgrade to 56-bit DES and support to 256-bit AES |
Information Security
The Communications Systems Business, Professional Systems Business and the Healthcare Business units of JVCKENWOOD Corporation are certified to ISO/IEC 27001:2013 international standards for information security management system and JIS Q 27001:2014 Japanese industrial standards, both of which specify standards for information security management systems and establish requirements and implementation of the framework to protect information assets.
BUILT TOUGH TO WITHSTAND RAIN, DIRT AND THE ROUGH AND TUMBLE OF DAILY TRANSPORT AND FLEET OPERATIONS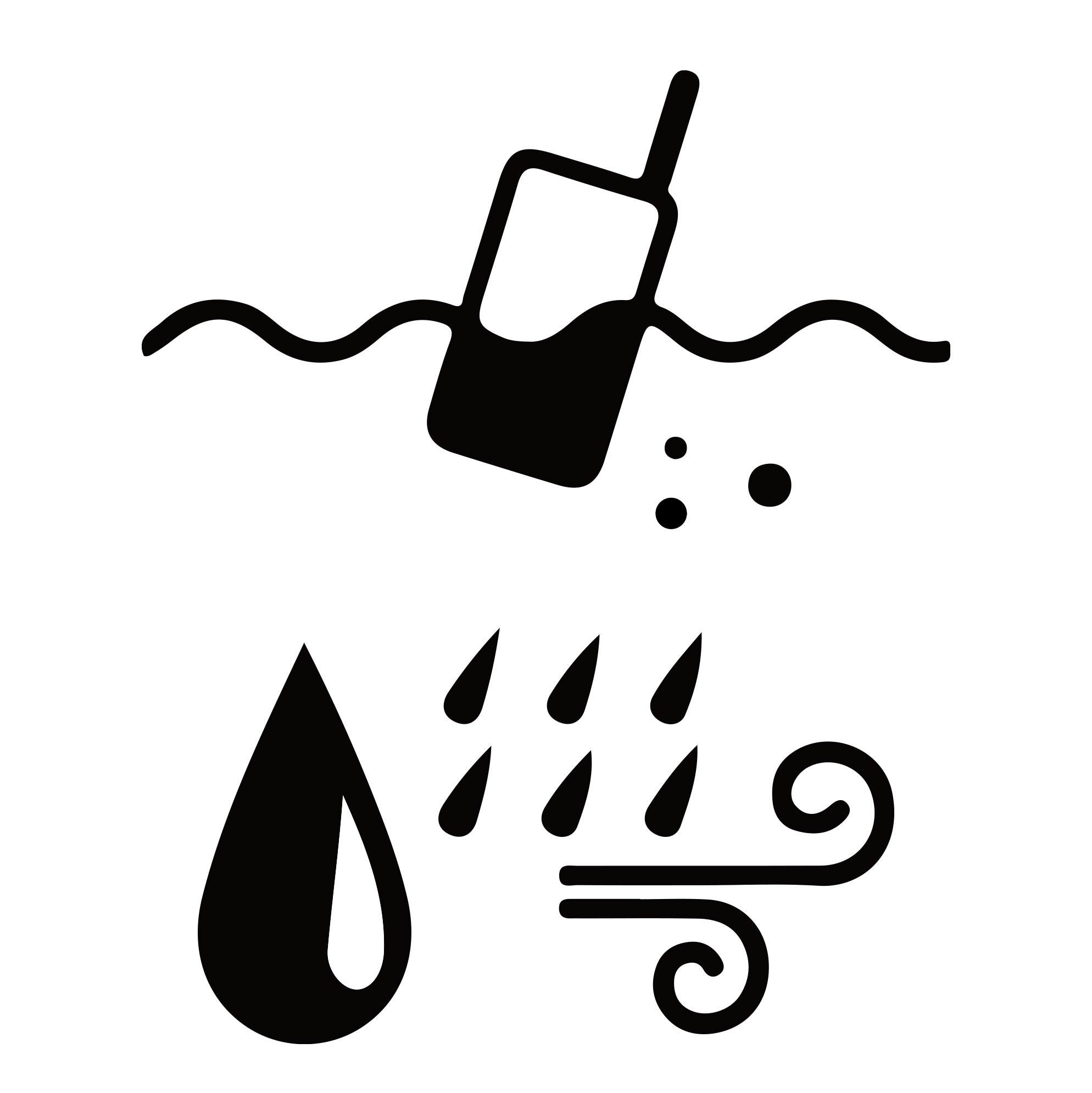 As you would expect, all KENWOOD professional hand portable walkie talkies and mobile radios conform to MIL-STD-810 C/D/E/F/G for ruggedness and durability and are IP54/55/67 Water & Dust Intrusion rated, making them suited for use in any environment.
In addition, KENWOOD can offer ATEX IECEx devices for use in hazardous, explosive atmospheres.
PROVEN PERFORMANCE
KENWOOD business critical two-way radio systems are used extensively in supporting operations in transport, fleet and logistics, providing clear voice and data communications to different teams located within a single site or across multiple sites; allowing management to prioritise work, respond to situations, manage emergency procedures and ultimately, to maximise the efficient use of resources, improve safety and security and the quality of service delivered.
Solutions range from the simplicity of license-free digital dPMR446 walkie-talkies on small, localised site operations to highly flexible, voice and data enabled digital conventional, IP networked and trunked DMR and NEXEDGE NXDN communications systems – the utility of which can be greatly extended with the addition of applications and software suites to include dispatch and location capabilities, automated and event triggered audio and text alerts, and real time asset tracking and monitoring.
KENWOOD DMR and NEXEDGE NXDN systems can be integrated with existing enterprise software applications, telemetering systems etc., so offer a failsafe and future-proofed communication solution.
Proven applications of KENWOOD systems include the Bangkok Mass Transit System, Thailand, CSX Corporation (Rail Freight) USA, Dr Richard (Bus & Coach) Austria, Dutch Railways, SBB CFF FFS Swiss Railways and at London Bridge Station, UK.
Enhanced worker safety at London Bridge Station

Network Rail and train operating companies staff based at London Bridge station are equipped with KENWOOD radios as their primary communications tool, while British Transport Police can also monitor the channels to keep informed on situations. Read how the system serves to make all staff feel much safer.
Simulcast dual mode network connects drivers with the Rail Control Centre serving Davos-Klosters and St. Moritz service

Learn more about how a simulcast network provides seamless communication handovers between areas and lines for the Rail Control Centre of the Rhaetian Railway (RhB) in the Swiss Alps.
For more information on KENWOOD digital system solutions, including DMR Tier 3 trunking and Simulcast, NXDN Type-C, Type-D, and Gen2 trunking, click here.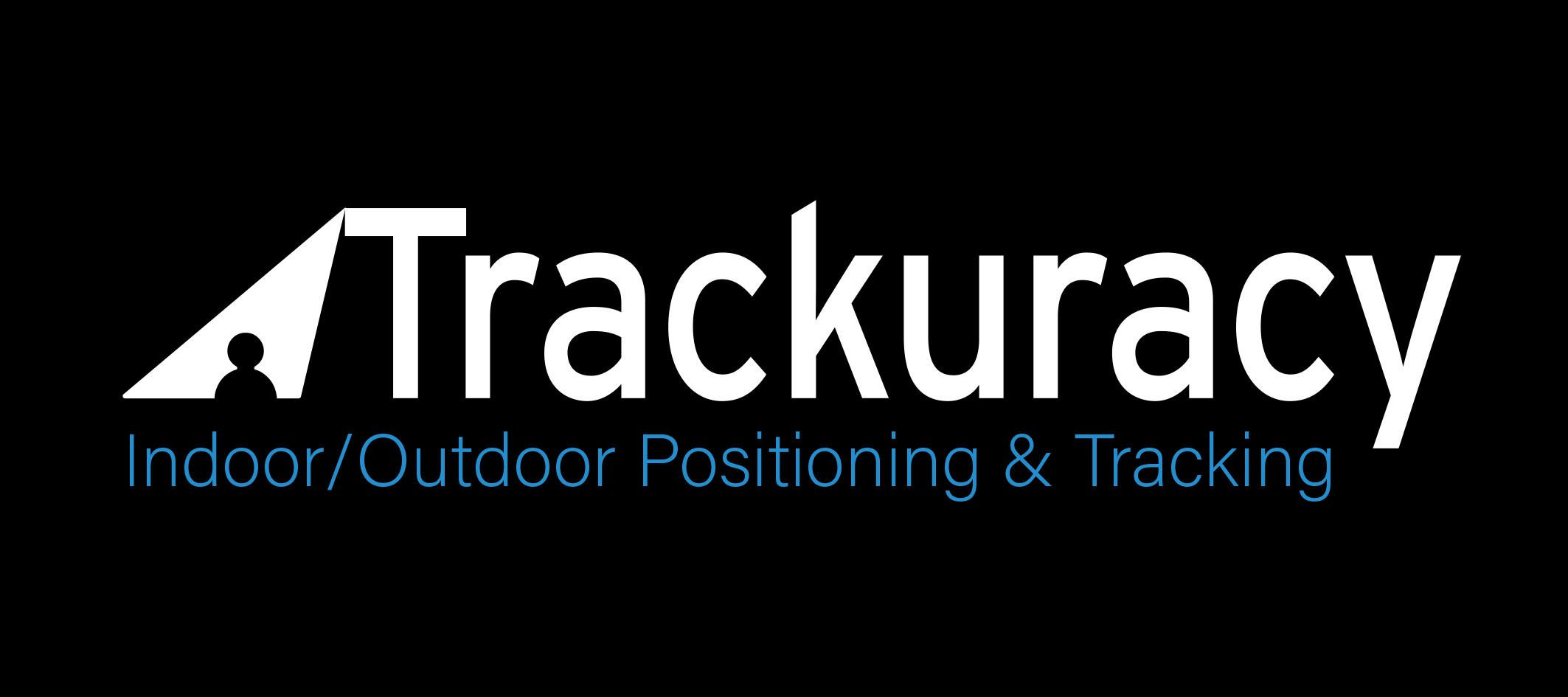 If you'd like to learn more about our TRACKURACY, our real-time Bluetooth Low Energy asset tracking and monitoring solution, click here.
Alternatively, please post an enquiry to us or contact an authorised KENWOOD Communications reseller.
► Please complete our Enquiry Form or contact an Authorised reseller
for help with your project
QUICK LINKS
Please click the banners to explore your choice of technology and solution