Stadia
---
With tens of thousands of people attending individual stadium events for sport and entertainment, the challenges facing management, safety offices and emergency services are both large in scale and complex.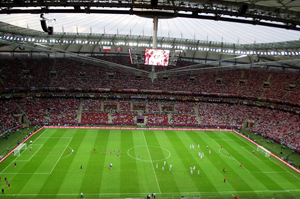 Reducing the risks of accidents, petty crime, anti-social behaviour, public disorder and even acts of terrorism while managing the efficient flow of spectators, participants, VIPs, vehicles, goods and services at multiple entry and exit points, especially in the event of a major incident, is a major logistical feat.
In most cases the burden of responsibility to ensure compliance with legislation, best practice and the safety and security of the stadium and those within it falls upon the Stadium Safety Officer. One of the most powerful assets at their disposal in implementing a stadium's safety and security strategy during events is the ability for all cross functional teams to communicate with each other, their counterparts and the emergency services instantly, reliably and effectively anywhere on site.
While Kenwood analogue licensed and license-free PMR446 radios have already been proven in service at stadia and events around the world for many years, more and more facilities are upgrading to Kenwood's NEXEDGE® trunked Digital Two-Way radio solutions to provide clear and reliable multi-user voice and data communications and the flexibility to design a scalable digital radio communications network to suit their range and capacity requirements. NEXEDGE® digital radios additionally feature Analogue/Digital Mixed Mode, which allows them to communicate automatically with any existing analogue radios, whatever the make, to provide a straightforward and economical migration path from analogue to the benefits of advanced digital two way radio communications.
Kenwood hand portable walkie talkies conform to MIL-STD-810 C/D/E/F/G for ruggedness and durability and are IP54/55 Water & Dust Intrusion rated, making them ideal for operation in a wide variety of open or harsh environments.
Today, in addition to its NEXEDGE® fully scalable digital systems, Kenwood can offer dPMR, DMR digital solutions alongside the latest ProTalk digital license-free PMR446 radios featuring digital/analogue mixed mode and ProTalk DECT fully duplex digital wireless intercom systems.
To discover more about the millions of Kenwood devices in use by countless customers in hundreds of applications around the world, including the innovative multi-protocol NX-5000 Series (NXDN, DMR, P25 and FM Analogue) and NX-3000 Series (NXDN, DMR and FM Analogue) hand portable walkie talkies and mobiles, please visit the linked pages, look into our Professional Communication System Solutions, complete the Enquiry Form or contact an authorised Kenwood Communications reseller.
Kenwood two-way radio systems are widely in use at stadia around the world, click to find out more about the NEXEDGE digital system installed in the the state-of-the-art Stadion Narodowy in Warsaw, Poland.
► Please complete our Enquiry Form for help with
your project