Warehouse
---
As a key component in the manufacturing and supply chain processes, warehouse operations, whether in-house or outsourced, are an increasingly critical factor in business performance not only as a cost centre but also as a means to delivering improved efficiency productivity and customer satisfaction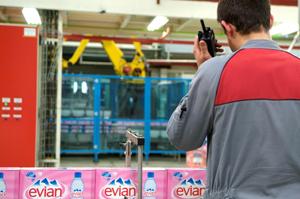 As a global manufacturer of electronics products, we are more than aware of the impact warehouse operations have on the productivity of our manufacturing facilities and distribution centres.
The free flow of communications between warehouse management, their staff, production lines, stores, purchasing, sales teams and customers is vital to keeping production lines moving and the efficient management of component and finished stock inventory where accuracy, speed and detailed reporting are in high demand.
NEXEDGE® digital two-way radio systems are designed to operate efficiently in the difficult environment of a modern warehouse where extensive use of concrete, steel racking, a proliferation of electronics, mechanical handling equipment and great distances can make communications a real challenge, with radio frequency interference and background noise adding to the mix.
Kenwood's NEXEDGE® peer to peer and trunked digital two-way radios and walkie talkie solutions have been proven in the most demanding manufacturing and distribution warehouse operations around the world, including our own.
Cost-effective migration from analogue to digital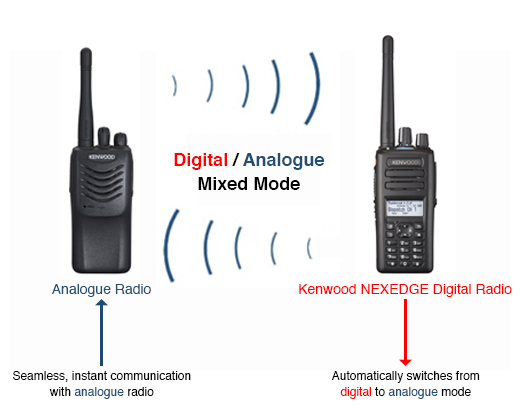 The beauty of a Kenwood digital two-way radio solution is that the investment in new equipment when upgrading from analogue can be phased over time as all Kenwood digital radio devices feature automatic analogue/digital Mixed Mode operation (which allows them to communicate automatically with any existing analogue radios (whatever the make) providing a predictable and cost effective path to full digital implementation.
Kenwood NEXEDGE NXDN and NEXEDGE DMR offer highly flexible and infinitely scalable digital trunked systems for digital conventional, IP and trunked operation that can accommodate multiple user groups and sites. In addition, NEXEDGE DMR can be specified with simulcast and multi-frequency capabilities.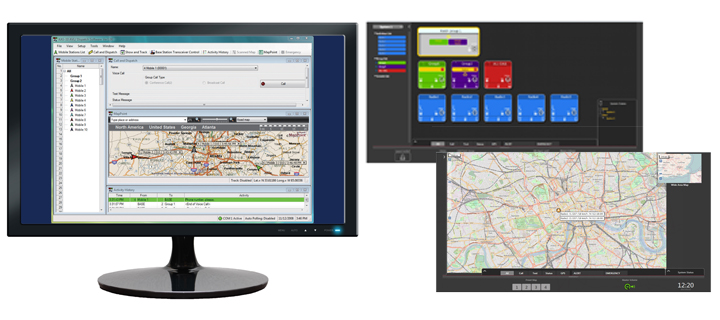 Linked to appropriate integrated application software, for example Kenwood's KAS-20 AVL and Dispatch suite, users can greatly improve operational safety and security either at a single site or across multiple sites and include a host of advanced features including call recording and personnel tracking – essential features in the event of an incident.
Simulcast and Multi-frequency capabilities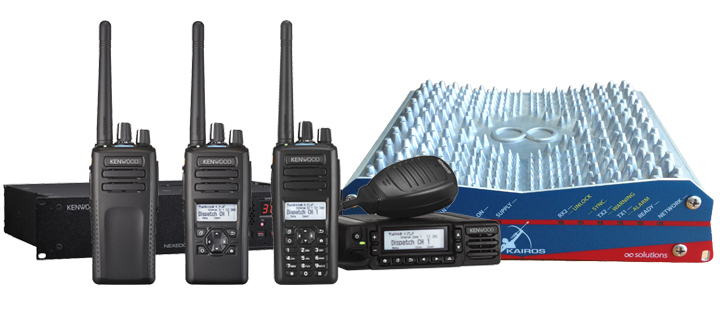 Kenwood DMR Tier 2 digital conventional and Tier 3 trunked systems with optional simulcast architecture provide the capacity for more users with fewer frequencies required to achieve greater coverage of a facility or facilities with less infrastructure.
Rugged, Durable and Dependable
NEXEDGE® Digital Two-way Radios with Lone Worker features are available in both hand-portable walkie talkies and mobile in-vehicle units which all conform to MIL-STD-810 C/D/E/F/G for ruggedness and durability and are IP54/55 Water & Dust Intrusion rated, making them ideal for operation indoors and out.
Long battery life
To maximise efficiency and ensure full availability of clear, instant communication, Kenwood hand-portable radios are equipped with batteries designed to last an entire shift without recharging in normal use. Spare batteries and chargers are available with additional capacity for heavy duty cycles.
Communication solutions for every warehouse operation
Whatever your operation, you can be sure that Kenwood can offer a radio communications system with voice or voice and data capabilities to meet your needs.
In addition to its NEXEDGE® NXDN and NEXEDGE DMR systems, Kenwood can offer ETSI compliant dPMR, digital solutions alongside the latest ProTalk digital license-free PMR446 radios featuring digital/analogue mixed mode and ProTalk DECT fully duplex digital wireless intercom systems.
To discover more about the millions of Kenwood devices in use by countless customers in hundreds of applications around the world, including the innovative multi-protocol NX-5000 Series (NXDN, DMR, P25 and FM Analogue) and NX-3000 Series (NXDN, DMR and FM Analogue) hand portable walkie talkies and mobiles, please visit the linked pages, look into our Professional Communication System Solutions, complete the Enquiry Form or contact an authorised Kenwood Communications reseller.
► Please complete our Enquiry Form for help with
your project