UBY Teknoloji ve Ticaret Ltd. Şti.
---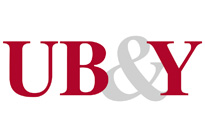 For many years, UBY has supplied upper market products of security and defence to its valued customers in Turkey, Central Asia and Caucasus. It also provides consulting services to the foreign clients interested in the Turkish market. UB&Y has been always changing and developing variety of its products and services to meet its customers' needs. Aspiring to be the most admired security systems supplier through world-class people and technology, UBY today is focused on the research and integration of advanced technology systems, products, and services for government and commercial customers. It leads the way in showing customers new systems-based possibilities and opportunities. Our main objective is to improve our customers' security and defence capacities and differentiate our customers positively from others.
UBY is a member of TRACE International. This membership represents our commitment to anti-bribery compliance and to ethical business practices which we have given diligent importance starting with our establishment in 1973.
UBY Teknoloji ve Ticaret Ltd. Şti.
Guniz Sokak No:22/3
Kavaklidere 06700
Ankara
Turkey

Tel No: +90 - 312 428 31 40
Fax No: +90 - 312 428 06 75
Email: info@uby.com.tr
Website: www.uby.com.tr
Opening hours:
Monday - Friday: 09.00 - 18.30