Retail
---
For many years, two-way radios have been proving their worth in a variety of retail environments, allowing store management, retail staff, stock controllers and security teams to communicate discretely and effectively with the aim of reducing stock loss, improving productivity and delivering better customer service.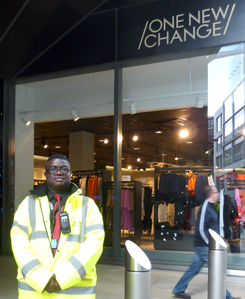 Crime reduction, health and safety, disruption to business, protecting staff and shoppers from volatile situations are some of the issues faced by retail business large and small, but as the footprint of retail outlets has grown, so too have the requirements from two-way radio communications. The largest shopping centres can cover vast areas and several storeys, with tens of thousands of customers visiting the shops, cinemas and restaurants, all expecting a safe and vibrant environment free from the threat of crime and anti-social behavior. These demands bring new challenges to retail and shopping centre management, not least the co-ordination of health, safety and security.
Kenwood licensed and license free PMR446 digital and analogue radio systems and equipment have been employed in retail operations for many years in applications as diverse as high-end boutiques to the largest supermarkets and shopping centres. Now, with the introduction of NEXEDGE® two-way radio systems and equipment in stand-alone systems or trunked network configurations, retail operations can  benefit from the higher quality reception, increased effective range and additional safety and security features that digital two-way radio brings.
| | |
| --- | --- |
| | |
Kenwood hand portable walkie talkies conform to MIL-STD-810 C/D/E/F/G for ruggedness and durability and are IP54/55 Water & Dust Intrusion rated, making them ideal for operation in harsh environments while the addition of Kenwood's KAS-20 Dispatch and AVL application software suite, which supports both NEXEDGE NXDN and DMR radio technologies, can greatly improve operational safety, security and efficiency at multiple locations on a single site or across multiple sites.
Today, in addition to its NEXEDGE® fully scalable digital systems, Kenwood can offer dPMR, DMR digital solutions alongside the latest ProTalk digital license-free PMR446 radios featuring digital/analogue mixed mode and ProTalk DECT fully duplex digital wireless intercom systems.
To discover more about the millions of Kenwood devices in use by countless customers in hundreds of applications around the world, including the innovative multi-protocol NX-5000 Series (NXDN, DMR, P25 and FM Analogue) and NX-3000 Series (NXDN, DMR and FM Analogue) hand portable walkie talkies and mobiles, please visit the linked pages, look into our Professional Communication System Solutions, complete the Enquiry Form or contact an authorised Kenwood Communications reseller.
Whatever the size and type of retail operation, you can be sure that Kenwood can offer a radio communications system with voice or voice and data capabilities to meet your needs.
Follow these links to find out more about NEXEDGE® trunked digital two-way radio systems and networks employed in shopping centres and retail operations at One New Change in the City of London, in Exeter's City Centre Business Against Crime initiative and at the Chapelfield Shopping Centre in Norwich.
► Please complete our Enquiry Form for help with
your project