Oil and Gas
---
The process of exploration, extraction, production and processing of oil and gas presents a harsh environment where it is of critical importance that equipment used can withstand extreme temperature, dust, noise, moisture and operating in hazardous environments where combustible gases and airborne particles are present.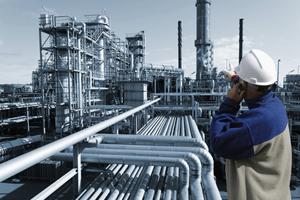 Keeping pipelines and sites secure and running safely and efficiently in difficult operating environments poses constant challenges to the industry.
The ability to communicate instantly with individuals or simultaneously with cross functional teams in voice and data reliably not only improves operational efficiency, but also provides the means to react quickly in the event of an incident; which is why two way radio has become the communications backbone of the world's oil and gas enterprises both in upstream exploration, extraction and production and downstream refining, storage, transportation and distribution operations.
Two-way radio communication provides full availability even when wired communications lines are rendered inoperable by adverse weather conditions, damage or acts of sabotage.
Integrated communications and operations management
Increasingly, oil and gas operations are migrating from analogue to digital two-way radio communications and from base station and hand portable systems to application driven, trunked two-way radio solutions.
Kenwood NEXEDGE NXDN and NEXEDGE DMR offer highly flexible and infinitely scalable digital trunked systems for digital conventional, IP and trunked operation that can accommodate multiple user groups and sites. In addition, NEXEDGE DMR can be specified with simulcast  and multi-frequency capabilities.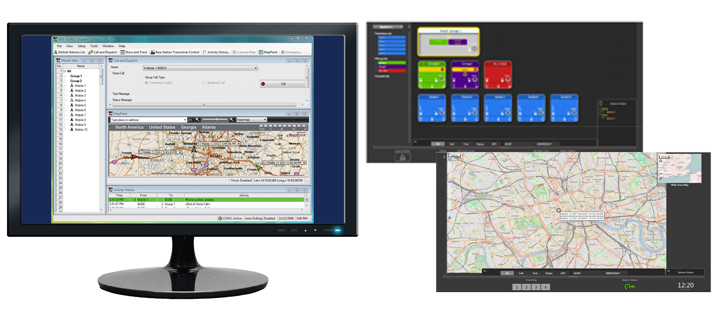 Linked to appropriate integrated application software, for example Kenwood's KAS-20 AVL and Dispatch suite, users can greatly improve operational safety and security either at a single site or across multiple site and include a host of advanced features including call recording, personnel and vehicle tracking and monitoring of assets. 
Cost-effective miration from analogue to digital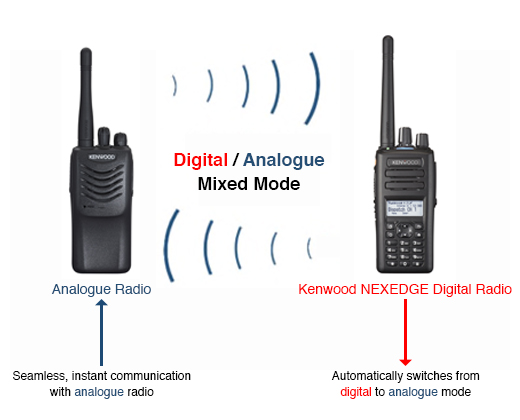 The beauty of a Kenwood digital two-way radio solution is that the investment in new equipment when upgrading from analogue can be phased over time as all Kenwood digital radio devices feature automatic analogue/digital Mixed Mode operation (which allows them to communicate automatically with any existing analogue radios whatever the make) providing a predictable and cost effective path to full digital implementation.
Simulcast and Multi-frequency capabilities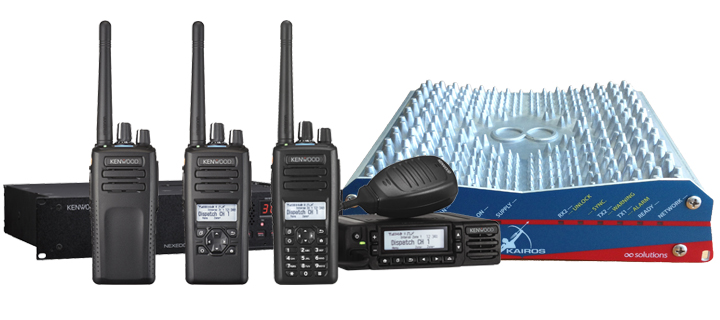 Kenwood DMR Tier 2 digital conventional and Tier 3 trunked systems with optional simulcast architecture provide the capacity for more users with fewer frequencies required to achieve greater coverage of a facility or facilities with less infrastructure.
Rugged, Durable and Dependable
NEXEDGE® Digital Two-way Radios with Lone Worker features are available in both hand-portable walkie talkies and mobile in-vehicle units which all conform to MIL-STD-810 C/D/E/F/G for ruggedness and durability and are IP54/55 Water & Dust Intrusion rated, making them ideal for operation in harsh, outdoor environments.
Battery life
Most oil and gas facilities operate around the clock in either a two or three shift pattern. To maximise efficiency and ensure 24/7 availability of clear, instant communication, Kenwood hand-portable radios are equipped with batteries designed to last an entire shift in normal use. Spare batteries and chargers are available to enable 24-hour operation along with batteries with additional capacity for heavy duty cycles.
Safety first with Kenwood ATEX/IECEx certified digital radios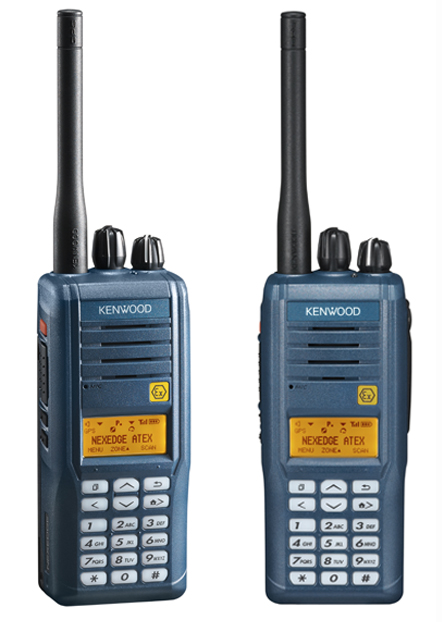 Kenwood NEXEDGE NXDN digital ATEX / IECEx hand portable radios are certified for operation in hazardous environments where combustible gases and airborne particles are present.
It is mandatory for ATEX radios to deployed in appropriate areas but they can be used alongside intrinsically safe and non-certified radios within the same system and feature a host of advanced worker protection, safety and operation features including GPS and a battery life to last a typical shift.
Key Features of Kenwood equipment for Oil and Gas industries include:
• Reliable and Robust meeting with IP64/65/67 and MIL/ETSI Standard
Kenwood ATEX radios are fully compliant with MIL-STD 810 C/D/E/F/G
• Flexible through Over-the-Air-Programming (OTAP)
OTAP Allows the re-programming of radios over the air. No requirement for radios to physically connect to a PC or recall the user/radio back into the office (NEXEDGE NXDN and NEXEDGE DMR).
• Safe and Secure through Over-the-air Alias (OTAA)
The radio name is sent over the air every time the user transmits. There is no need to maintain a "telephone book" record of each radio in the fleet as the user is easily identified and stuck PTT's can be resolved quickly (NEXEDGE NXDN and NEXEDGE DMR).
• Compatible with Analogue and MPT1327 Radio Systems
NEXEDGE NXDN ATEX radios support the MPT1327 trunking protocol. From small groups to large scale fleets, the radios provide reliable communications over existing MPT trunking networks. Offering a migration path from an analogue system to digital in a phased and controlled manner.
• Extended range and improved coverage
Kenwood ATEX radios strike a successful balance between a high protection class, excellent performance and 1.2W of effective radio output power. Kenwood NEXEDGE NXDN digital radios further improve communication range with higher reception performance, resulting from the higher sensitivity of a true 6.25 kHz channel bandwidth.
• Extended battery life
Equipped with the appropriate battery, Kenwood hand-portable radios will easily operate throughout a 12-hour shift.
• ATEX & IECEx Certified
ATEX & IECEx Certification provide comprehensive protection for professional radio users in the Oil & Gas industries.
The NEXEDGE® range of digital hand-portable walkie talkies, mobile radios, trunked and simulcast solutions provide outstanding voice and data performance in the most challenging environments and designed to be easy to use, reliable and durable in service.
To discover more about the millions of Kenwood devices in use by countless customers in hundreds of applications around the world, including the innovative multi-protocol NX-5000 Series (NXDN, DMR, P25 and FM Analogue) and NX-3000 Series (NXDN or DMR plus FM Analogue) hand portable walkie talkies and mobiles, please visit the linked pages, look into our Professional Communication System Solutions, complete the Enquiry Form or contact an authorised Kenwood Communications reseller.
► Please complete our Enquiry Form
for help with your project